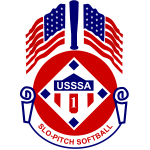 1983 held at Omaha, Nebraska.
---
Champion – Little Caesar's, Detroit, Michigan (76-6)
Runner Up – Sunshiners, Jacksonville, Florida
---
Little Caesars came back through the losers bracket to beat the Sunshiners in both Championship games. The scores were 16-1 and 15-7. Caesars eliminated both 3rd place Huntel Systems and 4th place Famous Recipe to capture the title.
---
MVP – Patti Silye, Little Caesars (21-30, .700, 9 HR, .25 RBI)
Batting Leader – Linda Dutton, Huntel Systems – .740
HR Leader – Patti Silye, Little Caesars – 9
Defensive MVP – Leslie Hagen, Sunshiners
---
1983 ALL WORLD TEAM
P – Tish Miller, Little Caesars
C – Jill Stenwall, Huntel Systems
1B – Jackie Huggins, Little Caesars
2B – Mary Crechiolo, Little Caesars
3B – Pam Patrus, Famous Recipe
SS – Patti Silya, Little Caesars
OF – Lynn Putnam, Little Caesars
OF – Carmen King, Little Caesars
OF – Mary Hoisser, Avanti
OF – Carlita Raulerson, Sunshiners
OF – Ellie Stoder, Huntel Systems
OF – Jan Deters, Famous Recipe
UT – Leslie Hagen, Sunshiners
UT – Debbie Bregler, Sunshiners
Manager – Al Campbell, Little Caesars
FINAL STANDINGS (Incomplete)
1. Little Caesars, Detroit, MI
2. Sunshiners, Jacksonville, FL
3. Huntel Systems, Blair, NE
4. Famous Recipe, Cincinnati, OH