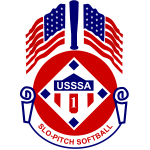 1976 held at Petersburg, Virginia.
---
Champion – Sweeney's Chevrolet, Cincinnati, Ohio
Runner Up – Squirrel Hill Softball Club, Pittsburgh, Pennsylvania
---
Sweeney's came through the loser's bracket to win five straight on the last day to capture the USSSA Worlds. They defeated Squirrel Hill from Pittsburgh 3-1 in 9 innings and then the final championship game 10-4.
---
MVP – Jenny Johnson, Sweeney's Chevrolet (.556)
Batting Leader – Jenny Johnson, Sweeney's – .556
HR Leader – Bev "Bunny" Fajerski,, Stan's Auto – 1 (The only HR of the tournament)
---
1976 ALL WORLD TEAM
P – Peg Carney, Sweeney's Chevrolet
C – Jo Woods, Sweeney's Chevrolet
1B – Donna Doellman, Avoca Park
2B – Donna Hodnick, Squirrel Hill
3B – Annette Johnson, Squirrel Hill
SS – Jenny Johnson, Sweeney's Chevrolet
OF – Rita Belavic, Stan's Auto Sales
OF – Debbie Zarin, Squirrell Hill
OF – Bev "Bunny" Fajerski, Stan's Auto Sales
OF – Carmen King, Real Estate One
UT – Joyce Miller, Fred Hill Builders
UT – Debbie Scruggs, Associate Consumers
UT – Lynn Putman Gendron, Real Estate One
---
FINAL STANDINGS (Incomplete – 62 total teams)
1. Sweeney's Chevrolet, Cincinnati, OH
2. Squirrel Hill, Pittsburgh, PA (37-5)
3. Stan's Auto Sales, New Castle, PA (55-8)
4. Real Estate One Stingers, Redford, MI
5t. Little Caesars, Detroit, MI