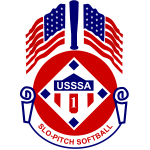 1977 held at Detroit, Michigan.
---
Champion – Pace Electronics, Rochester, NY (77-20)
Runner Up – Real Estate One Stingers, Redford, MI (58-14)
---
Pace Electronics won 7 straight games to capture the USSSA World Championship. The Stingers jumped out to a 7-2 lead, but Pace fought back. Finally in the bottom of the 7th inning, Doris Chance drove in Mary Ellen Burt with the winning run in the final game to come out on top 8-7. Stan's Auto, a team that has finished in the top 5 since 1972 was eliminated and finished in 10th place. They had a 59-11 record on the season and since 1972, they have been 465-57 with 2 World Series titles, 2 third place finishes, a fourth and now a tenth.
---
MVP – Kim Perkins, Pace Electronics (.535)
Batting Leader – N/A
HR Leader – N/A
---
1977 ALL WORLD TEAM
P – Mary Ellen Ford, Pace Electronics
C – Pat Schmitt, Pace Electronics
1B – Sherry Albrecht, Real Estate One
2B – Nancy Izzy Forrester, Little Caesars
3B – Kim Malcolm, Pace Electronics
SS – Jenny Johnson, Sweeney's
OF – Kim Perkins, Pace Electronics
OF – Julie Swartout, Real Estate One
OF – Carman King, Real Estate One
UT – Glenis Hester, Getz
UT – Pam Leonard, East Tennessee Mills
UT – Alice Kennedy, Kirkman Concrete
UT – Peggy Michelin, Sweeney's
Manager – Duane McCoy, Pace
---
FINAL STANDINGS (Incomplete – 58 total teams)
1. Pace Electronics, Rochester, NY 7-0
2. Real Estate One, Detroit, MI
3. Little Caesars, Detroit, MI
4. Sweeney Chevrolet, Cincinnati, OH
5t. Kirkman Concrete, Ashville, NC
5t. N/A
7t. East Tennessee Mills, Johnson City, TN
7t. Stan's Auto, New Castle, PA (68-6)