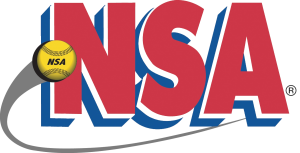 1991 held at Express-Way Park in Milford, Ohio.
---
Champion – Dryden/Georno's, Newport News, Virginia
Runner Up – K&G Sports/IPC, Brownstown, Indiana
---
Dryden-Georno's of Newport News, Virginia. scored 134 runs in six games to overpower the 27 team National Softball Association Men's Class A World Series September 14-15 at Express-Way Park in Milford.
The champions, who never scored fewer than 20 runs and avenged 22 runs per game on their way to the title, were led by tournament MVP Greg Hardy. who batted .791 for the weekend.
But Hardy had plenty of help. Ten teammates hit .500 or better, with eight batting over .600. and three eclipsing the .700 mark.
Dryden had little difficulty in erasing their first two opponents. burying R. C. Cola of Middletown. Ohio. 25.5. and the Worth Astros of Indianapolis 21-8. Eugene Cunningham had four hits, and Steve Whitley. Wayne Latham, and Greg Hardy had three each against R. C. Cola, while Ricky Wiggins had three hits in the Astro game.
Six Dryden players – Latham, Hardy, Wiggins, Jeff Furbee, Dewey Fusell, and Kevin Darden had three hits to lead their club past Barnhill Construction softball club of Evansville, Indiana, 22-17 in game three.
Dryden rolled over Nanney's School Supply of Greenville. South Carolina, 20-14 in game four, as Fusell, Hardy and Kenny Kirby combined for 12 hits, and Whitley, Darden, and Wiggins had three each.
That lifted Dryden into the winners' bracket finals. where they outslugged RAM Engineering of Louisville 20-18.
Meanwhile K&G Sports/IPC of Brownstown, Indiana, was rallying through the losers' bracket. K&G had fallen to RAM 21-4 after opening with victories over Aqua Science of Columbus 18-12 and Louie's Sports Bar of Cincinnati 19-12.
But K & G rebounded to oust Gangl Jewelers of Cincinnati 20-8. Nanney's 25-13. and RAM 19-17.
In a high-scoring. see-saw finals, that saw the lead change hands six times. Dryden finally broke a 21-21 tie with five unanswered runs in the top of the 7th to claim the championship. K & G had taken loads in the bottom of the first at 4.1. the bottom of the second at 10-5, and again in the third at 13-11. Dryden went ahead 18-13 with seven runs in the top of the fourth, and led 21-14 after five and a half, only to have K&G strike for seven runs in the bottom of the 6th to tie the game.
But in the 7th singles by Latham and Cunningham, a double by Darden and sac fly by Kirby. and singles by Brasley and Hardy produced the final five nuts of the game, as Dryden held on to win 26-21.
Offensive leaders for Dryden were tournament MVP Hardy at .791. Cunningham at .750. Wiggins at .714. Darden at .682. Fussell at .667. Latham at .652, Beasley and Furbee at .625. Whitley at .521. and Kirby at .500.
---
MVP – Greg Hardy, Dryden/Georno
Batting Champion – Greg Hardy, Dryden/Georno (.791)
---
NSA A ALL TOURNAMENT TEAM
Charlie Dryden, Dryden/Georno
Greg Hardy, Dryden/Georno
Wayne Lathum, Dryden/Georno
Dewey Fussell, Dryden/Georno
John Beasley, Dryden/Georno
Kevin Darden, Dryden/Georno
Rick Wiggins, Dryden/Georno
Brian Ellinghausen, K&G Sports/IPC
David Randolph, K&G Sports/IPC
Monte McCrory, K&G Sports/IPC
Jim Osterling, K&G Sports/IPC
Phil White, Nanney's School Supply
Keith Burress, Nanney's School Supply
Dennis Pierce, RAM Engineering
David Pohlman, RAM Engineering
Dave Martin, Gangl Jewelers
Chuck Atha, Louie's Sports Bar
---
FINAL STANDINGS
1. Dryden/Georno, Newport News, VA (6-0)
2. K&G Sports/IPS, Brownstown, IN (4-2)
3. RAM Engineering, Louisville, KY (4-2)
4. Nanney's School Supply, Greenville, SC (4-2)
5t. Louie's Sports Bar, Cincinnati, OH (4-2)
5t. Gangl Jewelers, Cincinnati, OH (5-2)
7t. Queen City Auggies, West Chester, OH (3-2)
7t. Ditt's Liquor, Indianapolis, IN (3-2)
9t. Beavers Bud Dry, Springfield, IL (2-2)
9t. Lee-Roy's Frame Co, Claremont, NC (3-2)
9t. McDonald's, Washington Court House, OH (2-2)
9t. Barnhill Construction, Evansville, IN (2-2)
13t. Worth Astros, Indianapolis, IN (1-2)
13t. DeClaire Insurance, Sardinia, OH (1-2)
13t. SDS Contracting, Cincinnati, OH (2-2)
13t. Aqua Science, Columbus, OH (2-2)
17t. Beechmont Billiards, Cincinnati, OH (1-2)
17t. Undercover Wear, Wilminton, OH (1-2)
17t. Local #265, Cincinnati, OH (1-2)
17t. Performance Plus, Cincinnati, OH (0-2)
17t. Fry Fastening, Cincinnati, OH (0-2)
17t. R.C. Cola, Middletown, OH (0-2)
17t. Marystown Thunder, Knoxville, TN (0-2)
17t. Troy Sports, Troy, OH (0-2)
25t. Tanks Video, Beech Grove, IN (0-2)
25t. Cutting Edge, Cincinnati, OH (0-2)
25t. St. Paul's Café, Oceanside, NY (0-2)