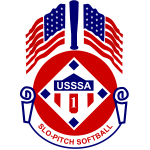 1993 held at Rockford, Illinois.
---
Champion – Lady Blue, Plymouth, Michigan (39-6)
Runner Up – Cannan's Illusion, San Antonio, Texas
---
Lady Blue exploded for 15 runs in the second inning of the Championship game to capture the title with a 23-2 victory. They outscored their opponents 70-9 in their 5 game undefeated run.
---
MVP – Meme Vincl, Lady Blue (13-18, .722, 11 RBI, 11 Runs)
Batting Leader – Sue Kozoil, Lady Blue (16-20, 1 HR, 12 RBI, 8 Runs) – .800
HR Leader – Marie Pesch, Cannan's (13-24, .542, 12 RBI, 12 Runs) – 4
Defensive MVP – Allison Cole, Lady Blue
Offensive MVP – Marie Pesch, Cannan's (13-24, .542, 4 HR, 12 RBI, 12 Runs)
---
1993 ALL WORLD TEAM
P – Mary Hoff, Lady Blue (5-13, .385)
P – Mitzi Davis, Cannan's Illusions (13-23, .565)
C – Marie Pesch, Cannan's Illusions (13-24, .542, 4 HR)
EH – Darlene Lowrey, Salem Hawks (13-18, .772, 3 HR)
EH – Laura Troutman, Lady Blue (12-18, .667)
1B – Lori Erpenbeck, Salem Hawks (9-15, .600, 3 HR)
2B – Jeannine Murray, Richmod Rallys (7-15, .467)
3B – Tracy Keefer, Lady Blue (10-16, .625)
3B – Theresa Shephard, Empress Chili (9-16, .563)
3B – Sandy Mader, Cannan's Illusions (12-23, .522)
SS – Sue Koziol, Lady Blue (16-20, .800, 1 HR)
SS – Trina Hertzog, Salem Hawks (10-21, .476)
OF – Allison Cole, Lady Blue (9-19, .474)
OF – Meme Vencl, Lady Blue (13-18, .722)
OF – Tracey Kruger, Spooks (5-14, .357, 1 HR)
OF – Theresa Hirschauer, Empress Chili (10-18, .556)
OF – Brenda Ryan, Empress Chili (10-18, .556)
OF – Lynnie France, Salem Hawks (8-18, .444, 2 HR)
OF – Cynthia Bruner, Cannan's Illusions (12-19, .632)
OF – Stephanie Broden, Cannan's Illusions (13-22, .591)
Manager – Al Campbell, Lady Blue
FINAL STANDINGS (Incomplete – 16 teams)
1. Lady Blue, Plymouth, MI (5-0)
2. Cannan's Illusions, San Antonio, TX (7-2)
3. Salem Hawks/TPS, Commerce Township, MI (3-2)
4. Empress Chili, Cincinnati, OH (3-2)