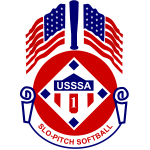 2019 held at Viera, Florida on September 18-21.
---
Champion – Dan Smith/Menosse/Steven Smith/FAI, San Jose, California
Runner Up – Resmondo/SIS/Thunder/RDD/H. Auto, Winter Haven, Florida
---
This was the 49th annual version of the Major World Series. Andrew Collins hit 18 home runs this year at the MWS and that is believed to be a HR record since USSSA put the MWS on baseball sized fields.
---
Co-MVP – Joe Bennett, Dan Smith/Menosse/Steven Smith/FAI (16 HR, 28 RBI)
Co-MVP – Andrew Collins, Dan Smith/Menosse/Steven Smith/FAI
Offensive MVP – Brian Wegman, Resmondo/SIS/Thunder/RDD/H. Auto (17 HR, 33 RBI)
HR Champion – Andrew Collins, Dan Smith/Menosse/Steven Smith/FAI (18)
Gold Glove – Ben Dunn, Dan Smith/Menosse/Steven Smith/FAI
Manager – Steven Smith, Dan Smith/Menosse/Steven Smith/FAI
---
USSSA MAJOR WORLD SERIES ALL WORLD TEAM
Steven Lloyd, Dan Smith/Menosse/Steven Smith/FAI
Brian Wegman, Resmondo/SIS/Thunder/RDD/H. Auto
Josh Reilly, TDB/Racks/Athlon
Daniel Cayton, Dan Smith/Menosse/Steven Smith/FAI
Curtis Stewart, Xtreme/Miken/ASP/Athlon
Jason Matusik, Dan Smith/Menosse/Steven Smith/FAI
Bubba Mack, Resmondo/SIS/Thunder/RDD/H. Auto
Chad Mullins, Bayarea/Rapid Fire/Bad Draw/Easton
Joe Bennett, Dan Smith/Menosse/Steven Smith/FAI
Steele Lewis, Dan Smith/Menosse/Steven Smith/FAI
Ryan Harvey, TDB/Racks/Athlon
Kyle Olson, SIS/Thunder/Miken/Worth/Anarchy/OA
Andrew Collins, Dan Smith/Menosse/Steven Smith/FAI
Patrick Ellwanger, Resmondo/SIS/Thunder/RDD/H. Auto
Everett Williams, TDB/Racks/Athlon
Scott Hartling, Riot/Hub's Pub/Klutch/A&A Utility
Ben Dunn, Dan Smith/Menosse/Steven Smith/FAI
Chris Anninos, Xtreme/Miken/ASP/Athlon
Travis Clark, Dan Smith/Menosse/Steven Smith/FAI
Adam Ussery, Newbreed/Cutter LLC
Argen Dodds, Dan Smith/Menosse/Steven Smith/FAI
---
FINAL STANDINGS
1. Dan Smith/Menosse/Steven Smith/FAI, San Jose, CA (5-1)
2. Resmondo/SIS/Thunder/RDD/H. Auto, Winter Haven, FL (6-2)
3. TDB/Racks/Athlon, Charlotte, NC (3-2)
4t. Xtreme/Miken/ASP/Athlon, Medina, MN (4-2)
5t. SIS/Thunder/Miken/Worth/Anarchy/OA, Rochester, NY (3-2)
5t. Bayarea/Rapid Fire/Bad Draw/Easton, Oakland, CA (2-2)
7t. Newbreed/Cutter LLC, Seattle, WA (3-2)
7t. Riot/Hub's Pub/Klutch/A&A Utility, Tampa, FL (2-2)
9t. Smash It/Precision/3rd Street/Bulldawg, Downers Grove, IL (1-2)
9t. Pure Sports, Goose Creek, SC (1-2)
9t. MPT Rentals/Evo9X, Manahawkin, NJ (1-2)
9t. Nightmare/Miken, Branson MO (1-2)
13t. Primetime/Evolution/FAI/Easton, GA (1-2)
13t. Tradesmen/LS/Spiderz/Hang Rite, Havelock, NC (1-2)
13t. Baugh Ford/Kut4/OI/Miken/Worth, Peachtree City, GA (1-2)
13t. Rebelsports/TN/Troupe/M24/Gamebrand, Dearborn, MI (0-2)
17t. Sportsreach, Campbellsville, KY (0-2)
17t. Militia/Treedem/Riot/Vetsports, Jacksonville, FL (0-2)