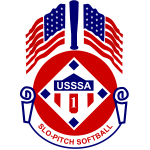 2012 held at Orlando, Florida.
---
Champion – Enough Said/Easton, Tallahassee, Florida
Runner Up – Karphone, Los Angeles, California
---
They played this year's World Series with a 3 game guarantee bracket. Enough Said went out and lost their first two games 10-3 to the Kinder Sharks and 12-8 to the Supersonics. With their backs against the wall, they came back to win five straight games to capture the World Series with a 5-2 record, thus becoming the first Women's World Series Champ ever with two losses in the tournament. The two losses must have woke them up as the proceeded to win these games: 14-4 over Incognito, 18-8 over Supersonics, 15-0 over Kinder Sharks and then 15-4 and 14-3 over Karphone to win it all.
---
MVP – Ebony Payne, Enough Said
Defensive MVP – Gina Oliver, Karphone
Offensive MVP – Auriel Jenkins, Enough Said
---
2012 ALL WORLD TEAM
Mary Hoff, Enough Said/Easton
Buffy Arms, Kinder/Sharks
Bernadette Martinez, Incognito
Nyreka Smith, Enough Said/Easton
Sirene Johnson, Enough Said/Easton
Connie Francis, Enough Said/Easton
Kelli Handy, Karphone
Leigh Campbell, Karphone
Karen Arnold, Incognito
Neishell Wiliams, Karphone
Beverly Walker, Kinder/Sharks
Noelle Wadsworth, Karphone
Tamara Perez, Kinder/Sharks
Brittany Maxwell,Karphone
Tracy Bougere, Enough Said/Easton
---
FINAL STANDINGS (Incomplete)
1. Enough Said/Easton, Tallahassee, FL
2. Karphone, Los Angeles, CA