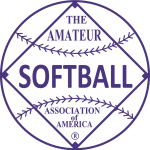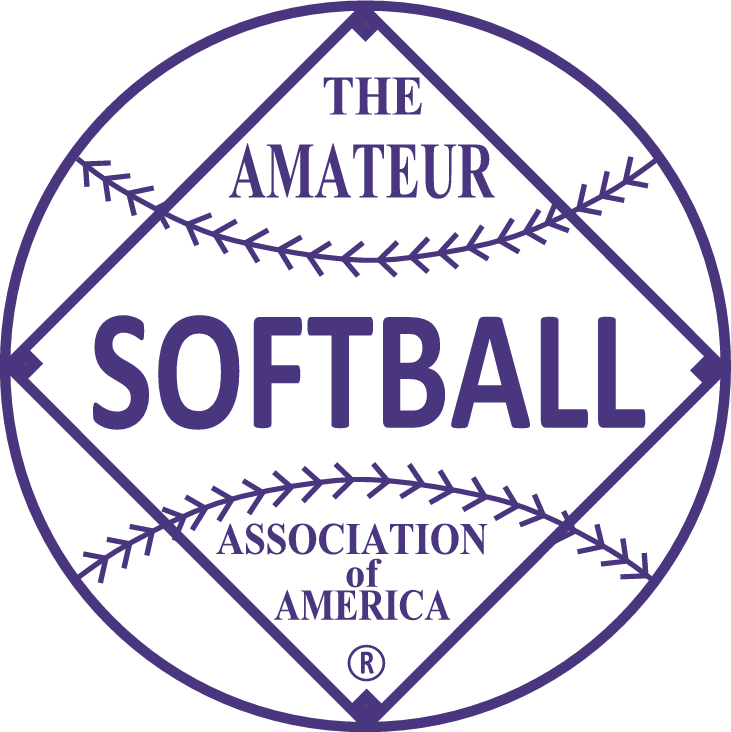 1985 held at Salt Lake City, Utah on August 15-22.
---
Champion – Pay'N Pak, Seattle, Washington (105-15)
Runner Up – Decatur ADM, Decatur, Illinois
---
The story of the tournament was the incredible pitching of Jimmy Moore of Pay n Pak. He pitched and won the final championship game 3-1 over ADM. He pitched every inning but 3 in the tournament (39 of the total 42 innings Pay n Pak played). He hurled 3 shutouts and surrendered only 3 earned runs in the tournament.
Bruce Beard and Bill Boyer both supplied the power in the final game as their home runs accounted for all 3 runs.
Jimmy Moore one of the greatest seasons in men's fast pitch history as he was named player of the year in just about every fast pitch publication. In addition to his brilliance in the ASA Nationals, he was the Most Valuable Pitcher in the ISC Worlds (6-0), 5 shutouts, 2 perfect games, 42 IP, 64 K). He also was also 4-0 as his team (Coors Kings) won the Olympic Sports Festival as well. Moore finished that tournament with a record of 51 Ks in 28 innings pitched.  Moore finished the season with a 50-4 record and was the Fast Pitch Softball News Bulletin's Player of the Year for 1985.
---
MVP – Steve Newell, Pay'N Pak
Batting Leader – Curt Peterson, Larry Miller Toyota – .593
HR Leader – Jeff Seip, Allentown Sunners – 4
Herb Dudley Pitching Award – Jimmy Moore, Pay 'n Pak
---
FIRST TEAM ALL-AMERICANS
P – Chuck D'Arcy, Guanella Brothers (4-1)
P – Jimmy Moore, Pay'n Pak (6-0, 3 shutouts, 39 IP, 31 Ks, 3 ERs) and won championship game 3-1
P – Vaughn Alvey, Miller Toyota
C – Greg Van Gaver, Pay 'n Pak
C – Tom Dallas, Coors Kings (8-17, .471)
1B – Ed Di Francia, Coors Kings
2B – Bobby Dallas, Coors Kings
3B – Jeff Borror, Pay'n Pak (10-20, .500)
SS – Chuck Prescott, Sunners (16-27, 1 HR, 12 RBI, 10 Runs scored)
OF – Steve Newell, Pay'n Pak (10-19, .527, 5 doubles – set record), also 1-3 in the championship game.
OF – Jack Johnson, Guanella Brothers
OF – Curt Peterson, Miller Toyota
OF – Mark Burrup, Miller Toyota
DH – Gary Stahl, Miller Toyota
UTIL – Mike Nevin, Coors Kings
SECOND TEAM ALL-AMERICANS
P – Ty Stofflet, Sunners (4-2)
P – Brent Stevenson, Decatur ADM (3-1)
P – Peter Meredith, Farm Tavern (3-2)
C – Brad Burrup, Miller Toyota
C – George Papagelis, Sunners
1B – Bruce Beard, Pay'n Pak
2B – George Davis, San Gabriel Eagles
3B – Ted Hicks, Decatur ADM
SS – Ted Muniz, Guanella Brothers
OF – Pete Zoppi, Sunners
OF – Paul Ednoff, Chameleons
OF – Randy Brown, Charlie's Trading Post
OF – Mark Paulsrud, Farm Tavern
DH – Jeff Seip, Sunners (9 RBI)
UTIL – Hal Martinez, All-American Bar
THIRD TEAM ALL-AMERICANS
P – Bob Moore, All-American Bar
P – Dave Scott, Decatur ADM (2-1)
P – Peter Finn, Coors Kings (3-2)
C – Dallas Rountree, Guanella Brothers
C – Clint Beane, McDonalds
1B – Jerry Hoffman, Chameleons
2B – Darrell Goring, All-American Bar
3B – Denny Delorit, Home Savings and Loan
SS – Chad Corcoran, Pay'n Pak
OF – Brian Rothrock, Decatur ADM
OF – Randy Burnside, Pay'n Pak
OF – Randy Ward, Miller Toyota
OF – Larry Nolan, San Gabriel Eagles
DH – Gordy Eastham, Guanella Brothers
UTIL – Denny Place, Decatur ADM
---
FINAL STANDINGS
1. Pay 'N Pak, Seattle, WA (6-0)
2. Decatur ADM, Decatur, IL (5-2)
3. Miller Toyota, Salt Lake City, UT (5-2)
4. Sunners, Reading, PA (5-2)
5t. Guanella Brothers, Santa Rosa, CA (5-2)
5t. Coors Kings, Merced, CA (3-2)
7t. Chameleons, Lancaster, CA (4-2)
7t. Farm Tavern, Madison, WI (3-2)
9t. All-American Bar, St. Paul, MN (3-2)
9t. Charlie's Trading Post, Atlanta, GA (2-2)
9t. San Gabriel Eagles, San Gabriel, CA (3-2)
9t. McDonalds, Midland, MI (2-2)
13t. Home Savings And Loan, Aurora, IL (2-2)
13t. Phoenicans, Phoenix, AZ (1-2)
13t. Page Brake, Salt Lake City, UT (1-2)
13t. Walnut Products, St. Joseph, MO (0-2)
17t. The Advertizers, Salisbury, MD (1-2)
17t. Plangger Furniture, Benton Harbor, MI (1-2)
17t. Lite All-Stars, San Bernardino, CA (0-2)
17t. Suns, Pueblo, CO (1-2)
17t. Kings, Denhan Springs, LA (1-2)
17t. Aztecs, Pueblo, CO (1-2)
17t. Holiday Market, Chico, CA (1-2)
17t. Wellesley Trucking, Wellesley, MA (0-2)
25t. Faultless Rubber Company, Ashland, OH (0-2)
25t. M&M Coors, Salt Lake City, UT (0-2)
25t. Texas A's, Odessa, TX (0-2)
25t. Clancy's, Paterson, NJ (0-2)
25t. Clearwater Bombers, Clearwater, FL (0-2)