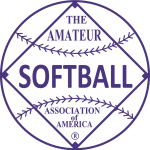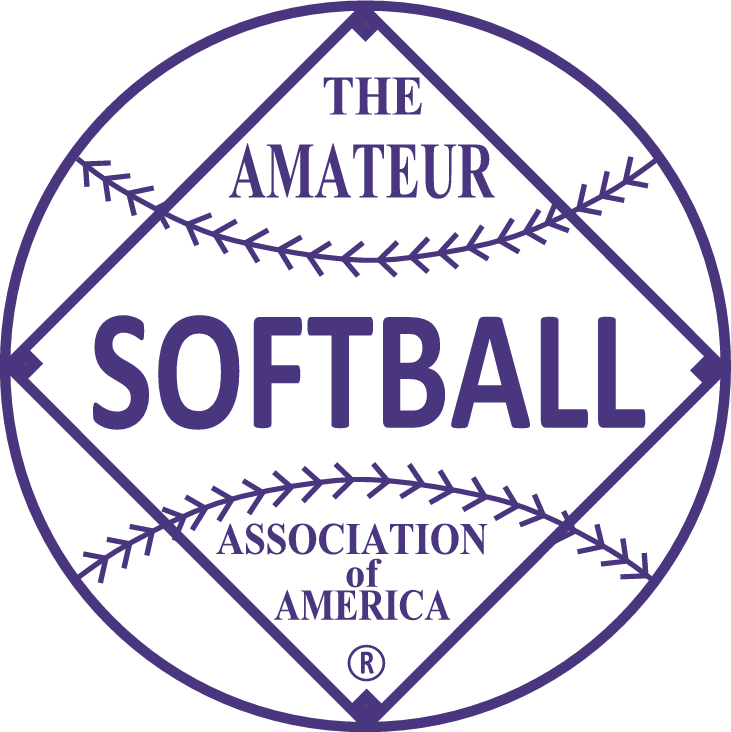 1974 held at York, Pennsylvania.
---
Champion – Howard's Furniture, Denver, North Carolina (117-14)
Runner Up – Jerry's Catering, Miami, Florida (92-12)
---
Only 116 HR were hit in 67 games at this year's National in York with the 300′ fence and a more restricted flight ball and very windy conditions, compared to the 727 in 67 games during last year's national, Howard's alone hit 126.  Jerry's came out of the loser's bracket winning seven straight games, scored 5 runs in the 6th inning to come back and beat Howard's in the first game of finals 13-12, to force the 'if' game.
Howard's came back to win the Championship via a 18-6 win. Howard's had hit 1246 home runs in their 137 games during the season. They only hit 23 in the 8 games they played this weekend. Gene Fisher led Howard's with 7. Stan Harvey (5), Don Arndt (4), Bert Smith (4) and HT Waller (2) … all future hall of famers were held way below their average.
Even the greatest Home Run hitter in National Tournament play, Jim Galloway only mustered 1 HR in his 20 at bats. Of the 28 players selected for the All-America teams, 14 or half of them did not hit one single HR. And the other 14 players hit 46 total.
---
MVP – Roger Brown, Howard's Furniture (16-25, .640, 1 HR, 12 RBI, 9 Runs) plus played tremendous LF, diving catches, throwing out runners.
HR Leader – Al White, Jerry's Catering – 10 (22-38, .579, 20 RBI, 18 Runs)
Batting Leader – Ron Waldron, Adair Landscaping (11-15, 2 RBI, 7 Runs) – .733
---
ASA OPEN ALL AMERICANS FIRST TEAM
P – Ernie Yaroshuk, Jerry's Catering (15-32, .469, 8 RBI, 8 Runs)
P – David Carroll, Howard's Furniture (13-29, .448, 5 RBI, 10 Runs)
C – Ron Patterson, Thurman Bryant (11-21, .524, 3 HR, 15 RBI, 7 Runs)
C – Gene Fisher, Howard's Furniture (12-28, .429, 7 HR, 12 RBI, 10 Runs)
1B – Al White, Jerry's Catering (22-38, .579, 10 HR, 20 RBI, 18 Runs)
2B – Dan Denton, Champion Landscaping (11-19, .579, 8 RBI, 7 Runs)
3B – Butch Adams, Howard's Furniture (11-21, .524, 5 RBI, 8 Runs)
SS – Ron Waldron, Adair Landscaping (11-15, .733, 2 RBI, 7 Runs)
OF – Stan Harvey, Howard's Furniture (15-31, .484, 5 HR, 11 RBI, 8 Runs)
OF – Roger Brown, Howard's Furniture (16-25, .640, 1 HR, 12 RBI, 9 Runs)
OF – James Washington, Jerry's Catering (24-41, .585, 6 HR, 18 RBI, 17 Runs)
OF – David Johnson, Champion Landscaping (14-23, .609, 6 RBI, 7 Runs)
UT – Mike Foley, Empire County Astros (12-22, .545, 1 HR, 9 RBI, 8 Runs)
UT – John Davide, Empire County Astros (11-17, .647, 7 RBI, 5 Runs)
ASA OPEN ALL AMERICANS SECOND TEAM
P – Al Culbertson, Champion Landscaping (7-21, .333, 4 RBI, 2 Runs)
P – Clyde Stafford, Wilsman Trucking (5-14, .357, 1 RBI, 2 Runs)
C – Al Jones, Champion Landscaping (9-14, .643, 1 HR, 6 RBI, 5 Runs)
C – Rich Powell, Jerry's Catering (17-46, .370, 6 HR, 17 RBI, 14 Runs)
1B – Don Arndt, Howard' Furniture (19-32, .594, 4 HR, 10 RBI, 13 Runs)
2B – Dave Brizzie, Jerry's Catering (16-32, .500, 4 HR, 14 RBI, 10 Runs)
3B – Dave Jakubs, Pyramid Cafe (8-18, .444, 2 HR, 6 RBI, 7 Runs)
SS – Ed Finnegan, N.E. Sports Center (13-18, .722, 3 RBI, 8 Runs)
OF – Matt Kruger, Schlitz of Fondy (10-17, .588, 1 HR, 6 RBI, 3 Runs)
OF – Jim Wessel, Wilsman Trucking (12-20, .600, 1 HR, 6 RBI, 5 Runs)
OF – George Pringie, Jerry's Catering (25-47, .532, 10 RBI, 17 Runs)
OF – Tom Maiden, Howard's Furniture (16-27, .593, 7 RBI, 8 Runs)
UT – Dave Rumppe, Cambridge Square (11-13, .846, 3 RBI, 6 Runs)
UT – Huck Smith, Thurman Bryant (14-24, .583, 7 RBI, 10 Runs)
---
OTHERS
Micky Morrison, Champion Landscaping (12-22, .545, 3 RBI, 9 Runs)
Bert Smith, Howard's (17-32, .531, 4 HR, 18 RBI, 14 Runs)
Lou Russo, Empire County Sports (9-17, .529, 4 RBI, 4 Runs)
HT Waller, Howard's (18-35, .514, 2 HR, 11 RBI, 14 Runs)
Jorge Millan, Jerry's (19-40, .475, 6 RBI, 14 Runs)
Richard Wilborn, Anchor Lounge (6-13, .462, 2 RBI, 2 Runs)
Larry Chiapetta, Empire County Sports (10-22, .455, 1 HR, 5 RBI, 2 Runs)
Mike Gouin, Little Caesars (3-7, .429, 2 Runs)
Don Clatterbaugh, Howard's Athletics (3-7, .429, 2 Runs)
Denny Hogan, Howard's (15-36, .417, 7 RBI, 13 Runs)
Andy Loya, Pyramid (7-17, .412, 5 RBI, 3 Runs)
Jim Galloway, Empire County Sports (8-20, .400, 1 HR, 5 RBI, 4 Runs)
Bob Harrison, Wilsman Trucking (7-18, .389, 2 RBI, 7 Runs)
Henry Koper, Nelson's (5-13, .385, 4 RBI, 1 Run)
Steve Loya, Pyramid (7-19, .368, 4 RBI, 4 Runs)
Buddy Slater, Anchor Lounge (4-12, .333, 2 RBI, 3 Runs)
Mike Axelson, Little Caesars (2-6, .333, 1 RBI)
Jim Pucket, Little Caesars (2-6, .333)
Bill Cole, Little Caesars (2-6, .333, 1 Run)
---
FINAL STANDINGS
1. Howard Furniture, Denver, NC (7-1)
2. Jerry's Caterers, Miami, FL (9-2)
3. Champion Landscaping, King's Mountain, NC (4-2)
4. Thurman Bryant, Chattanooga, TN (5-2)
5t. Schlitz of Fondy, Fond du Lac, WI (3-2)
5t. Jiffy Club, Louisville, KY (3-2)
7t. Wilsman Trucking, Hamilton, OH (4-2)
7t. Empire County Astros, Levittown, NY (4-2)
9t. Adair Landcaping, Orlando, FL (2-2)
9t. Cambridge Square, Seattle, WA (2-2)
9t. Sorrento Pizza, Cincinnati, OH (2-2)
9t. Nelson Painting, Oklahoma City, OK (3-2)
13t. Pyramid Cafe, Cleveland, OH (3-2)
13t. Anchor Lounge, San Antonio, TX (2-2)
13t. Armed Forces, USA (2-2)
13t. Hello Dolly Lounge, White Bear Lake, MN (1-2)
17t. Artichoke Joe's, San Bruno, CA (1-2)
17t. North End Sports Center, Bridgeport, CT (1-2)
17t. Associated Insurance Agency, Wichita, KS (1-2)
17t. Ern-Ell's Lounge, Baltimore, MD (1-2)
17t. Ron's Construction, Salt Lake City, UT (1-2)
17t. Non-Ferrous Metal Fab, Cleveland, OH (1-2)
17t. New Era Dye, York, PA (2-2)
17t. Maplewood Plumbing, Maplewood, MN (1-2)
25t. Triton Petroleum, Wichita, KS (0-2)
25t. Best Products, Richmond, VA (0-2)
25t. Little Caesars, Detroit, MI (0-2)
25t. Playboy Lounge, Kenewich, WA (0-2)
25t. Howard's Athletics, Richmond, VA (0-2)
25t. Medico Tile, Manchester, NH (0-2)
25t. Jim's SPorts Shop Hard Hats, Pittsburgh, PA (0-2)
25t. Tom's Foods, Columbus, GA (0-2)
33t. Steele's Automotive, Lima, OH (0-2)
33t. Big Z, Trenton, NJ Forfeit