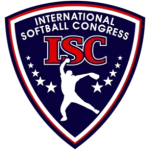 1950 held at Phoenix, Arizona.
---
Champion – Funk Jewelry Gems, Phoenix, Arizona
Runner Up – A-1 Queens, Phoenix, Arizona (110-29)
---
Carolyn Morris of Funk Jewelry hurled a 1-0 shutout in the final championship game to defeat her former team, A-1 Queens for the NSC title. Morris was awarded the Outstanding Pitcher Award as she went 5-0 in the tournament, including three shutouts and only gave up two runs in the entire tournament. Morris beat her old friend and teammate Charlotte Armstrong of the A-1 Queens, who gave up only the only run of the game in the first inning on a Mildred Dixons single that scored Mearle Keagle from second.
Keagle had started off the game with an infield hit and stole second before scoring. She was the only runner to steal a base of Queens catcher and tournament MVP Lois Williams.
Williams had a brilliant tournament behind the plate and also delivered some big hits from her clean-up spot in the batting order.
Alma Wilson was the batting champ as she started off with a 2 for 3 effort in the first game, including a run scoring single and then later, a grand slam home run.
---
MVP Award – Lois Williams, A-1 Queens (Brilliant defensive play at the Catcher position clutch hits from clean-up spot)
Outstanding Pitcher – Carolyn Morris, Funk Gems (5-0, including 1-0 shutout in championship, she had 2 other shutouts as well)
Leading Hitter – Alma Wilson, Sooner Queens (3-2 pitching, not much info on batting, Grand Slam, single, 5 RBI)
Miss Softball Award – Dodie Nelson, A-1 Queens (Outfielder, played entire tournament with dislocated kneecap and still made all world)
---
1950 NSC ALL WORLD TEAM
P – Charlotte Armstrong, Phoenix A-1 Queens (4-2)
P – Carolyn Morris, Phoenix Funk Gems (5-0)
P – Annabelle 'Mugsy' Walker, Denver Industrial Bank (1-2)
C – Kay Rohrer, Phoenix Funk Gems
C – Lois Williams, Phoenix A-1 Queens
1B – Theda Tee Marshall, Phoenix Funk Gems
2B – Margie Yetman, Downtown Chevy Sooner Queens
3B – Mildred Dixon, Phoenix Funk Gems
SS – Nancy Ito, Denver Industrial Bank
OF – Merle Keagle, Phoenix Funk Gems
OF – Dottie Myers, Phoenix Funk Gems
OF – Dodie Nelson, Phoenix A-1 Queens
UTIL – Alice Jorgensen, Seattle Epicures (2-2)
UTIL – Alma Wilson, Downtown Chevy Sooner Queens (3-2)
---
FINAL STANDINGS
1. Funk Jewelry Gems, Phoenix, AZ (5-0)
2. A-1 Queens, Phoenix, AZ (4-2)
3. Lorelei Ladies, Atlanta, GA (4-2) *
4. Downtown Chevy Sooner Queens, Oklahoma City, OK (3-2)
5t. Van Food Mart, West Allis, WI (2-2)
5t. Seattle Epicures, Seattle, WA (2-2)
7t. Texas Bells, Breckenridge, TX (1-2) *
7t. Industrial Bankers, Denver, CO (1-2)
9t. Sunshine Girls, Tucson, AZ (0-2)
9t. Agriculture Assoc. Hybrid Chicks, DeKalb, IL (0-2)
9t. Miller & Miller Freight, Wichita Falls, TX (0-2)
9t. Ringsby Truck Lines, Grand Junction, CO (0-2) (forfeit)
* includes 1 forfeit win