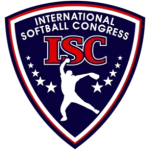 1947 held at Phoenix, Arizona.
---
Champion – Farm Fresh Market, Phoenix, Arizona
Runner Up – Palomar Foods, San Diego, California
---
This was the inaugural softball tournament of the newly created National Softball Congress (NSC), preceding the International Softball League (ISL) and forerunner to the present International Softball Congress (ISC).
Much of the content herein from the NSC, ISL and even the earlier years of the ISC were painstakingly compiled by former ISC Historian, Art Cashion, Ft. Worth (TX).
Mr. Cashion spent countless hours reviewing outdated newspapers (thru his local library) from around the country in order to glean much of the information on this and other ISC tournaments. We are greatly indebted to Art Cashion for the tremendous task he undertook in compiling the early history of our organizations.
Arnold Trujillo (Farm Fresh) no-hit the Oklahoma City team.
One-hitters included future ISC Hall-of-Famer, Paul Lopez (Farm Fresh) and Eddie Feigner.
Eddie Feigner (Seattle) would later go on to world-wide acclaim with the handle, The King and His Court.
Wes Priest (Reno) threw a 1-hitter and lost (1-0) to Milwaukee.
Frank Parente (Seattle) was the only player to hit 2 homeruns.
Ted Oleo (Farm Fresh) was the only player to hit two triples and did it in the same game.
Johnny Taylor (Phalanx) hit the only grand-slam homer of the tournament. Dick Mitchell hit two of only four doubles in the entire tournament. Bob Adams, Phalanx had 4 hits in one game.
Of the 24 extra-base hits in the 16 team tournament, 13 were homers.
The above was edited on Sep 1, 2006 by Bret Baughman, Cedar Rapids Iowa ISC Historian. At this time I will also add full line scores as reported in the Arizona Republic in the time period of the NSC World Tournament.
The Championship game of this tournament went extra innings with Farm Fresh scoring 4 runs in the top of the 8th to claim the NSC World Championship.
---
Cleo Goyette Memorial MVP Award – Mickey Aguirre, Palomar Foods, San Diego, CA
Leroy Zimmerman Memorial Pitching Award – Bob Michaels, Palomar Foods, San Diego, CA
Leading Hitter – Bob Adams, Phalanx Fraternity (6-13) – .462
Most RBI – Ivan Crawford, Kings – 5
Most RBI – Dom Faruzzi, Kings – 5
Most RBI – Bud Manchester, Streit Bicycle Shop – 5
Most RBI – Tom Sewell, Grever Truck Line – 5
---
1947 ALL WORLD TEAM
IF – Dick Mitchell, Palomar Foods
IF – Bob Adams, Phalanx Fraternity
IF – John Pinson, Andrews Motors
IF – Mickey Aguirre, Palomar Foods
OF – Bill Bletcher, Harold's Club
OF – Harold McNeeley, Fire Department
OF – Jim Brawner, Farm Fresh Markets
UTIL – John Pompeo,  White Center Athletic Club
UTIL – Harley Taylor, Mount Dennis Athletic Association
C – Ralph Pelkowski, Royals
C – Hugo Pearson, United Tile
---
FINAL STANDINGS
1. Farm Fresh Markets, Phoenix, AZ (5-1)
2. Palomar Foods, San Diego, CA (7-2)
3. Andrews Motors, Rome, GA (3-2)
4. Anderson Sporting Goods, Oklahoma City, OK (3-2)
5t. United Tile, Waco, TX (3-2)
5t. Phalanx Fraternity, Phoenix, AZ (2-2)
7t. Royals, Milwaukee, WI (2-2)
7t. White Center Athletic Club, Seattle, WA (2-2)
9t. Platt-Rogers, Boulder, CO (1-2)
9t. Fire Department, Tulsa, OK (1-2)
9t. Harold's Club, Reno, NV (1-2)
9t. Mount Dennis Athletic Association, Toronto, ON (1-2)
13t. Bonaldi Bros Post, Rochester, NY (0-2)
13t. New York Hatters, Gainesville, FL (0-2)
13t. Regalos Gaona, Ciudad, MX (0-2)
13t. Merchants, Bell, CA (0-2)