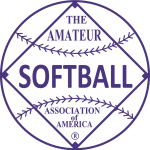 1953 held at Deer Creek Common in Cincinnati, Ohio and Newport Recreation Field in Newport, Kentucky on September 3-5.
---
Champion – Shield's Contractors, Newport, Kentucky (45-3)
Runner Up – Pittsburgh Fruit Merchants, Pittsburgh, Pennsylvania
---
Shield's Contractors beat Pittsburgh Fruit Merchants 13-12 in winners bracket finals, Myron Reinhardt was 4-5, HR, double, and 4 RBI. Also leading Shield's attack were Ted Stegeman (3-5, 3 doubles), John Henry (3-5), Al Rinehard (3-5, HR, 2B, and 4 RBI) and Don Heilman (double, triple, 3 RBI). The Merchants came back and beat Wolf's Cafe of Cincinnati 6-1 in the loser's bracket final to get another crack at the Kentucky squad.
Shield's then beat Pittsburgh 13-1 in the championship game. Myron Reinhardt's HR and 4 RBI led the way for Shield's to capture the very first ASA Slow Pitch National Championship. Shield's pitcher Roland Vorhees gave up only 5 hits and one run. Al Rinehard  (2 Doubles) and Bo Stuntebeck each had three hits in the title clincher.
Most of the teams entered were from the Ohio River Valley and Northern Kentucky. For the Merchants, Mike Sabbio was 4-8 with a HR and 3 RBI in the final two games Pittsburgh played, both losses to Shields.
The MVP was not awarded by many say Myron Reinhardt would have won easy, leading the tournament in average, home runs, and leading Shield's to the title by going 11 for 16, .688 with 4 home runs.
---
MVP – N/A
HR Leader – Myron Reinhardt, Shield's Contractors – 4
Batting Leader – Myron Reinhardt, Shield's Contractors – .688
---
FIRST TEAM ALL-AMERICANS
N/A
---
FINAL STANDINGS
1. Shield's Contractors, Newport, KY (4-0)
2. Pittsburgh Fruit Merchants, Pittsburgh, PA (3-2)
3. Wolf's Café, Cincinnati, OH (4-2)
4. D&G Café, Newport, KY (3-2)
5t. Baldwin Piano, Cincinnati, OH (2-2)
5t. Club 42, Louisville, KY (2-2)
7t. Soddy Daisy Merchants, Chattanooga, TN (1-2)
7t. Prestonia Athletic Club, Louisville, KY (1-2)
9t. Homestead Café, Hamilton, OH (0-2)
9t. Schwedes Furniture/Charley Geigers, Lakewood, OH (0-2)
---