Sue Ilyes says it was a full-circle moment returning to USA Softball Hall of Fame Stadium in Oklahoma City on Oct. 28. She had been on the field before, way back in 1981. The site has become one of the sport's most hallowed grounds since then, now a 13,000-seat cathedral best known for hosting the Women's College World Series.
Forty-two years ago, she was a star shortstop for an All-American slow pitch softball team that made the trip for the first-ever Hall of Fame Classic. The team defeated North Carolina-based Howard's Rubi-Otts, who a year prior had traveled to York and won the 1980 Amateur Softball Association national championship over Ilyes' York Barbelletes.
This time, Ilyes was in town to be inducted into the National Softball Hall of Fame.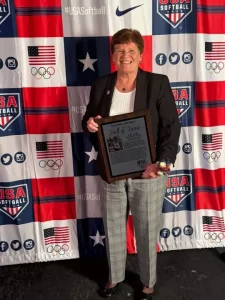 Sue Corcoran Bupp Ilyes was among nine inductees in the Hall's 2023 class. She joined an exclusive club of 449 members, and she was only the 14th women's slow pitch standout to be enshrined.
"It's just been a full-circle moment for me that I got to go back on that field, I got to stand at shortstop and relive that again. That was really special to me," Ilyes said. "And then to have this award on top of it, it was 100 times more than what I thought it would be."
Ilyes is one of the most decorated slow pitch softball players of all time and arguably the greatest ever from Pennsylvania. During a 35-year career that began in 1972 — the year she graduated from Dallastown High School — Ilyes received a combined 18 All-American and All-World honors. She was part of eight national title teams with the Erie-based Lakerettes and won national championship MVP in 1998.
"I would have never expected this," Ilyes said of the national awards and recognition. "I just went out to play ball. I loved playing softball, I loved the people I hung out with. Both teams, we were a family. We always did things together. If we weren't playing ball together, we were doing something together. It was the best experience that I've had as far as sports goes."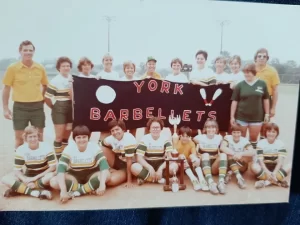 National treasures: It started with Ilyes' father, Gerald R. Corcoran Sr. — better known as "Cork" — who played competitive softball himself when Sue was growing up. The family moved to the York area in 1969 and Sue began playing for a local team sponsored by Frank's Steak Shop. After the group won the city championship, York Barbell owner Bob Hoffman jumped in as a sponsor. The Barbellets, coached by Cork, became a national powerhouse in the 1970s and were a massively popular draw in the area. Hoffman used his vast resources to send the Barbellets around the country, even funding a 10-day trip to Hawaii for a showcase.
The team name changed after Hoffman stopped sponsoring softball in 1982. The group remained largely intact, though, competing as Mr. Dario's and the self-sponsored York Pacers. They reached ASA nationals twice but didn't reach the heights of the Barbellets. As the team slowly disbanded, legendary Lakerettes coach Art Hoover invited a handful of players to join his team, which had been a familiar competitor at weekend tournaments throughout the years. Ilyes made the jump in 1993.
"That's when it took off," she said.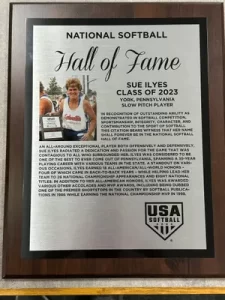 The Lakerettes immediately became a fixture at nationals and finally claimed the championship in 1998 and 1999. They also played in the 35-and-over division and won six straight titles from 1999-2004. In their last runs at the Major National level, they finished second in 2000 and third in 2001. Ilyes — who primarily played second base for the Lakerettes — was named ASA Player of the Decade for the 1990s.
The York Area Sports Hall of Fame inducted Ilyes in its 2009 class, and she went into the USA Softball of Pennsylvania Hall of Fame with multiple teammates this March. But she still never gave much thought to "the big one," even though the three players who had been named Player of the Decade before her had all been in the Hall since at least 2007.
She was nominated by Steve Dimitry, who runs the Softball History USA website dedicated to preserving the history of high-level softball in all forms. Ilyes and Dimitry had never met before Dimitry called Don Ilyes, Sue's husband, to establish contact.
"I got a phone call one day … he said, 'What's your wife's phone number?' And I said, 'Well, who are you?'" Don Ilyes said with a laugh. "And that's how it started … and it just rolled from there."
The email from the National Softball Hall of Fame came early in the summer, giving Sue Ilyes a few months to make plans and prepare her speech. She and Don flew to Oklahoma City on Thursday, Oct. 26, did sightseeing that Friday and got a tour of the complex and museum on Saturday morning. The banquet was that evening, and Sue went home with a plaque, a ring and a full-sized bat with her name inscribed on it. (She'll need to keep that one away from her 7-year-old grandson, she joked.)
'Cherry on top': Sue and Don Ilyes met at the softball field — where else? — and eventually married in 1994. Don Ilyes was also a high-level player on one of Hoffman's York teams and later served as an assistant coach with the Lakerettes. The couple balanced their family life with full-time jobs and copious weekend travel.
Sue Ilyes has remained connected to the game since hanging up her spikes — she has volunteered with the West York softball team in recent years and helmed a short-lived softball program at Penn State York — but isn't one to boast about her playing accomplishments. It's Don who makes sure those aren't forgotten.
"We have a hall in our house that, if it wasn't for me, (the plaques) wouldn't be there," Don Ilyes said. "They'd still be down in the basement."
Softball was never a job for Sue Ilyes, even if her teams carried themselves like professionals when it was time for business. She was offered opportunities to play outside the state — one team in North Carolina offered her a job and a house — but never moved out of York County. She didn't see herself as above her teammates despite her distinguished achievements. Her memories of "Saturday Night Live" watch parties in the 1970s are as fond as those of championships in the '90s.
It was never about MVPs or All-American selections or Hall of Fame inductions. At its core, softball was how Ilyes chose to spend her time away from work. In that time, though, she left a legacy that will now be commemorated forever.