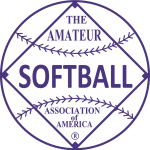 1948 held at Portland, Oregon.
---
Champion – Briggs Beautyware, Detroit, Michigan (41-1)
Runner Up – Standard Parts, Memphis, Tennessee
---
Clarence Miller shutout Briggs Beautyware 2-0 to force the final championship game, which Briggs won 1-0. He only surrendered 8 runs (7 of which came in the very first game). Miller threw 3 consecutive no-hitters in the Regional Tournament that Standard Parts won to gain the national berth. One was an 8 inning perfect game. He had 78 K in the 34 innings he pitched in the Regionals going 5-0. Combining the Nationals, he was 10-2 with 179 K in 93 IP.
Briggs had a trio of hurlers, Gil Weslowski started things off with a no hitter on the first day of play. he finished 2-1, with 35 K in 21 IP. Roger Maceroni was 1-0 with a shutout and a couple of relief appearances. He totaled 12 IP with 13 K. Ed Purroll pitched two games in relief and won both. He was 2-0 with 11 K in 7 IP. After Buck Miller had blanked Detroit 2-0 in the first final, he lost a heartbreaker in the final championship game. Miller had 19 perfect innings until Walt Butkowski doubled in Jerry Zarick with the winning run in a 1-0 finale. Buck Miller got one of the 2 hits that Standard Parts had in the game. The Detroit staff hurled 40 innings and struck out 59 batters. They also had the highest team batting average of any team (.225). Jerry Zarick led the Briggs squad with a .400 average (8-20, including 3 doubles and 4 RBI). Ed "Tyranski" Tyson batted .391 (9-23). Incidently, it was Roger Maceroni who hurled the final game for Detroit. He pitched a 1-0, two-hit shutout and struck out 10.
Grumman from Long Island, NY came into this tournament as the favorite with two of the best pitchers in the country in Roy Stephenson and Jim Chambers. But, things didn't go their way. The pitchers split many of their games. Stephenson (2-0, pitching in all 4 games, he totaled 21 IP, including a no 7-0 hitter with 19 K, and had 45 K total and gave up just 3 total hits and 3 runs), Chambers pitched in 3 games, totaling 22 IP, with 34 K, he only surrendered 4 hits and 4 runs, but was 0-2). Stephenson did however, hit a home Run for the Grumman Yankees.
Al Young, White Front Caseys of Springfield (3-0 pitching with 23 K's in 21 IP, leading the Missouri team to a 4th place finish)
---
MVP – Clarence "Buck" Miller, Standard Parts
Batting Leader – Ray Stewart, Chiksan Club – .417
HR Leader – Roy Palmeri, Briggs Beautyware – 2
HR Leader – Ashley 'Monk' Joyner, Memphis Standard Parts – 2
---
FIRST TEAM ALL-AMERICANS
P – Clarence "Buck" Miller, Standard Parts (5-2, 101 Ks in 59 IP – 5 consecutive shutouts-52 consecutive scoreless innings, including a no-hitter)
P – Roy Stephenson, Grumman Aircraft
P – Al Young, Casey's
P – Roger Maceroni, Briggs Beautyware
C – Ray Stewart, Chicken Company (5-12, 1 RBI)
1B – Jerry Zarick, Briggs Beautyware
2B – Larry Savage, Casey's
3B – Homer Durden, Grand Prize Beer
SS – Eddie "Tyranski" Tyson, Briggs Beautyware
OF – Roy Palmeri, Briggs Beautyware (6-20, .300, 6 RBI, grand slam, 2 triples)
OF – Ashley "Monk" Joyner, Standard Parts (9 RBI)
OF – Bob Moers, Grand Prize Beer
---
FINAL STANDINGS
1. Briggs Beautyware, Detroit, MI (5-1) (East Central)
2. Standard Parts, Memphis, TN 6-2 (Southern)
3. Grand Prize Brewery, Houston, TX (3-2) (Southwestern)
4. White Front Caseys, Springfield, MO (4-2) (Western)
5t. Chiksan Club, Brea, CA (2-2) (South Pacific Coast)
5t. Friberg Electric, Portland, OR (2-2) (Host)
7t. Grumman Yankees, Bethpage, NY (2-2) (Mid-Atlantic)
7t. Caribbean Dairy, San Juan, Puerto Rico (1-2) (Atlantic Ocean)
9t. Smithway Rippers, Seattle, WA (1-2) (Northwestern)
9t. Turner's, Inc., Lafayette, CO (1-2) (Rocky Mountain)
9t. Stockton Eagles, Stockton, CA (1-2) (North Pacific Coast)
9t. Draper Dodgers, Marion, IN (1-2) (West Central)
13t. 20th Century Signs, Bismark, ND (0-2) (Northern)
13t. Vancouver Firemen, Vancouver, BC (0-2) (Canada)
13t. Raybestos Cardinals, Stratford, CT (0-2) (North Atlantic)
*  Won a game by forfeit.
---
NOTES
Thrifty Beverage, Washington DC (Central Atlantic) did not show up. Zollner Pistons, Fort Wayne, IN – Defending Champ – chose not to defend their title, they played in the National Softball League. 20th Century Signs, Bismarck, ND went in place of Manchester Biscuits, Fargo, ND, who could not attend. Thrifty Beverage, Washington DC (withdrew, could not attend). Mexico did not send a team to Nationals.