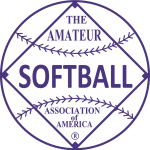 1964 held at Jones Beach, New York.
---
Champion – Pabst International Harvester, Springfield, Ohio
Runner Up – Lycoming, Stratford, Connecticut
---
After losing the winner's bracket final, Pabst hen came back and defeated host team, Grumman Aircraft of Long Island 9-4 in the loser's bracket final (Grumman almost lost their opening game to Puerto Rico, but staged a tremendous comeback behind Joe Mallins 3 HR, a double and 7 RBI to help them to a 18-16 win).  Pabst then came back to beat undefeated  Lycoming 20-15 and 15-2 to win the title. Lycoming had already beaten Pabst in the winners bracket finals 14-11, behind Frank Deluca's 4 hits. Al Thrasher of Pabst was a one man wrecking crew throughout the tournament and in the finals, he came through again, hitting a pair of 2-run homers in the first final and 3-run homer in the final game.
---
MVP – Al Thrasher, International Harvester (.821, with 3 HR in the final 2 games)
HR Leader – Al Thrasher, Pabst International Harvester
Batting Leader – Al Thrasher, International Harvester – .821 (23-28)
Outstanding Pitcher – Don Schefler, International Harvester
Outstanding Defensive Player – Joe Calandra, Grumman Aircraft
---
ASA INDUSTRIAL MAJOR ALL AMERICANS FIRST TEAM
P – Don Scheeler, International Harvester, Springfield, OH
C – Ervin Schlotz, Allen-Bradley, Milwaukee, WI
1B – Don Hardnick, International Harvester, Springfield, OH
2B – Frank Roberson, Combustion Engineers, Chattanooga, TN
3B – Gary Lough, International Harvester, Springfield, OH
SS – Ed Finnegan, Lycoming, Stratford, CT
OF – Al Thrasher, International Harvester, Springfield, OH
OF – Ed Fouchey, Parks and Recreation, Detroit, MI
OF – Lamar Fowler, Combustion Engineers, Chattanooga, TN
OF – Jim Dobbs, Lycoming, Stratford, CT
Util – Al Montani, Lycoming, Stratford, CT
ASA INDUSTRIAL MAJOR ALL AMERICANS SECOND TEAM
P – John Shade, Grumman Aircraft, Bethpage, NY
C – Jim Verteramo, Grumman Aircraft, Bethpage, NY
1B – Ed Gee, Lycoming, Stratford, CT
2B – Don Stewart, IBM, Lexington, KY
3B – Howard Gordon, Toledo Trust, Toledo, OH
SS – Bill Baden, IBM, Lexington, KY
OF – Ken Smith, Grumman Aircraft, Bethpage, NY
OF – Ed Connelly, Pepsi-Cola, New York City, NY
OF – Ron Withers, Central Yarn, Gastonia, NC
OF – Jim Loiugh, International Harvester, Springfield, OH
Util – Joe Calandria, Grumman Aircraft, Bethpage, NY
---
FINAL STANDINGS
1. Pabst International Harvester, Springfield, OH (7-1)
2. Lycoming, Stratford, CT (4-2)
3. Grumman Aircraft, Bethpage, NY (5-2)
4. Allen-Bradley, Milwaukee, WI (4-2)
5. Comb. Engineers, Chattanooga, TN (4-2)
6. Pittsburgh, PA (4-2)
7. Pepsi-Cola, New York, NY (4-2)
8. Central Yarn, Gastonia, NC (3-2)
9t. Parks and Recreation, Detroit, MI (3-2)
9t. Public Service, Trenton, NJ (3-2)
11t. Link Aircraft, Binghamton, NY (2-2)
11t. Toledo Trust, Toledo, OH (2-2)
13t. Gas and Electric, Louisville, KY (2-2)
13t. Maple Press, York, PA (2-2)
15t. Proctor-Gamble, Cincinnati, OH (1-2)
16t. National Lead, St.. Louis, MO (1-2)
16t. Coast to Coast, Minneapolis, MN (1-2)
16t. IBM, Lexington, KY (1-2)
16t. Pharr Yarn, McAdenville, NC (1-2)
16t. DuPont, Waynesboro, VA (1-2)
16t. Minnegasco, Minneapolis, MN (1-2)
16t. Local 57, Marietta, OH (1-2)
23t. International Shoe, Puerto Rico (0-2)
23t. Local 57, Fort Wayne, IN (0-2)
25t. Centrifugal, Waukesha, WI (0-2)
25t. American Sisalkraft, Attleboro, MA (0-2)
25t. Wix Jets, Gastonia, NC (0-2)
25t. World Publishing, Cleveland, OH (0-2)
25t. Bausch & Lomb, Rochester, NY (0-2)
25t. Post Office, Providence, RI (0-2)