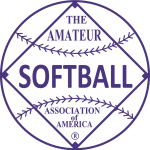 2022 held at Byers Softball Complex in South Bend, Indiana on August 4-7.
---
Champion – NY Gremlins, Clifton Park, New York
Runner Up – Hill United Chiefs, Machias, New York
---
The 90th annual USA Softball Men's Major Fast Pitch National Championship concluded today as the NY Gremlins claimed the 2022 Championship title with a 7-0 (five innings) run-rule victory over the J&B Bombers. With an undefeated record through the four-day tournament, the Gremlins recorded three run-rule, shutout victories while outscoring their opponents 43-15 in five games played en route to their second-consecutive and seventh overall Men's Major Fast Pitch National Championship title.
Both the NY Gremlins and the J&B Bombers started the tournament strong with back-to-back shutouts on Friday to send them into a head-to-head battle on Saturday morning. The close-fought contest came down to the wire as the Bombers were unable to muster a seventh-inning comeback with the Gremlins pulling out the 6-5 victory to advance in the winner's bracket, going on to claim another hard-earned, 10-inning victory over Hill United Chiefs to claim a spot in the Championship game on Sunday afternoon. Despite the loss to the Gremlins on Saturday morning to send them to the loser's bracket, the Bombers rallied back with a shutout win over Kitchener Hallman Twins later in the day followed by back-to-back victories on Sunday morning to keep the momentum going and advance to the Championship contest for a rematch against the Gremlins.
Remaining dominant in the final game, the NY Gremlins came out strong with two walks, a double and a single to put up two quick runs to start off the game. A home run off the bat of Ladislao Malarczuk in the second inning tacked on another run for the Gremlins before breaking the game open in the bottom of the third with a string of base hits and walks to score four more runs and extend the lead, 7-0. Andrew Kirkpatrick and the Gremlin defense kept the Bombers at bay through five innings of play, allowing only three hits as the Gremlins closed out the game with a strikeout, ground out and fly out in the top of the fifth to claim the 2022 Men's Major Fast Pitch National Championship title in run-rule fashion.
Zenon Winter led the Gremlins with a .500 batting average through the tournament while Mathieu Roy and Nick Mullins each put up a .417 average to contribute to the team's dominant offensive performance. The Gremlins totaled 49 hits in five games including 10 doubles and seven home runs while the pitching staff of Kirkpatrick, Josh Pettett and Sammy Villalvazo combined for 37 strikeouts in 32 innings pitched with an ERA of 3.28.
---
MVP – Nick Nullins, NY Gremlins
Batting Leader – Shane Boland, Hill United Chiefs
Home Run Leader – Lenny Villalvazo, J&B Bombers
Most Valuable Pitcher Herb Dudley Award – Sammy Villalvazo, NY Gremlins
---
FIRST TEAM ALL-AMERICANS
P – Sean Cleary, Bear Creek Express
P – Gustavo Godoy, J&B Bombers
P – Andrew Kirkpatrick, NY Gremlins
C – Nick Mullins, NY Gremlins
IF – Shane Boland, Hill United Chiefs
IF – Ladislao Melarczuk, NY Gremlins
IF – Jerome Raemaki, NY Gremlins
IF – Lenny Villalvazo, J&B Bombers
OF – Quinton Bruce, Bear Creek Express
OF – Blaine Milheim, Kitchener Hallman Twins
OF – Cesar Rodriguez, J&B Bombers
OF – Colin Walsh, Bear Creek Express
UTIL – Bruno Motroni, Hill United Chiefs
UTIL – Cam Schiller, Kitchener Hallman Twins
UTIL – Zenon Winter, NY Gremlins
---
FINAL STANDINGS
1. Gremlins Clifton Park, Clifton Park, NY (5-0)
2. J&B Painting, Thousand Oaks, CA (5-2)
3. Hill United Chiefs, Machias, NY (3-2)
4. Bear Creek Express, Glencoe, IN (4-2)
5t. Circle Tap Dukes, Denmark, WI (2-2)
5t. Kitchener Hallman Twins, Chesterfield, VA (3-2)
7t. Omma Tigres, Midland, TX (2-2)
7t. AHI Reapers, Fond du Lac, WI (3-3)
9t. AWP Lumberjacks, Vergennes, IL (1-2)
9t. Dolan And Murphy, Aurora, IL (3-2)
9t. Kegel Black Knights, Sioux Falls, SD (3-2)
9t. Midland Explorers, South Lyon, MI (3-2)
13t. Wander Springs Chippers, Denmark, WI (2-2)
13t. LC Ostrander Norsemen, Chanhassen, MN (2-2)
13t. Marchio Sausage Company, Little Canada, MN (1-3)
13t. Pueblo Bandits, Aurora, CO (1-3)
17t. San Antonio Glowworm, San Antonio, TX (1-2)
17t. Ohio Bombers, Bainbridge, OH (0-3)
17t. NW Braves, Pendleton, OR (0-3)
17t. Bar Buzz, Kimberly, WI (0-3)
---