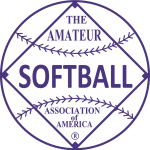 1964 held at Omaha, Nebraska.
---
Champion: Dana Gardens, Cincinnati, Ohio (43-5)
Runner Up: Rutenschrorer Florist, Cincinnati, Ohio
---
Rutenschorer Florist lost their first game, 2-1 to Steele Concrete of NC, but then won 7 straight games to get to the final, outscoring their rivals 75-20 along the way, only to lose 4-0 to league rival Dana Gardens with Dot Bailey on the mound in the championship final. Bailey was 5-0 and gave up 13 runs in the five games, including two shutouts.
The third place team Steele Concrete of Graham, NC came into the National Tournament with a 36-2 Record. Becky Rogers (17 years old) has pitched and won all 36 games. Another 17 year old, Gail Whitesell, leads the team with 16 home runs, while Short-fielder Shirley Comer is considered the best fielder in the south.
Steele's went 4-2 in this national to finish their season with a 40-6 record. Dana Gardens won the final game 4-0. Their first run was scored when Flo Hill tripled and then scored on a sacrifice fly from Norma Eschenbrenner.
---
MVP – Alberta Kohls Sims, Dana Gardens (8-15, .533)
Outstanding Pitcher Award – Dot Bailey, Dana (5-0, including 4-0 shutout win in the final, she gave up only 13 runs in the 5 games, which included 2 shutouts)
---
1964 FIRST TEAM ALL AMERICANS
P – Dot Bailey, Dana Gardens (5-0 Pitching)
C – Eileen Weigert, Windy's Girls
1B – Carol Riley, Buddies Sports
2B – Jan McCunn, Phil-Queens
3B – Carol Weiss, Rutenschroer Florist
SS – Patricia Dixon, WFLI
SF – Alberta Kohls, Dana Gardens
OF – Shirley Comer, Steele Concrete
OF – Ida Hopkins, Cadillac Music
OF – Jean Lenzer, Rutenschroer Florist
OF – Norma Eschenbrenner, Dana Gardens (7-17, .412)
UT – Carol Smith, Rutenschroer Florist
UT – Becky Rogers, Steele Concrete (4-2 Pitching)
UT – Gail Whitesill, Steele Concrete
UT – Lucille Fox, Colony Club
UT – Diana Sue Adams, BPW Hoosiers
UT – Jean Chapman, American Welding
UT – Marilyn Pohl, Art's Aces
HM – Marlene Menchen, Dana Gardens
---
FINAL STANDINGS
1. Dana Gardens, Cincinnati, OH (5-0)
2. Rutenschroer Florist, Cincinnati, OH (7-2)
3. Steele Concrete, Graham, NC (4-2)
4. BPW Hoosiers, Louisville, KY (4-2)
5t. Colony Club, St. Louis, MO (3-2)
5t. Windy Tap Girls, Milwaukee, WI (2-2)
7t. Buddies Sports, Tallahassee, FL (4-2)
7t. American Welding, Columbus, OH (3-2)
9t. Cadillac Music, Cleveland, OH (2-2)
9t. Phil-Queens, Omaha, NE (2-2)
9t. WFIL, Chattanooga, TN (2-2)
9t. Hillbillies, Clay, WV (2-2)
13t. Art's Aces, Omaha, NE (2-2)
13t. Austin Merchants, Austin, MN (2-2)
13t. New Bethel, Detroit, MI (1-2)
13t. Riviera Club, Des Moines, IA (1-2)
17t. Point Avantis, Minneapolis, MN (1-2)
17t. Lanettes, Dighton, KS (1-2)
17t. Butte Merchants, Butte, MT (1-2)
17t. J.A. Chauvin, Gretna, LA (0-2)
17t. Dixie Darlings, Kansas City, KS (0-2)
17t. Flamingo Club, St. Paul, MN (0-2)
17t. Mutual All-Stars, Lincoln, NE (0-2)
17t. Long Lines, Atlanta, GA (0-2)
25t. Henderson Sports, Savannah, GA (0-2)
25t. Monroe Royals, Monroe, MI (0-2)