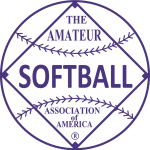 1979 held at York, Pennsylvania.
---
Champion – Nelco Manufacturing, Oklahoma City, Oklahoma (92-18)
Runner Up – Campbell's Carpets, Concord, California (103-16)
---
Nelco Manufacturing had a slim chance of winning this event. Most thought it was gonna be another Howard's-Campbell final.  But these two teams met in a first round matchup. ASA's residency rule limited Nelson's Painting to just local guys from Oklahoma, so only 6 of the players on the USSSA/NSPC Nelson's team were eligible to play.
Campbell's defeated Howard's 17-16 in that first round matchup. The North Carolina squad then reeled off 8 straight wins in the loser's bracket before meeting Campbell's in the loser's bracket final. The Howard's boys suffered the same fate, only this time, it wasn't as close in the 27-8 decision Nelco want undefeated (7-0) as they defeated Campbell's in the Championship game 14-13 on the strength of Bruce Meade's double that drove in the tying and winning runs in the game.
Meade was 5-5 in that game and finished the tournament 25-35 with a .714 batting average, including 7 HR and 18 RBI.  Nelco's "Mighty" Joe Young was the tournament MVP as he batted only .559 (19-34), but had 10 HR and 30 RBI.  He also hit a grand slam in Nelco's 18-15 winner's bracket final victory over Campbell's. The Nelso's Painting team went on to win the NSPC and USSSA Championships to win the first Triple Crown of Slow Pitch Softball for Sponsor RT Nelson.
Note: Craig Elliott of Ken Sanders Ford hit 3 HR in one inning and 9 consecutive HR during the tournament — a record that has yet to be broken.
---
MVP – "Mighty" Joe Young, Nelco Manufacturing
HR Leader – David Beaird, Ken Sanders Ford – 14
Batting Leader – David Beaird, Ken Sanders Ford – .810
---
FIRST TEAM ALL-AMERICANS
P – Craig Elliott, Ken Sanders Ford (13-18, .722, 10 HR, 21 RBI, 8 BB)
P – Earl Chambers, Nelco Manufacturing (18-32, .563, 10 RBI)
C – Dean Brunken, Nelco Manufacturing (22-31, .710, 5 HR, 14 RBI)
C – Bob Brindamour, Shimers (.750, 5 HR, 23 RBI)
1B – Ed Berg, Nelco Manufacturing (19-30, .633, 7 HR, 21 RBI)
2B – Denny Hogan, Howard's Furniture (21-35, .600, 8 HR, 17 RBI)
3B – Ed Roth, Howard's Furniture (23-39, .590, 10 HR, 30 RBI)
SS – Russell Bradley, Campbell's Carpets (22-31, .710, 1 HR, 14 RBI)
OF – David Beaird, Ken Sanders Ford (17-21, .810, 14 HR, 31 RBI)
OF – Tom Beall, Howard's Furniture (23-29, .793, 7 HR, 25 RBI)
OF – Joe Young, Nelco Manufacturing (19-34, .559, 10 HR, 30 RBI)
OF – Bruce Meade, Nelco Manufacturing (25-35, .714, 7 HR, 18 RBI)
UTIL – Dale Chenault, Dave Carroll Sports (13-18, .722, 4 HR, 15 RBI)
UTIL – Mike Cellura, Campbell's Carpets (15-27, .556, 12 HR, 15 RBI)
SECOND TEAM ALL-AMERICANS
P – Steve Kurman, County Sports (14-23, .609)
P – Greg Fuhrman, Campell's Carpets (.457, 7 HR)
C – Ray Fleetwood, Howard's Furniture (19-37, .513, 9 HR)
C – Lynn Navarre, Hans Hansen (11-16, .688)
1B – Harold Kelly, Dave Carroll Sports (.657)
2B – Jerry King, Campbell's Carpets
3B – John Braxton, Dave Carroll Sports (14-22, .636)
SS – Paul Wright, Ken Sanders Ford (12-17, .708)
OF – Denny Jones, Campbell's Carpets (.543, 8 HR)
OF – Gary Perkins, Hans Hansen (.650)
OF – Charles Pierce, Campbell's Carpets (20-30, .667)
OF – Joel Todd, Nelco Manufacturing (6 HR)
UTIL – Terry Perryman, Nelco Manufacturing
UTIL – Steve Williams, American Realty (14-21, .667)
---
OTHERS
Mike Macenko, Hillcrest (9-11, .818)
John Geckle, Steele's (12-15, .800, 2 HR, 8 RBI, 9 Runs)
Don Arndt, Howard's (11-14, .786, 4 HR)
Curtis Williams, Ken Sanders Ford (13-19, .684, 6 HR, 12 RBI, 12 Runs)
Ken Slenker, York Barbell (13-19, .684, 7 HRs, 20 RBI, 11 Runs)
John Davide, York Barbell (15-23, .652, 1 HR, 6 RBI, 15 Runs)
Braxton Speller, Softbal City (16-25, .640, 6 HR, 12 RBI, 11 Runs)
Denny Ellis, Shimers (17-27, .630)
Craig Seaman, Softball City (16-26, .615, 4 HR)
Mike Jacobs, Howard's (28-46, .609, 2 HR, 9 RBI, 26 Runs)
Chan Baker, County Sports (14-23, .609, 6 HR, 15 RBI, 7 Runs)
Lou Russo, York Barbell (14-24, .583, 2 RBI, 7 Runs)
Dick Bartel, Campbell's (18-32, .563, 6 HR, 11 RBI, 14 Runs)
Marty Rolnick, County Sports (11-20, .550, 2 HR, 6 RBI, 13 Runs)
Pete O'Leary, County Sports (14-23, .542, 4 HR, 11 RBI, 8 Runs)
Rick Pinto, Softball City (10-20, .500, 3 RBI, 8 Runs)
Don Clatterbaugh, Dave Carroll's (11-22, .500, 7 HR, 14 RBI, 13 Runs)
Stan Harvey, Howard's (19-38, .500, 11 HR, 25 RBI, 15 Runs)
Buddy Slater, CC Brick (7-15, .467, 3 RBI, 6 Runs)
Richard Wilborn, CC Brick (11-25, .440, 1 HR, 7 RBI, 8 Runs)
Rick Scherr, Howard's (17-39, .436, 7 HR, 14 RBI, 18 Runs)
Al White, American Realty (9-21, .429, 5 HR, 15 RBI, 8 Runs)
James Boyett, Dave Carroll (9-22, .409, 7 HR, 12 RBI, 12 Runs)
---
FINAL STANDINGS
1. Nelco Manufacturing, Oklahoma City, OK (7-0)
2. Campbell Carpets, Concord, CA (5-2)
3. Howard's-Western Steer, Denver, NC (8-2)
4. Shimer's, Minneapolis, MN (6-2)
5t. Hans Hansen, Toledo, OH (3-2)
5t. Dave Carroll Sports, Sherrills Ford, NC (3-2)
7t. Softball City, Detroit, MI (4-2)
7t. Ken Sanders Ford, Phoenix City, AL (3-2)
9t. American Realty, Concord, CA (4-2)
9t. County Sports, Levittown, NY (4-2)
9t. Dr. Bernards, Portland, OR (3-2)
9t. York Barbell, York, PA (3-2)
13t. Robert's Display Data, Baltimore, MD (2-2)
13t. C&C Brick & Lumber, San Antonio, TX (3-2)
13t. John Thell Builders, Providence, RI (2-2)
13t. Mustangs, Wauseon, OH (2-2)
17t. Midstate Oil, Springfield, OH (1-2)
17t. Bunch Brothers, Arab, AL (2-2)
17t. O'Bannon Bank, Springfield, OH (1-2)
17t. Indiana Coal, Evansville, IN (1-2)
17t. Frierson Building Supplies, Jackson, MS (2-2)
17t. Steele's, Lima, OH (1-2)
17t. Bob's American, Ephrata, PA (2-2)
17t. Chuck's Off-Sale, Wahpeton, ND (1-2)
25t. Ensign Homes, Salt Lake City, UT (1-2)
25t. GB Wilcher, Seymour, IN (1-2)
25t. Dan Belew Insurance, Turlock, CA (1-2)
25t. Ross Insurance, Houston, TX (1-2)
25t. Hillcrest Tavern, Cleveland, OH (0-2)
25t. North Central BJ's, Waterloo, IA (0-2)
25t. Kentucky Sporting Goods, Lexington, KY (0-2)
25t. Maggini Outlaws, Riverside, CA (0-2)
33t. Olympic Sports Center, Seattle, WA (0-2)
33t. Gallina's Auto Center, Monroe, MI (0-2)
33t. Gartenhaus Cafe, Plainville, CT (0-2)
33t. Trenton Caps, Trenton, NJ (0-2)
33t. BYM Club, Pittsburgh, PA (0-2)
33t. Diablos, Albuquerque, NM (0-2)
33t. Hamilton Bryan, Wichita Falls, TX (0-2)
33t. Red Jenkins Amoco, Richmond, VA (0-2)