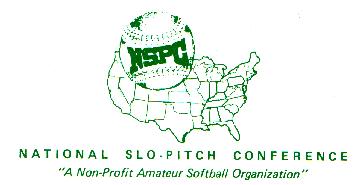 1981 OFFICERS
Executive Director – Robert Brown
President – Richard Howard
Secretary – Jim Snyder
Treasure – Richard Howard
Public Relations – Dennis Punch
Publicity Director – Jerome Earnest
---
FINAL STANDINGS
| | | | | |
| --- | --- | --- | --- | --- |
| Place/Team | Record | Pct | 1st | 2nd |
| 1. Howard's/Western Steer, Denver, NC | 18-4 | .818 | 6 | 1 |
| 2. Nationwide Advertising, Cleveland, OH | 37-15 | .712 | 7 | 2 |
| 3. Snyder's/Stroh's, Detroit, MI | 22-16 | .579 | 1 | 6 |
| 4. York Barbell/Ken Sanders, York, PA | 12-9 | .571 | 1 | 3 |
| 5. Steele's Sports, Gradton, OH | 8-23 | .258 | 0 | 1 |
| 6. Shimers, Minneapolis, MN | 4-12 | .250 | 1 | 0 |
| 7. Jerry's Caterers, Miami, FL | 3-11 | .214 | 0 | 1 |
| 8. Gartenhouse, Plainville, CT | 1-17 | .056 | 0 | 1 |
NSPC NATIONAL CHAMPIONSHIP
1981 held at Willoughby, Ohio.
---
Champion: Howard's/Western Steer, Denver, North Carolina
Runner Up: Nationwide Advertising, Cleveland, Ohio
---
After Howard's beat Steele's 31-10 in the semi-finals (Ed Roth 4 HR, Dick Bartel 3 HR, Don Arndt and Stan Harvey, 2 HR each), Howards then beat NAS 14-12 in winners bracket final as Dick Bartel hit two 3-run homers. NAS then eliminated York Barbell/Ken Sanders 17-13 as Mike Macenko and Dana Andry each homered twice. Howard's then won the title as Tom Beall's 3-run home run blew the game open for Howards as they won the championship 16-4.
---
HR Leaders – Ed Roth, Howard's (8-11, .727, 12 RBI) – 7
HR Leaders – Harold Kelley, Jerry's (10-12, .833, 12 RBI) – 7
Batting Leader – Harold Kelley, Jerry's Caterers (10-12, 7 HR, 12 RBI) – .833
Outstanding Defensive Players – Mike Nye, York/Sanders
Outstanding Defensive Players – Doc Booker, NAS
---
1981 NSPC ALL TOURNAMENT TEAM
Dick Bartel, Howard's/Western Steer (9-13, .692, 6 HR, 15 RBI)
Mike Nye, York Barbell's/Ken Sander's (10-14, .714)
Ed Roth, Howard's/Western Steer (8-11, .727, 7 HR, 12 RBI)
Harold Kelley, Jerry's Caterers (7 HR) (10-12, .833, 7 HR, 12 RBI)
Rick Scherr, Howard's/Western Steer (8-12, .667, 1 HR)
Mike Cellura, Howard's/Western Steer (7-12, .583)
Stan Harvey, Howard's/Western Steer (8-13, .615, 3 HR, 10 RBI)
Mike Macenko, Nationwide Advertising (8-16, .500, 5 HR)
Marty Rolnick, Nationwide Advertising (9-16, .563, 4 HR)
Benny Holt, Nationwide Advertising (8-11, .727, 3 HR)
Craig Elliott, York Barbell's/Ken Sander's (8-13, .615, 6 HR, 12 RBI)
Herman Rathman, Steele's Sports (8-14, .571, 5 HR)
Doc Booker, Nationwide Advertising
---
FINAL STANDINGS
1. Howard's/Western Steer, Denver, NC (3-0)
2. Nationwide Adverstising, Cleveland, OH (3-2)
3. York Barbell/Ken Sanders, York, PA (2-2)
4. Steele's Sports, Grafton, OH (2-2)
5t. Shimers, Minneapolis, MN (1-2)
5t. Jerry's Caterers, Miami, FL (1-2)
7. Snyder's/Stroh's, Detroit, MI (0-2)
---
FIRST TEAM ALL NSPC
| | | | | | | | | | |
| --- | --- | --- | --- | --- | --- | --- | --- | --- | --- |
| POS | PLAYER/TEAM | AB | R | H | 2B | 3B | HR | RBI | AVG |
| P | Dana Andry, Nationwide Advertising | 140 | 50 | 59 | 3 | 2 | 20 | 57 | .421 |
| C | Jim Bizzell, Nationwide Advertising | 186 | 83 | 96 | 6 | 5 | 36 | 84 | .516 |
| 1B | Steve Blanchette, Nationwide Advertising | 174 | 83 | 100 | 4 | 1 | 38 | 80 | .575 |
| 2B | Mike Macenko, Nationwide Advertising | 197 | 97 | 102 | 15 | 7 | 46 | 94 | .518 |
| 3B | Bill Ferguson, Howard's-Western Steer | 70 | 26 | 45 | 2 | 1 | 3 | 15 | .643 |
| SS | Charles Wright, Nationwide Advertising | 123 | 56 | 66 | 11 | 0 | 23 | 43 | .537 |
| OF | Mike Nye, York Barbell/Ken Sanders | 84 | 42 | 51 | 8 | 2 | 1 | 12 | .607 |
| OF | Dick Bartel, Howard's-Western Steer | 81 | 43 | 45 | 5 | 1 | 24 | 54 | .556 |
| OF | Rick Petrunyak, Nationwide Advertising | 162 | 84 | 88 | 15 | 5 | 31 | 62 | .543 |
| OF | Braxton Speller, Snyder's-Stroh's | 151 | 66 | 81 | 11 | 2 | 31 | 92 | .536 |
| UT | Rick Scherr, Howard's-Western Steer | 69 | 49 | 43 | 2 | 0 | 22 | 49 | .623 |
| UT | Stan Harvey, Howard's-Western Steer | 83 | 40 | 43 | 5 | 0 | 21 | 44 | .518 |
SECOND TEAM ALL NSPC
| | | | | | | | | | |
| --- | --- | --- | --- | --- | --- | --- | --- | --- | --- |
| POS | PLAYER/TEAM | AB | R | H | 2B | 3B | HR | RBI | AVG |
| P | Buddy Slater, Howard's-Western Steer | 49 | 14 | 20 | 0 | 0 | 0 | 4 | .408 |
| C | Greg Fuhrman, Jerry's Caterers | 42 | 13 | 21 | 2 | 1 | 8 | 16 | .500 |
| 1B | John Geckle, Steele's Sports | 97 | 33 | 53 | 3 | 0 | 3 | 24 | .546 |
| 2B | Dennis Myers, Shimers | 48 | 0 | 25 | 2 | 0 | 9 | 22 | .521 |
| 3B | Curtis Williams, York Barbell/Sanders | 81 | 34 | 46 | 6 | 2 | 5 | 19 | .568 |
| SS | Rick Trudeau, Snyder's-Stroh's | 160 | 46 | 86 | 5 | 1 | 1 | 31 | .538 |
| OF | Jim Gendron, Snyder's-Stroh's | 140 | 55 | 77 | 7 | 10 | 3 | 45 | .550 |
| OF | Ron Ford, York Barbell/Ken Sanders | 81 | 36 | 42 | 1 | 1 | 11 | 35 | .519 |
| OF | Larry Garrard, Steele's Sports | 106 | 29 | 54 | 3 | 4 | 0 | 24 | .509 |
| OF | Harold Kelley, Jerry's Caterers | 56 | 24 | 27 | 1 | 1 | 13 | 26 | .482 |
| UT | Chuck Drewicz, Snyder's-Stroh's | 144 | 47 | 83 | 4 | 4 | 1 | 31 | .576 |
| UT | Russell Bradley, Howard's-Western Steer | 90 | 40 | 48 | 7 | 3 | 2 | 15 | .533 |
REGULAR SEASON NSPC LEADERS
HR Leader – Mike Macenko, Nationwide Advertising (46)
RBI Champion – Mike Macenko, Nationwide Advertising (94)
Batting Leader – Bill Ferguson, Howard's/Western Steer (.643)
---
REGULAR SEASON BATTING LEADERS
| | | | | | | | | |
| --- | --- | --- | --- | --- | --- | --- | --- | --- |
| Player/Team | AB | R | H | 2B | 3B | HR | RBI | AVG |
| Bill Ferguson, Howard's-Western Steer | 70 | 26 | 45 | 2 | 1 | 3 | 15 | .643 |
| Rick Scherr, Howard's-Western Steer | 69 | 49 | 43 | 2 | 0 | 22 | 49 | .623 |
| Mike Nye, York Barbell/Ken Sanders | 84 | 42 | 51 | 8 | 2 | 1 | 12 | .607 |
| Chuck Drewicz, Snyder's-Stroh's | 144 | 47 | 83 | 4 | 4 | 1 | 31 | .576 |
| Steve Blanchette, Nationwide Advertising | 174 | 83 | 100 | 4 | 1 | 38 | 80 | .575 |
| Curtis Williams, York Barbell/Sanders | 81 | 34 | 46 | 6 | 2 | 5 | 19 | .568 |
| Dick Bartel, Howard's-Western Steer | 81 | 43 | 45 | 5 | 1 | 24 | 54 | .556 |
| Carl Tini, Gartenhaus | 63 | 19 | 35 | 2 | 1 | 1 | 10 | .556 |
| Jim Gendron, Snyder's-Stroh's | 140 | 55 | 77 | 7 | 10 | 3 | 45 | .550 |
| John Geckle, Steele's Sports | 97 | 33 | 53 | 3 | 0 | 3 | 24 | .546 |
NSPC HOME RUN LEADERS
| | |
| --- | --- |
| Player/Team | HR |
| Mike Macenko, Nationwide Advertising | 46 |
| Steve Blanchette, Nationwide Advertising | 38 |
| Jim Bizzell, Nationwide Advertising | 36 |
| Rick Petrunyak, Nationwide Advertising | 31 |
| Braxton Speller, Snyder's-Stroh's | 31 |
| Dick Bartel, Howard's-Western Steer | 24 |
| Charles Wright, Nationwide Advertising | 23 |
| Rick Scherr, Howard's-Western Steer | 22 |
| Mark Brown, Nationwide Advertising | 22 |
| Frank Kessler, Snyders-Strohs | 22 |
NSPC HOME RUN LEADERS
| | |
| --- | --- |
| Player/Team | RBI |
| Mike Macenko, Nationwide Advertising | 94 |
| Braxton Speller, Snyder's-Stroh's | 92 |
| Jim Bizzell, Nationwide Advertising | 84 |
| Steve Blanchette, Nationwide Advertising | 80 |
| Rick Petrunyak, Nationwide Advertising | 62 |
| Dana Andry, Nationwide Advertising | 57 |
| Frank Kessler, Snyders-Strohs | 55 |
| Doc Booker, Nationwide Advertising | 55 |
| Dick Bartel, Howard's-Western Steer | 54 |
| Mark Brown, Nationwide Advertising | 51 |
NSPC HR FREQUENCY LEADERS
| | | | |
| --- | --- | --- | --- |
| Player/Team | AB | HR | HRF |
| Rick Scherr, Howard's-Western Steer | 69 | 22 | 3.136 |
| Dick Bartel, Howard's-Western Steer | 81 | 24 | 3.375 |
| Stan Harvey, Howard's-Western Steer | 83 | 21 | 3.952 |
| Joe Young, Jerry's Caterers | 51 | 12 | 4.250 |
| Mike Macenko, Nationwide Advertising | 197 | 46 | 4.283 |
| Craig Elliott, York Barbell/Ken Sanders | 73 | 17 | 4.294 |
| Harold Kelley, Jerry's Caterers | 56 | 13 | 4.308 |
| Mike Cellura, Howard's-Western Steer | 26 | 6 | 4.333 |
| James Boyett, Jerry's Caterers | 53 | 12 | 4.417 |
| Steve Blanchette, Nationwide Advertising | 174 | 38 | 4.579 |
1981 REGULAR SEASON MVP WINNERS
Mike Macenko, Nationwide Advertising (3)
Steve Blanchette, Nationwide Advertising (3)
Russell Bradley, Howards's
Rick Trudeau, Snyder's
Don Arndt, Howard's
Stan Harvey, Howard's
Dennis Myers, Shimers
Mike Cellura, Howard's
Roger Wilt, Nationwide Advertising
Dick Bartel, Howard's
Craig Elliott, York-Sanders
1981 REGULAR SEASON ODPA AWARDS
Curtis Williams, York-Sanders
Russell Bradley, Howard's
Tony Haley, Steele's Sports
Mac Stalcup, LeAlCo
Richard Wilborn, Howard's
Chuck Drewicz, Snyder's-Stroh's
Roger Gibson, Nashville All-Stars
Cliff Carpenter, Steele's Sports