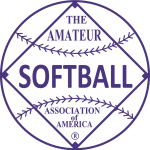 1962 held at Cleveland, Ohio.
---
Champion – Skip & Hogan Athletic Club, Pittsburgh, Pennsylvania (55-11)
Runner Up – East Side Sporting Goods, Detroit, Michigan (49-3)
---
Plateau Athletic Club eliminated Sheffield Bronze 6-5 on a walk-off single by George O'Neil. Then East Side Sporting Goods, behind the hot bat of Bill Cole (triple and single) eliminated Plateau Athletic Club 5-1 to reach the final. Paul Tomasovich electrified the crowd in his first at bat when he hit a home run over the 30 foot high fence in right center.
East Side Sporting Goods came back with Bill Cole's double being the big blow to take a 4-1 lead. The Pittsburgh crew came back in the 5th inning as Ron Kaintz and Mike Kovach both had back-to-back run scoring singles. They both scored on Jimmy Watts' triple tying the score at 4 each. Skips winning run came in the 6th as Mike Orlando's double plated Billy Caye who had singled. Bimbo McKenzie chipped in with 2 hits, including a RBI Double.
The magical pitching of Lou Del Mastro kept the Detroit bats quiet in the top of the 7th to preserve a 5-4 championship for Skip & Hogan. John Stone of Milwaukee set a new Home Run record with 11. Paul Tomasovich led Skip & Hogan for the weekend (12-18, .667, with 4 doubles, 3 triples, 2 HR and 6 RBI). Del Mastro (9-15, .600, 4 doubles, 4 triples, while scoring 10 runs) and Kovach (9-17, . 529). Skip Hogans finished the season with a 39-6 record.
---
MVP – Bill Cole, East Side Sporting Goods (22-29, .758)
HR Leader – John Stone, Enterprise Bar (19 RBI) – 11 (set National Tournament Home Run record)
Batting Leader – Bill Cole, East Side Sporting Goods (22-29) – .758
---
1962 ASA MEN'S OPEN SLOW PITCH ALL-AMERICAN FIRST TEAM
P – Lou Delmastro, Skip Hogan AC (5-0 pitching, 9-15, .600, 4 2B, 4 3B, 8 RBI, 10 Runs)
C – Bill Cole, East Side Sporting Goods (22-29, .758)
1B – John Stone, Enterprise Bar (11 HR, 19 RBI)
2B – Bob Beier, Plateau Athletic Club
3B – Wally Galba, East Side Sporting Goods
SS – Mike Kovach, Skip Hogan AC (9-17, .529)
SF – Mort Weinburg, Plateau Athletic Club
OF – Gene Gedeon, Sheffield Bronze (17-23, .739)
OF – Jim Pucket, East Side Sporting Goods (14-24, .587, 10 HR)
OF – Mike Orlando, Skip & Hogan Athletic Club (11-15, .733)
OF – Paul Tomasovich, Skip & Hogan Athletic Club (12-18, .667, 2 HR, 6 RBI)
---
HONORABLE MENTION
Vin Brannigan, Plateau Athletic Club
Neil O'Neill, Plateau Athletic Club
---
OTHERS
Carel Cosby, Wilsman Trucking (9-16, .563, 5 Runs)
Skeeter Payne, Wilsman Trucking (9-16, .563, 5 Runs)
Joe Okruhlica, Wilsman Trucking (9-18, 7 Runs)
Dick Bonar, Wilsman Trucking (9-18, .500, 5 Runs)
Walt Wherry, Johnnies Car Wash (6-9, .667, HR, 1-1 Pitching)
Don Rardin, Johnnies Car Wash (6-9, .667, HR)
---
FINAL STANDINGS
1. Skip & Hogan Athletic Club, Pittsburgh, PA (6-0)
2. East Side Sporting Goods, Detroit, MI (5-2)
3. Plateau Athletic Club, Maspeth, NYC, NY (6-2)
4. Sheffield Bronze, Cleveland, OH (4-2)
5t. Wilsman Trucking, Hamilton, OH (3-2)
5t. Stotz Garage, Valhalla, NY (4-2)
7t. TWUA Textile Workers, Leakesville, NC (5-2)
7t. St. Clair Merchants, Cleveland, OH (4-2)
9t. Enterprise Bar, Milwaukee, WI (5-2)
9t. Grande-Leah, New Kensington, PA (5-2)
9t. Mt. Carmel Rec, Worcester, MA (3-2)
9t. Bud's Cafe, Cincinnati, OH (4-2)
13t. University City Blackhawks, St. Louis, MO (3-2)
13t. Holcomb's Ten, San Antonio, TX (2-2)
13t. Hartman Plumbing, Toledo, OH (2-2)
13t. Mike's Bar, Minneapolis, MN (3-2)
17t. Savannah Motors, Savannah, GA (2-2)
17t. Merchants, Woodland, CA (2-2)
17t. Ready Mix Concrete, Knoxville, TN (1-2)
17t. N&S Auto, Rochester, NY (1-2)
17t. Knights St. John, Louisville, KY (1-2)
17t. Hamilton Tailors, Cincinnati, OH (1-2)
17t. Club 149, Trenton, NJ (1-2)
17t. Sills Sporting Goods, Hialeah-Miami, FL (2-2)
25t. Broward Sports Shops, Ft Lauderdale, FL (2-2)
25t. Club Grill, Westport, CT (1-2)
25t. Johnny's Car Wash, Covington, KY (1-2)
25t. South Bend Merchants, South Bend, IN (1-2)
25t. V&M Foods, Pass Christian, MS (1-2)
25t. Bernson Silk Mills, Buena Vista, VA (1-2)
25t. Willie's Tavern, Mobile, AL (0-2)
25t. Reno County, South Hutchinson, KS (1-2)
33t. Bursch's Blue Notes, Hopkins, MN (0-2)
33t. Lafayette Building Assoc., Lafayette, LA (0-2)
33t. Red Bull Transfer, Omaha, NE (0-2)
33t. Avenue Church, Oklahoma City, OK (0-2)
33t. Joliet DX, Chicago-Joliet, IL (0-2)
33t. Pabst Blue Ribbon, Atlanta, GA (0-2)
33t. Blair's Tavern, Wilmington, DE (0-2)
33t. Russo's, Providence, RI (0-2)
33t. Bridge City, New Orleans, LA (0-2)
33t. Miller High Life, Sheboygan, WI (0-2)
33t. Concrete Service, Great Falls, MT (0-2)