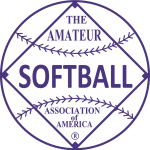 1964 held at Springfield, Ohio.
---
Champion – Skip Hogan Athletic Club, Pittsburgh, Pennsylvania (69-11)
Runner Up – Gatliff Auto Sales, Newport, Kentucky (70-21)
---
In a National Championship that featured a couple of great comebacks in the history of this event, Musicaro jumped out to an 11-5 lead on homers from Jim Galloway, Oscar Steadman and Lou Russo (3 hits in that game), Zeke Sinicola also had 3 hits for Musicaro's – everybody at the tournament thought it was going to be a Musicaro-Gatliff championship matchup …. But, Gatliff come back in their usual way and scored 7 runs in the 5th inning to eventually win 13-11.
In the final, Skips came came twice in the last two innings. Trailing 12-7 in the bottom of the 6th, the Skips scored 6 runs, highlighted by Paul Tomasovich's (Tomasovich had 2 HR in the game) homer to give his team a 13-12 lead.
Gatliff's came back with 4 runs in the top of the 7th behind Bob Harrison's HR (That was Harrison's 3rd of the game) to take a 16-13 lead. Skips pushed across 2 runs with a series of hits and with 2 outs, up comes George Siford of Skip's to pinch hit with with 2 runners on base.
Siford hits a dramatic walk off 3-run homer to give Skip's the championship 18-16 over Gatliff.
Lost in all the commotion was the incredible feat pulled off by TWUA's Don Arndt, as he had a weekend for the ages. It was stated that he started the tournament with 22 consecutive hits. He finished up 24-26 for a .923 average and also was the Home Run leader with 10. He was also walked intentionally 9 times.
---
MVP – Paul Tomasovich, Skip AC (17-24, .708, 7 HR, 2 2B, 4 3B)
HR Leader – Don Arndt, TWUA – 10
Batting Leader – Don Arndt, TWUA (24-26, 2 doubles, 4 triples, 10 homes runs, 9 Intentional Walks) – .923 – Set new national tournament batting record
---
1964 ASA MEN'S OPEN SLOW PITCH ALL-AMERICAN FIRST TEAM
P – Lou DelMastro, Skip Athletic Club
C – Hudson Knock, Gatliff Auto Sales
1B – Barry Norman, Gatliff Auto Sales
2B – Ray "Whitey" Brown, Gatliff Auto Sales (14-28, .500)
3B – Paul Tomasovich, Skip Athletic Club (17-24, .708, 7 HR)
SS – Mike Kovach, Skip Athletic Club
OF – Oscar Steadman, Musicaro's
OF – Clint Boisel, Hudepohl Beer
OF – Bob Harrison, Gatliff Auto Sales (7 HR)
OF – Jim Galloway, Musicaro's
---
OTHERS
Don Arndt, TWUA (24-26, .923, 10 HR, 2 2B, 4 3B, 9 Intentional Walks, 33-35 on base – OB% of .943)
---
FINAL STANDINGS
1. Skip Athletic Club, Pittsburgh, PA (6-0)
2. Gatliff Auto Sales, Newport, KY (6-2)
3. Musicaro Foods, Massapequa, NY (6-2)
4. East Side Sporting Goods, Detroit, MI (6-2)
5t. TWUA Textile Workers, Leaksville, NC (5-2)
5t. Tom Sweeney's Pontiac, Cincinnati, OH (4-2)
7t. Hudepohl Beer, Springfield, OH (4-2)
7t. Duff's, Minneapolis, MN (4-2)
9t. Cities Service, Milwaukee, WI (4-2)
9t. Ready Mix Concrete, Knoxville, TN (4-2)
9t. Jiffy Club, Louisville, KY (3-2)
9t. John M. Forster Company, Rochester, NY (3-2)
13t. Fox Lake, Chicago Metro, IL (3-2)
13t. Ragusa Market, Gretna-New Orleans, LA (3-2)
13t. Stubbs Howe Company, Savannah, GA (3-2)
13t. Olden AA, Trenton, NJ (2-2)
17t. Krivan Club, Springdale, PA (2-2)
17t. Christy's Eggs, Cleveland, OH (2-2)
17t. Tom Benson Chevy, San Antonio, TX (2-2)
17t. Pizza Hut, Hutchinson, KS (2-2)
17t. Quinn Packing, Providence, RI (2-2)
17t. Caruso Florist, Washington DC (2-2)
17t. Rockledge Electric, Cocoa, FL (2-2)
17t. Farmers Merchants Bank, Breaux Bridge, LA (2-2)
25t. Mira's Cafe, Bellvue, OH (2-2)
25t. Quality Aluminum, Coldwater, MI (2-2)
25t. Rueters, St. Louis Park, MN (2-2)
25t. Strand Tavern, Waukesha, WI (2-2)
25t. Park Lumber, Bremerton, WA (2-2)
25t. May Avenue Methodist, Oklahoma City, OK (1-2)
25t. Spengler Dawes, Granite City, IL (1-2)
25t. Venice Cafe, Boston, MA (1-2)
33t. Tucci & Sons, Tacoma, WA (1-2)
33t. Cavalier AC, Petersburg, VA (1-2)
33t. Assembly of God, Mesa, AZ (1-2)
33t. Schubert's, Indianapolis, IN (0-2)
33t. Red Bull Transfer, Omaha, NE (0-2)
33t. St. Anthony's, Wilmington, DE (0-2)
33t. McConaghy Drugs, Mobile, AL (0-2)
33t. Stotz Garage, Valhalla, NY (0-2)
33t. Strats, Atlanta, GA (0-2)
33t. Dorothy's Lounge, St. Louis, MO (0-2)
33t. Top Hatters, Bickmore-Clay, WV (0-2)
33t. Surfside, Restaurant, Fairfield, CT (0-2)
33t. North St. Paul VFW, St. Paul, MN (0-2)
33t. Millbury Old Time Inn, Millbury, MA (0-2)
33t. Bill's Tavern, Evansville, IN (0-2)
33t. Plaza Gardens, Toledo, OH (0-2)
49t. Canister Stores, Whitley City, KY (0-2)
49t. Cafe Ideal, Miami, FL (0-2)