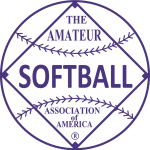 1980 held at Montgomery, Alabama.
---
Champion – Campbell's Carpets, Concord, California (118-12)
Runner Up – Howard's Furniture, Denver, North Carolina (135-25)
---
Campbell's Carpets captured the ASA National Championship on their way to winning the Triple Crown of Softball in 1980. This was the second straight year a team has won the Triple Crown. With all the high averages, home runs, etc. It was a little guy who captured the imagination of the crowd as Pitcher Buddy Slater was named the National Tournament MVP for Campbell's.
It was reported that Slater had hurled 9 no-hitters this past season in Slow Pitch Softball. The 38 year old Slater beat Howard's twice in this tournament; once 23-14 in the winner's bracket finals and then when Howard's won a slug fest over third place team Jerry's Caterers 36-32 in the lower's bracket final to get another crack at Campbell's, Slater did it again, holding down the Howard's bats in route to a 20-15 Championship Game victory.
In the 23-14 Campbell's win over Howard's, 9 different Campbell players hit home runs. In the 36-32 Howard's victory over Jerry's, Pitcher Mickey Morrison hit 4 HR and collected 9 RBI. Ed Roth also hit 4 HR with 7 RBI and Stan Harvey had 3 HR with 7 RBI to lead Howard's. Jerry's Pitcher, Craig Elliott hit 4 HR with 8 RBI to lead the Miami based squad.
Stan Harvey of Howard's won the Batting championship with an amazing 30-38 performance (.789).  Howard's Tom Beall was 25-35 (.714) with 17 HR to win the Home Run Award. 10 of Beall's homers came in the first 2 games. Don Arndt and Ed Roth of Howard's had 16 ad 15 HR respectively.
Campbell's averaged close to 26 runs per game in its 6 game march to the title. They gave up only 11 runs per game, mostly due to the crafty pitching of Slater, who was 14-24 in the event (.500), and pitched all of Campbell's games to finish 6-0.
Other stars for Campbell's were Jerry King (21-30, .700 with 8 HR), Dick Bartel (20-30, .667 also with 8 HR), and Steve Williams (13-25, .520 and he hit 5 HR). Two of Williams's HR came in the Championship Game. Greg Fuhrman and Dennis Myers both hit 9 HR, but were left off the All-America squads.
---
MVP – Buddy Slater, Campbell's Carpets (6-0, .500)
HR Champion – Tom Beall, Howard's Furniture (.715, 37 RBI) -17
Batting Champion – Stan Harvey, Howard's Furniture (30-38) – .789
---
1980 ASA MEN'S OPEN SLOW PITCH ALL-AMERICAN FIRST TEAM
P – Buddy Slater, Campbell's Carpets (11-22, .500)
P – Craig Elliott, Jerry's Catering
C – Ernie Hicks, York Barbell (21-27, .778)
C – Don Arndt, Howard's Furniture (16 HR)
1B – Ed Roth, Howard's Furniture (24-34, .706, 15 HR)
2B – James Boyett, Jerry's Catering
3B – Jerry King, Campbell's Carpets (21-30, .700, 8 HR)
SS – Steve Williams, Campbell's Carpets (13-25, .520, 5 HR)
OF – Stan Harvey, Howard's Furniture (30-38, .789)
OF – Ron Dorsey, York Barbell (14 HR)
OF – Tom Beall, Howard's Furniture (25-35 .715, 17 HR, 37 RBI)
OF – Dick Bartel, Campbell's Carpets (19-28, .677, 8 HRs)
UT – Harold Kelley, Jerry's Catering
1980 ASA MEN'S OPEN SLOW PITCH ALL-AMERICAN SECOND TEAM
P – Rick Leek, York Barbell
P – John Durkett, Teamsters #293
C – John Hale, Frierson Building Supply
C – Fred Winston, Jerry's Catering
1B – John Geckle, Steele's Sports (19-27, .704, 7 HR)
2B – John McAndrew, York Barbell (13-17, .765, 7 HR)
3B – Mike Lynch, Irving's Sports
SS – John Rogers, DuBose Insurance
OF – Calvin Davidson, Friarson's
OF – Doug Broxson, DuBose Insurance
OF – Richard Willborn, Campbell's Carpets
OF – Ray Fleetwood, Howard's Furniture
UT – Joel Tood, Jerry's Catering
OTHERS
Bill Pollock, York Barbell (21-23, .636, 12 HR)
Greg Fuhrman, Campbell's Carpets (9 HR)
Dennis Myers, Campbell's Carpets (9 HR)
Charles Mitchell, GB Wilcher (14-18, .778)
Joe Young, Steele's (9 HR)
Tim Haley, Steele's (9 HR)
---
FINAL STANDINGS
1. Campbell Carpets, Concord, CA (6-0)
2. Howard's-Western Steer, Denver, NC (6-2)
3. Jerry's Catering, Miami, OH (5-2)
4. Steele's Sports, Lima, OH (6-2)
5t. Teamsters #293, Cleveland, OH (5-2)
5t. DuBose Insurance, Pensacola, FL (3-2)
7t. Frierson Building Supply, Jackson, MS (4-2)
7t. York Barbell, York, PA (4-2)
9t. Irving Sports Center, Irving, TX (4-2)
9t. Wichita TMI, Wichita, KS (4-2)
9t. Thompson's-O'Bannon Bank, Springfield, OH (2-2)
9t. Camera Shop, Fort Worth, TX (3-2)
13t. GB Wilcher, Seymour, IN (2-2)
13t. Hillcrest-Fashionrite, Cleveland, OH (3-2)
13t. Gartenhaus Cafe, Plainville, CT (3-2)
13t. Dan Belew, Turlock, CA (2-2)
17t. Manning's, St. Paul, MN (1-2)
17t. Fluid Engineering, Lubbock, TX (1-2)
17t. Sorrento's Pizza, Cincinnati, OH (2-2)
17t. Le-Al-Co, Lebanon, TN (1-2)
17t. St. Louis Merchants, St. Louis, MO (2-2)
17t. Hans Hansen, Toledo, OH (2-2)
17t. Nelco Manufacturing, Oklahoma City, OK (1-2)
17t. Trainham Chevrolet, Beaverdam, VA (1-2)
25t. Cannon & Lee Painting, Salt Lake City, UT (0-2)
25t. Thibodaux Merchants, Thibodaux, LA (1-2)
25t. Southside Automotive, Louisville, KY (0-2)
25t. Bunca & Frey, Kalamazoo, MI (0-2)
25t. Diaboloes, Alburquerque, NM (0-2)
25t. Miller Lite Metros, Montgomery, AL (0-2)
25t. Red Door Diplomats, Mansville, NJ (0-2)
25t. Mustang Softball Club, Wauseon, OH (0-2)
33t. Moose #212, Hagerstown, MD (0-2)
33t. Shimers, Bloomington, MN (0-2)
33t. Pizza Baron Fords, Portland, OR (0-2)
33t. Steamex, Grand Rapids, MI (0-2)
33t. Chisholm Sports, Maiden, MA (0-2)
33t. Ruth Real Estate, Seattle, WA (0-2)