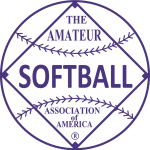 1977 held at Parma, Ohio.
---
Champion – Nelson Painting, Oklahoma City, Oklahoma (111-18)
Runner Up – Ken Sanders Ford, Birmingham, Alabama (97-17)
---
ASA revamped the regional structure this season. Instead of having 30-31 regional championships as had been the practice since 1967, the national ASA formed 15 Regions. These were said to be more evenly set up as the old system sometimes had no team represent a particular region, or a four team tournament and then other regions had 25 teams playing for the one berth. The Regional Champion and in many cases, the runner-up team earned berths to the National Championships. Some Regions were awarded an extra "at-large" berth if they had a larger number of ASA teams registered.
Nelson Painting came from losers bracket to defeat KSF twice; 24-23 and 26-25. Ironically, Nelson was put in the losers bracket by KSF 21-20. On the way to the finals, Nelsons eliminated Jerry's Catering 30-14 and Howard's Furniture 27-10, then had to defeat KSF twice. Nelson, trailing 23-20 in the 7th inning of the first championship game, scored 4 runs to win 24-23. Henry Koper led off the inning with his 5th home run of the game. Bruce Meade and Herman Rathman both flied out, then Al White singled and Mighty Joe Young hit a 2-run homer to tie the game. it was his second of the game. Dean Brunken came up and drilled a homer to give Nelsons the lead and they got KSF out in the bottom of the 7th to force the "if" game. Nelsons was leading 26-19 in the bottom of 7th, needing just 3 outs to win, but it wasn't easy. Sidney Cooper, Charles Wright and Greg Smith all hit 2-run homers to get KSF within one run 26-25, but it wasn't meant to be. Nelson held on for a 26-25 win. Herman Rathman hit 3 homers and had 8 RBI in the final game.
Bruce Meade, Henry Koper and Joe Young all had 2 HR for Nelsons. James Abercrombie and Charles Wright each hit 3 HR for KSF in the final game.
The powerful Nelson team had 6 players hit more then 10 HR, Meade (22) and Rathman (22) tie for the lead, Koper (15), Young (12), White (11), Bill Howes (11). KSF had Elliott (18), James Abercrombie (15) and Wright (12). 3rd place Howard's had Don Arndt (13), Stan Harvey (12) and HT Waller (11). Greg Fuhrman hit 16 for 4th place Jerry's Caterers.
For some reason, Mighty Joe Young was not selected to the All America team despite going 32-38 (.667) with 12 HR and 29 RBI.
---
Co-MVP – Craig Elliott, Ken Sanders Ford
Co-MVP – Bruce Meade, Nelson Painting
HR Leader – Herman Rathman, Nelson Painting – 22
HR Leader – Bruce Meade, Nelson's Painting – 22
Batting Leader – Larry Franklin, Mid-State Oil – .762
---
FIRST TEAM ALL-AMERICANS
P – Craig Elliott, Ken Sanders Ford (26-36, .722, 18 HR, 32 RBI, 24 Runs)
P – Henry Koper, Nelson Painting (34-52, .635, 14 HR, 29 RBI, 33 Runs)
C – James Abercrombie, Ken Sanders Ford (19-28, .679, 15 HR, 29 RBI, 24 Runs)
C – John Tercheria, Campbell's BAM (15-20, .750, 5 HR, 21 RBI, 12 Runs)
1B – Herman Rathman, Nelson Painting (32-50, .640, 22 HR, 39 RBI, 29 Runs) – set the national tournament home run record with 22.
2B – Jorge Milian, Jerry's Catering (32-44, .727, 7 HR, 24 RBI, 33 Runs)
3B – Al White, Nelson Painting (36-49, .735, 11 HR, 19 RBI, 28 Runs)
SS – Charles Wright, Ken Sanders Ford (18-34, .529, 12 HR, 24 RBI, 17 Runs)
OF – Bruce Meade, Nelson Painting (32-50, .640, 22 HR, 40 RBI, 33 Runs) – set the national tournament home run record with 22.
OF – Scott McManis, Port City Ford (14-19, .737, 5 HR, 10 RBI, 12 Runs)
OF – Curtis Williams, Jerry's Catering (25-43, .581, 8 HR, 19 RBI, 21 Runs)
OF – Richard Willborn, Ray Carpenter (21-29, .724, 4 HR, 14 RBI, 16 Runs)
UTIL – Greg Fuhrman, Jerry's Catering (26-43, .605, 16 HR, 33 RBI, 29 Runs)
UTIL – Rick Scherr, Howard's Furniture (18-28, .643, 7 HR, 12 RBI, 15 Runs)
SECOND TEAM ALL-AMERICANS
P – Donald Svenson, Ohio Sealants (9-18, .500, 8 RBI, 4 Runs)
P – Don Arndt, Howard's Furniture (19-34, .559, 13 HR, 16 RBI, 19 Runs)
C – Matthew 'Chic' Downing, Fliteline (12-20, .600, 4 HR, 10 RBI, 11 Runs)
C – Ray Fleetwood, Warren Motors (12-21, .571, 5 HR, 11 RBI, 17 Runs)
1B – James Washington, Jerry's Caterers (27-44, .614, 10 HR, 22 RBI, 20 Runs)
2B – Mike Macenko, Hillcrest Tavern (15-21, .750, 6 HR, 15 RBI, 11 Runs)
3B – Frank Sorrells, Jerry's Catering (26-43, .605, 12 HR, 27 RBI, 26 Runs)
SS – Terry Perryman, Nelson Painting (27-51, .529, 4 HR, 10 RBI, 23 Runs)
OF – Bob Birdsey, Gartenhaus (10-19, .526, 5 HR, 12 RBI, 8 Runs)
OF – Sidney Cooper, Ken Sanders Ford (24-35, .686, 6 HR, 14 RBI, 23 Runs)
OF – Jim Underhill, Jerry's Catering (26-44, .591, 4 HR, 16 RBI, 22 Runs)
OF – Bill Howes, Nelson Painting (22-38, .579, 11 HR, 26 RBI, 19 Runs)
UTIL – Larry Franklin, Midstate Oil (16-21, .762, 6 HR, 10 RBI, 9 Runs)
UTIL – Mike Parrott, Port City Ford (13-21, .619, 8 HR, 15 RBI, 12 Runs)
---
OTHERS
"Mighty" Joe Young, Nelson's (32-48, .667, 12 HR, 29 RBI, 25 Runs)
Ted Larsen, Manning's (8-8, 1.000, 2 RBI, 3 Runs)
Lou Russo, Pepsico (6-8, .750, 1 HR, 3 RBI, 5 Runs)
Joe Kilby, Haven Tavern (11-15, .733, 3 RBI, 4 Runs)
Anthony Guiliano, St. Margarets (8-11, .727, 1 RBI, 4 Runs)
Ted Hocevar, Ohio Sealants (13-18, .722, 1 HR, 7 RBI, 7 Runs)
Arnold Hawkins, Rule Construction (10-14, .714, 5 HR, 11 RBI, 9 Runs)
Jerry King, Dubois Chemical (5-7, .714, 2 HR, 6 RBI, 4 Runs)
Mike Leadbetter, Trainham (14-20, .700, 4 RBI, 5 Runs)
Richard Mummaw, Warren Motors (15-22, .682, 1 HR, 9 RBI, 9 Runs)
Mike Jacobs, Warren Motors (18-27, .667, 2 HR, 13 RBI, 15 Runs)
Garland Dewitt, Mid-State Oil (13-20, .650, 6 HR, 12 RBI, 12 Runs)
David Beaird, Ken Sanders (20-35, .571, 7 HR, 12 RBI, 19 Runs)
Greg Smith, Ken Sanders (20-35, .571, 6 HR, 12 RBI, 18 Runs)
Tony Cloniger, Howards (16-28, .571, 4 HR, 11 RBI, 14 Runs)
Shane Hammell, Ken Sanders (19-34, .559, 3 HR, 13 RBI, 15 Runs)
Ed Green, Campbell's/Bam (10-18, .556, 1 HR, 6 RBI, 7 Runs)
Dean Brunken, Nelson's (25-45, .556, 3 HR, 15 RBI, 19 Runs)
Buddy Salda, Nelson's (19-36, .528, 6 HR, 11 RBI, 16 Runs)
Gene Fisher, Howards (15-29, .517, 5 HR, 11 RBI, 18 Runs)
Denny Hogan, Howards (17-33, .515, 5 HR, 9 RBI, 17 Runs)
Stan Harvey, Howards (16-32, .500, 12 HR, 26 RBI, 14 Runs)
Joe Konicki, Marone Travel (4-9, .444, 1 RBI, 3 Runs)
Roger Mayo, Ken Sanders (15-34, .441, 6 HR, 9 RBI, 15 Runs)
Ed Roth, Warren Motors (11-25, .440, 1 HR, 8 RBI, 9 Runs)
---
FINAL STANDINGS
1. Nelson Painting, Oklahoma City, OK (9-1)
2. Ken Sanders Ford, Phoenix City, AL (5-2)
3. Howard Furniture, Denver, NC (5-2)
4. Jerry's Caterers, Miami, FL (7-2)
5t. Campbell's Bay Area Merchants, Richmond, CA (3-2)
5t. Gartensenhaus, Plainville, CT (3-2)
7t. Trainham Chevrolet, Rickmond, VA (4-2)
7t. Warren Motors, Jacksonville, FL (4-2)
9t. Ohio Sealants, Parma, OH (4-2)
9t. Ray Carpenter, San Antonio, TX (4-2)
9t. Fliteline, Fort Smith, AR (3-2)
9t. Hillcrest Tavern, Cleveland, OH (3-2)
13t. Port City Ford, Truck Sales, Houston, TX (3-2)
13t. Central State Painting, Kansas City, MO (2-2)
13t. Black Aces, St. Louis, MO (2-2)
13t. The Haven Tavern, Tacoma, WA (2-2)
17t. York Barbell, York, PA (1-2)
17t. Armed Forces, Dayton, OH (1-2)
17t. Midstate Oil, Jefferson City, MO (3-2)
17t. Bunca & Frey, Lamamazoo, MI (1-2)
17t. Rule Construction, Oakridge, TN (2-2)
17t. Holy Name Society, Lakewood, OH (2-2)
17t. Surplus City Diablos, Alburquerque, NM (1-2)
17t. Richfield VFW, Richfield, MN (1-2)
25t. Ron Farnsworth Construction, Salt Lake City, UT (0-2)
25t. St. Margaret's Club, New Castle, PA (1-2)
25t. Marrone Travel, Westbury, NY (1-2)
25t. Pepsico Incorporated, Levittown, NY (1-2)
25t. Sunset Lounge, White Bear Lake, MN (0-2)
25t. Chico's, Spokane, WA (1-2)
25t. Mitchell Brothers, Antioch, CA (0-2)
25t. Fraser's Pub, Ann Arbor, MI (1-2)
33t. Goodrich Service Center, Midland, TX (0-2)
33t. Super Auto, Napa, CA (0-2)
33t. Decathlon, Jackson, MS (0-2)
33t. Taylor Brothers Construction, Providence, RI (0-2)
33t. Dubois Chemical, Columbus, OH (0-2)
33t. Ohio Players, Dayton, OH (0-2)
33t. Miracle's, Richmond, IN (0-2)
33t. Manning's, St. Paul, MN (0-2)
33t. Kentucky Fried Chicken, Indianapolis, IN (0-2)