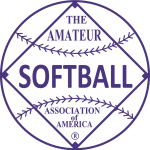 1973 held at Louisville, KY
---
Champion: Stingers, Detroit, Michigan
Runner Up: Goodnough Plumbettes, Monroe, Michigan
---
The Stingers, the pride of Metro Detroit, roared out of the loser's bracket to decision the Goodnough Plumbettes of Monroe Michigan and win the first ever Class A Women's National Meet held in Louisville over Labor Day weekend.
The Stingers, who had lost and earlier tussle with Goodnough, came back to defeat the Plumbettes 9-3 and 5-2.
Louisville's Do Diggers finished third and the Caraway Jets of Caraway, Ark., finished fourth.
The tournament chairman was James F. Crosby and the tournament was under the supervision of Mrs. Jean Bocka, Metro Louisville Women's Commissioner. The tournament was directed by Kenny Braden, Metro Louisville ASA Commissioner.
---
MVP – N/A
Batting Leader – N/A
Home Run Leader – N/A
No MVP or All-Americans selected.
---
1973 FIRST TEAM ALL AMERICANS
N/A
---
FINAL STANDINGS
1. Stingers, Detroit, MI (6-1)
2. Goodnough Plumbettes, Monroe, MI (4-2)
3. Do Diggers, Louisville, KY (5-2)
4. Carway Jets, Caraway, AR (5-2)
5t. Rum Runners Lounge, Cincinnati, OH (3-2)
5t. Long's Uniform Service, Tupelo, MS (2-2)
7t. Minneapolis Royals, Minneapolis, MN (2-2)
7t. Westinghouse, Pittsburgh, PA (2-2)
9t. Gogres, New Orleans, LA (2-2)
9t. Lexington Misfits, Lexington, KY (2-2)
9t. Tuckahoe, Richmond, VA (1-2)
9t. Flying Ladies, Savannah, GA (1-2)
13t. United Virginia Bankers, Doswell, VA (0-2)
13t. Midnighters, Louisville, KY (0-2)
13t. Goldstein's, Louisville, KY (0-2)
13t. Greenfield Roadrunners, Greenfield, MA (0-2)
17t. Metro Marketing, St. Louis, MO (0-2)
17t. Young Wheels, Brentwood, TN (0-2)