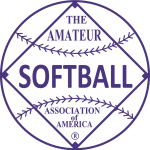 1976 held at Jacksonville, Florida.
---
Champion – Warren Motors, Jacksonville, Florida (94-2)
Runner Up – Paul Johnson Company, Indianapolis, IN
---
The championship game started well for Warren Motors right from the start, they won coin flip and elected to hit first. They proceeded to score 19 runs in the first inning.  Paul Johnson was stunned. Ray Fleetwood hit two 3-run homers and then a solo shot in that inning to account for 7 RBI. By the time the game was over, Warren had 37 hits and 14 Home Runs and the final score was 35-19 in favor of Warren Motors.
Fleetwood ended up with 4 HR and Mike Nye was 6-6. The Florida team, who entered the tournament with an incredible 88-2 record, went 6-0 to finish the season with the best record of all time in slow pitch softball (94-2). At one point during the season, Warren Motors won 78 games in a row.
Co-MVP Mike Nye, fittingly won the batting title (23-29) with a .793 average. Nye finished the season with the highest season batting average of all time (.769), a mark which would stand for almost 20 years.  On a side note – This is the second straight year that Long Island's Mike Foley finished lost the Batting Champion by .004 of a percentage point. In 1975, Foley lost out .737 to .733 and this year, he lost by .004 again as Mike Nye's .793 edged out Foley's .789 average.
---
Co-MVP – Ronnie Ford, Warren Motors (22-30, .733, 12 HR, 25 RBI, 21 Runs)
Co-MVP – Mike Nye, Warren Motors (23-29, .793, 7 HR, 20 RBI, 22 Runs)
HR Leader – Ken Carlton, Green Machine (19-29, .655, 31 RBI, 17 Runs) – 13
Batting Leader – Mike Nye, Warren Motors (23-29, 7 HR, 20 RBI)  – .793
---
1976 ASA OPEN ALL AMERICANS FIRST TEAM
P – Lonnie Turner, Warren Motors (13-22, .591, 5 HR, 20 RBI, 15 Runs)
P – Jim Anthony, Paul Johnson Company (16-31, .516, 3 HR, 8 RBI, 10 Runs)
C – Ed Douglas, Green Machine (17-27, .630, 7 HR, 12 RBI, 15 Runs)
C – Bruce Meade, Warren Motors (17-27, .630, 4 HR, 9 RBI, 15 Runs)
1B – Doyle Newby, Bunch Brothers (15-22, .682, 3 HR, 14 RBI, 11 Runs)
2B – Bob Rinehart, Duggan & Duggan (16-28, .571, 3 HR, 5 RBI, 12 Runs)
3B – Kenneth Carlton, Green Machine (19-29, .655, 13 HR, 31 RBI, 17 Runs)
SS – Ronnie Ford, Warren Motors (22-30, .733, 12 HR, 25 RBI, 21 Runs)
OF – Mike Nye, Warren Motors (23-29, .793, 7 HR, 20 RBI, 22 Runs)
OF – Ray Fleetwood, Warren Motors (21-32, .656, 9 HR, 20 RBI, 15 Runs)
OF – Reggie Soehlig, Warren Motors (18-26, .692, 5 HR, 14 RBI, 10 Runs)
OF – Jerry King, Dubois Chemical (13-20, .650, 7 HR, 15 RBI, 12 Runs)
UT – Don Arndt, Howard's Furniture (14-19, .737, 8 HR, 17 RBI, 11 Runs)
UT – Jack Sample, Duggan & Duggan (13-22, .591, 3 HR, 6 RBI, 9 Runs)
1976 ASA OPEN ALL AMERICANS SECOND TEAM
P – John Reilly, Preston Machine (9-16, .563, 5 RBI, 7 Runs)
P – Buddy Slater, Ray Carpenter Company 15-27, 556, 4 RBI, 10 Runs)
C – Greg Fuhrman, York Barbells (10-15, .667, 6 HR, 10 RBI, 9 Runs)
C – Dillard Quick, Bunch Brothers (13-23, .565, 4 HR, 15 RBI, 8 Runs)
1B – Stan Harvey, Howard's Furniture (11-17, .647, 8 HR, 11 RBI, 10 Runs)
2B – Louis Giovanini, Paul Johnson Company (no info in rule book, stats stop at .500)
3B – Ledon Green, Warren Motors (15-26, .577, 8 HR, 15 RBI, 15 Runs)
SS – Randy Bright, Paul Johnson Company (18-32, .563, 7 HR, 18 RBI, 14 Runs)
OF – Dick Bartel, Ray Carpenter Company (16-25, .640, 3 HR, 10 RBI, 10 Runs)
OF – Denny Hogan, Howard's Furniture (11-17, .647, 5 HR, 9 RBI, 11 Runs)
OF – David Brown, Duggan & Duggan (13-23, .565, 8 HR, 15 RBI, 12 Runs)
OF – Phil Eads, Paul Johnson Company (no info in rule book, stats stop at .500)
UT – Mike Foley, Pepsico (15-19, .789, 8 HR, 17 RBI, 12 Runs)
UT – John Johnston, Beef Corral (12-19, .632, 1 HR, 9 RBI, 8 Runs)
---
OTHERS
Gordon Wheeler, Jerry's (11-14, .786, 7 HR, 14 RBI, 10 Runs)
Larry Chiapetta, Pepsico (12-18, .667, 2 RBI, 8 Runs)
Roger Snatchko, BYM Club (11-17, .647, 1 HR, 4 RBI, 6 Runs)
Ray Corky Kruel, BYM Club (11-17, .647, 1 RBI, 6 Runs)
Bill Gatti, Jiffy Club (7-11, .636, 4 HRs, 8 RBI, 11 Runs)
Gary Richter, Pepsico (12-19, .632, 4 HR, 12 RBI, 8 Runs)
Richard Wilborn, Ray Carpenter (16-26, .615, 6 HR, 16 RBI, 12 Runs)
Herman Rathman, Snodgrass & Sons (6-10, .600, 5 HR, 8 RBI, 6 Runs)
Roger Mayo, Bunch Brothers (14-24, .583, 4 HR, 9 RBI, 11 Runs)
Randall Symonds, Green Machine (17-30, .567, 4 RBI, 15 Runs)
HT Waller, Howard's (10-18, .556, 7 HR, 11 RBI, 9 Runs)
Lou Russo, Pepsico (7-13, .538, 4 RBI, 4 Runs)
Bert Smith, Howard's (10-19, .526, 5 HR, 9 RBI, 11 Runs)
Eddie Corum, Duggan and Duggan (12-23, .522, 7 HR, 15 RBI, 12 Runs)
Ron Patterson, Duggan and Duggan (14-27, .519, 8 HR, 16 RBI, 15 Runs)
John Davide, Pepsico (8-16, .500, 3 HR, 6 RBI, 6 Runs)
Ed Finnegan, Pepsico (7-14, .500, 1 RBI, 7 Runs)
Cobbie Harrison, Jiffy Club (7-14, .500, 3 HR, 11 RBI, 6 Runs)
Al White, Jerry's (6-12, .500, 4 HR, 7 RBI, 9 Runs)
Steve Loya, Pyramid (5-10, .500, 3 HR, 9 RBI, 4 Runs)
---
FINAL STANDINGS (33 Teams)
1. Warren Motors, Jacksonville, FL (6-0)
2. Paul Johnson Company, Franklin, IN (6-2)
3. Duggan & Duggan, Chattanooga, TN (4-2)
4. Bunch Brothers, Arab, AL (4-2)
5t. Green Machine, Starke, FL (5-2)
5t. Dubois Chemical, Columbus, OH (4-2)
7t. Ray Carpenter Co., San Antonio, TX (4-2)
7t. Preston Machine, Ansonia, CT (4-2)
9t. Beef Corral, Lakewood, OH (3-2)
9t. Howard Furniture, Denver, NC (2-2)
9t. Don Simpson's Cafe, Cincinnati, OH (2-2)
9t. BYM Club, Pittsburgh, PA (2-2)
13t. Pete Nicholosi, Lafayette, LA (2-2)
13t. York Barbell, York, PA (2-2)
13t. Jiffy Club, Louisville, KY (2-2)
13t. First Pacific Corp, Salem, OR (2-2)
17t. Pyramid Cafe, Cleveland, OH (1-2)
17t. Gartenhaus, Plainesville, CT (2-2)
17t. Pepsico Incorporated, Levittown, NY (2-2)
17t. Goshen Hutch Trucking, Goshen, OH (1-2)
17t. Jerry's Caterers, Miami, FL (1-2)
17t. Midstate Oil, Jefferson City, MO (1-2)
17t. Addies, Silver Spring, MD (1-2)
17t. Snodgrass & Sons, Wichita, KS (1-2)
25t. T-Wright's, Hopkins, MN (0-2)
25t. MCU Sports, Boise, ID (0-2)
25t. Bay Area Merchants, Pinole, CA (0-2)
25t. Jet Trophies, Rye, NY (0-2)
25t. Aristocrat Inn, Waukesha, WI (0-2)
25t. Arizona Tortilla, Phoenix, AZ (0-2)
25t. Armed Forces, USA (0-2)
25t. Favorite Knits, Parma, OH (0-2)
33. Goofy's, Minneapolis, MN (0-2)