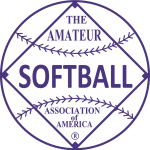 1965 held at Maumee, Ohio
---
Champion – Skip Athletic Club, Pittsburgh, Pennsylvania (54-7)
Runner Up – Gatliff Auto Sales, Newport, Kentucky (87-11)
---
Skip Athletic Club won this championship in dominating fashion, with tremendous defense and the pitching of Lou DelMastro. Skip's defeated a great Swing Inn team from Cleveland in the winner's bracket final 6-2 behind 2 home runs from Paul Tomasovich.
Swing Inn then lost the loser's bracket final to Gatliff's 13-5 to finish 3rd. In the championship, that wasn't even close, Skip's exploded for 9 home runs in the 23-7 Championship Game victory. They scored 9 runs in the second inning. Bill Downey started it off with a 3-run Homer.
Jimmy Watts had a 2-run homer and Bill Hopkins and George Siford also hit homers in the inning. Bill Hopkins, George Siford and Bill Downey all hit 2 home runs in the game, while Jimmy Wallace, Joe 'Bull' Yimen and Paul Tomasovich also hit home runs. Skip AC had 25 hits during the game and their cause was helped by the fact Gatliff committed 5 errors.
Ageless Myron Reinhardt hit .770 (17-22) to lead the Gatliff team, somehow, he was left off the All America team. MVP Pitcher Lou Delmastro upped his ASA National Championship record to 25-2 with this 7-0 performance.
Skip's were 26-6 in their Pittsburgh Metro League and 18-1 in tournament play for a 54-7 total record.
---
MVP – Lou DelMastro, Skip Athletic Club (7-0, 29 runs allowed in 7 games)
HR Leaders – Jack Goodrich, Swing Inn – 5
HR Leaders – Don Hansen, Chadwick Construction – 5
HR Leaders – Bob Auten, Monroe Bombers – 5
HR Leaders – George Siford, Skip Athletic Club – 5
HR Leaders – Paul Tomasovich, Skip Athletic Club – 5
Batting Leader – Bob Auten, Monroe Bombers (13-15, 5 HR) – .867
---
1965 ASA MEN'S OPEN SLOW PITCH ALL-AMERICAN FIRST TEAM
P – Lou Delmastro, Skip Athletic Club (7-0)
C – Ted Budny, Cactus Club
1B – Bob Auten, Monroe Bombers (13-15, .867, 5 HR)
IF – Hudson Knock, Gatliff's
IF – Ron Kaintz, Skip Athletic Club
IF – Jack Goodrich, Swing Inn (5 HR)
IF – Paul Tomasovich, Skip AC (4 2B, 5 HR)
OF – Don Hansen, Chadwick Construction (5 HR)
OF – Dennis, DeLoria, Tirabassi
OF – George Siford, Skip Athletic Club (5 HR)
OF – Bob Black, Ready-Mix
---
OTHERS
Myron Reinhardt, Gatliff's Auto Sales (17-22, .770)
Ray "Whitey" Brown, Gatliffs (14-28, 500)
---
FINAL STANDINGS
1. Skip Athletic Club, Pittsburgh, PA (7-0)
2. Gatliff Auto Sales, Newport, KY (6-2)
3. Swing Inn, Cleveland, OH (6-2)
4. Tirabassi Excavators, Kenosha, WI (4-2)
5t. Cactus Club, Milwaukee, WI (5-2)
5t. Vigilant AA, York, PA (5-2)
7t. Chadwick Construction, Meriden, CT (4-2)
7t. Millbury Old Time Inn, Millbury, MA (4-2)
9t. Seaport Inn, Toledo, OH (3-2)
9t. Gonzalez Mexican Foods, Richmond, CA (4-2)
9t. TWUA Textile Workers, Leaksville, NC (4-2)
9t. Jiffy Club, Louisville, KY (5-2)
13t. Dick's Market, Richmond-Oakland, CA (3-2)
13t. A.D. McCombs, San Antonio, TX (2-2)
13t. Stotz Garage, Valhalla, NY (3-2)
13t. East Side Sporting Goods, Detroit, MI (2-2)
17t. Al's Sports Center, Smithers, WV (3-2)
17t. Penn TV, Cranston, RI (3-2)
17t. Ready-Mix Concrete, Knoxville, TN (4-2)
17t. Fountain's Marine, Savannah, GA (3-2)
17t. Duff's/Westrum's, Minneapolis, MN (2-2)
17t. Beavercreek Merchants, Beavercreek, OH (2-2)
17t. Donaldsville Independents, New Orleans, LA (2-2)
25t. Falstaffers, Rock Hill, SC (1-2)
25t. Brookline BYMC Club, Pittsburgh, PA (2-2)
25t. Hays Trucking, Phoenix, AZ (2-2)
25t. Foster Lumber Company, Dodge City, KS (1-2)
25t. Monroe Bombers, Monroe, MI (2-2)
25t. Musicaro Foods, Massapequa, NY (2-2)
25t. Hayes International, Birmingham, AL (1-2)
25t. Professor Erny's Music, Lafayette, LA (1-2)
25t. East Toledo Independents, Toledo, OH (1-2)
33t. Family Tavern, Washington DC (2-2)
33t. Kelly's Jet System, Richmond, VA (1-2)
33t. Pisut's Funeral Home, Joliet-Chicago, IL (0-2)
33t. Del Campo Baking, Wilmington, DE (1-2)
33t. Polish Hall, Granite City, IL (0-2)
33t. John M. Forster Company, Rochester, NY (0-2)
33t. Lusardi's Schaefer, Somerville, NJ (1-2)
33t. The Players Tavern, Tacoma, WA (0-2)
33t. Hillcrest Bowl, St. Paul, MN (0-2)
33t. M.B. Hagen Company, Hopkins, MN (0-2)
33t. Southern Bell Dairy, Danville, KY (0-2)
33t. Sperry Electric, Long Beach, MS (0-2)
33t. Lake Drive Liquors, Cocoa, FL (1-2)
33t. Beachcombers Drive-In, Oklahoma City, OK (0-2)
33t. Jo-Dog Manufacturing, Bedford, IN (0-2)
33t. Tasmanian Devils, St. Louis, MO (0-2)
49t. Cote St. Luc Leafs, Quebec, Canada (0-2)
49t. Trinity Lutheran, Atlanta, GA (1-2)
49t. McConaghy Drugs, Mobile, AL (0-2)
49t. Texas Club, Miles City, MT (0-2)
49t. Omaha Ace Roofing, Omaha, NE (0-2)
49t. Opalock Merchants, Miami, FL (0-2)