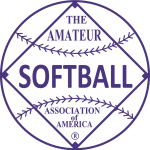 1995 held at Midland, Michigan.
---
Champion – Decatur Pride, Decatur, Illinois (83-12)
Runner Up – All Car Roadrunners, Green Bay, Wisconsin
---
MVP – Avon Meacham, Decatur Pride (6-17,  .353)
Batting Leader – Matt Kohnle, All Car Roadrunners (9-20) – .450
HR Leader – Mark Sorenson, All Car Roadrunners – 3
Herb Dudley Pitching Award – Chub Tangaroa, Decatur Pride (5-0, 29 IP, 49 Ks, No Hitter and a Save. Gave up only 8 hits the entire tournament)
---
Decatur Pride defeated All-Car 1-0 in winners bracket final as Chubb Tangaroa fired a 1-hitter and struck out 12 players. He bested All-Car's ace Paul Algar. The Pride's Jeff Finke drove in the winning run with a 7th inning single. All-Car then defeated Abbott Labs in Losers Bracket final 7-0. In the Championship game, Chubb Tangaroa pitched a gem, winning the title with a 4-0 2-hitter. He struck out 4. It was Tangarora's 5th straight shutout of the tournament. The Pride outscored their opponents 16-0.  Tangaroa has led the Pride to consecutive Championships. He has been 10-1 the last 2 years, hurling 59 innings, striking out 92 batters, while pitching 7 shutouts, including a No-Hitter and two 1-hitters.  Doug Gillis won the second game for the Pride as he hurled 12 innings of 1-hit shutout ball. He collected 25 K. Chubb Tangaroa came in relief in the 13th inning and struck out the side to save the game.
Paul Algar and Steve Price shared pitching duties for the Roadrunners and went 5-2.
---
1995 FIRST TEAM ALL AMERICANS
P – Steve Price, All Car Roadrunners
P – Chub Tangaroa, Decatur Pride
P – Mike Piechnik, Farm Tavern
P – Tony Hunoff, Ashland Merchants
C – Todd Twachtman, Decatur Pride
C – Mark Sorenson, All Car Roadrunners
1B – Greg Melchert, Greater Flint Sports Medicine
2B – Steve Lashuay, Midland Metros
3B – Matt Kohnle, All Car Roadrunners
SS – Tom Montgomery, Miller Toyota
OF – Tom Williamson, Greater Flint Sports Medicine
OF – Avon Meacham, Decatur Pride
OF – Steve Schott, Smokers
OF – Barry Doyle, Midland Metros
UTIL – Brad Underwood, Midland Explorers
1995 SECOND TEAM ALL AMERICANS
P – Todd Martin, Ashland Merchants
P – Paul Algar, Decatur Pride
P – Peter Meredith, Miller Toyota
C – Paul Walford, Smokers
1B – Gary Swan, Farm Tavern
2B – Bill Miller, Denmark Dukes
3B – Ross Dey, Decatur Pride
SS – Ray Atkinson, Seafirst Bank
OF – Shawn Rychick, All Car Roadrunners
OF – Ed Poirier, Matarazzo Sea Dogs
OF – Vic Johns, Decatur Pride
OF – Colin Abbott, All Car Roadrunners
DP – Tony Aresco, Matarazzo Sea Dogs
UTIL – Jody Hennigar, Farm Tavern
UTIL – Brett Alvey, Miller Toyota
1995 THIRD TEAM ALL AMERICANS
P – Darin Zack, Midland Explorers
P – Terence Hibbert, All Car Roadrunners
P – Greg Wright, Midland Metros
C – Tim Wahl, Farm Tavern
1B – Jarrod Martin, Smokers
2B – Steve Horning, Midland Explorers
3B – Dino Neptune, Ashland Merchants
SS – David Boys, Smokers
OF – Shane Hunuhunu, Ashland Merchants
OF – Boomer Brush, Smokers
OF – Derek Coleman, Denmark Dukes
OF – John Lopes, Matarazzo Sea Dogs
DP – Allen Dowd, Denmark Dukes
UTIL – Mark Maxin, Seafirst Bank
UTIL – John Becker, All Car Roadrunners
---
FINAL STANDINGS
1. Decatur Pride, Decatur, IL (6-0)
2. All Car Roadrunners, Green Bay, WI (5-2)
3. Abbott Labs, Ashland, OH (6-2)
4. The Farm Tavern, Madison, WI (5-2)
5t. Midland Explorers. Midland, MI (3-2)
5t. Sports Medicine, Flint, MI (2-2)
7t. Larry Miller Toyota, Salt Lake City, UT (3-2)
7t. Denmark Dukes, Denmark, WI (3-2)
9t. Seafirst Bank, Seattle, WA (2-2)
9t. Boston Sea Dogs, Boston, MA (2-2)
9t. Midland Metros, Midland, MI (2-2)
9t. Tampa Bay Smokers, Tampa Bay, FL (2-2)
13t. Page Brake, Salt Lake City, UT (1-2)
13t. St. Joe Travelers, St. Joseph, MO (1-2)
13t. Heflin Builders, Middletown, NY (1-2)
13t. Bloomington Hearts, Bloomington, IL (1-2)
17t. Strasburg Bonutt's, Effingham, IL (0-2)
17t. St Louis GMC, St. Louis, MI (0-2)
17t. Jersey Gators, West Milford, NJ (1-2)
17t. Meierhoffer/Ed's, Savannah, MO (0-2)
17t. Jack & Do's Pizza, Findlay, OH (0-2)
17t. Clearwater Bombers, Clearwater, FL (0-2)
17t. Dolan & Murphy, Aurora, IL (0-2)
17t. Reading Sunners, Reading, PA (0-2)