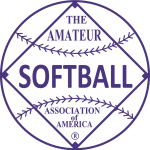 1986 held at Tukwila, Washington on August 15-22.
---
Champion – Pay'N Pak, Seattle, Washington
Runner Up – Penn Corp, Sioux City, Iowa (96-14)
---
Jimmy Moore of Pay'N Pak outdueled Penn Corp's Steve Schultz in the championship game 3-0. Moore pitched a 2-hitter and had 11 Ks. Jimmy Carrithers, once again had the big hit in the inning where Pay'N Pak scored their runs. Pak's other pitcher, Graeme Robertson was ineligible to play in the National Tournament due to the residency rule of not living in the USA for at least one year. So, Jimmy Moore had to do it alone.  Pay'N Pak became the first team to win the so called fast pitch triple crown of Softball, winning the ASA, ISC and Olympic Festival titles. Jimmy Moore has been named either the Most Valuable Pitcher or Outstanding pitcher over the past 2 years in the ASA, ISC and United States Olympic Festival Tournaments. These records will never be broken and have not been achieved since. In the past 2 years in the 3 big Softball Nationals/Worlds/Festivals, Jimmy Moore has been 31-0. An incredible feat that ranks up there with the all time pitching achievements ever.
Ty Stofflet earned his 45th career ASA National Tournament victory, breaking the record held by John Spring, who had 44. Stofflet's 45th win happen to be a no hitter. And his 45th win came at the age of 45 years old.
Chuck Caldera, Dan Kolta and Forney Bassham of Robertson Homes combined to go 5-2.
---
MVP – Jim Carrithers, Pay'N Pak
Batting Leader – Jim Brackin, Allentown Sunners – .563
HR Leader – Jim Findlay, Harold's Supermarket (8-19, .421) – 4
Herb Dudley Pitching Award – Jimmy Moore, Pay'N Pak
---
FIRST TEAM ALL-AMERICANS
P – Jimmy Moore, Pay'N Pak
P – Steve Schultz, Penn Corp (5-2, 49 IP, 74 K)
P – Pete Sandman, Penn Corp (4-0, 35 IP, 39 K)
C – Jeff Findley, Harold's Supermarket
C – Rich Smith, Penn Corp
1B – Mike Drew, Coors Silver Bullets
2B – Rick Minton, Decatur Pride
3B – Scott Morris, Chameleons
SS – Chuck Prescott, Allentown Sunners
OF – Jim Brackin, Allentown Sunners (9-16, 6 RBI. He drove in the game's only run that gave the Sunners a 1-0 win over the Midland Merchants.)
OF – Steve Newell, Pay'N Pak
OF – Jim Carrithers, Pay'N Pak (8-23, .323, with clutch hits to win or tie game the final 3 games)
OF – Pete Spoerl, Ashland ESS
DH – Randy Burnside, Pay'N Pak
UTIL – Steve Kerian, Penn Corp
SECOND TEAM ALL-AMERICANS
P – Doug Middleton, Harold's Supermarket (4-1, 38 IP, 41 K)
P – Ty Stofflet, Allentown Sunners (3-2, 38 IP, 45 K, 2 shutouts, no hitter)
P – Dave Scott, Decatur Pride (4-1, 50 IP, 62 K)
C – Mike Singer, Robertson Holmes
C – Steve Zediker, Penn Corp
1B – Randy Beckstead, Miller Toyota
2B – Gordon Eakin, Miller Toyota
3B – Jeff Borror, Pay'N Pak
SS – Chad Corcoran, Pay'N Pak
OF – Dale Clark, Allentown Sunners
OF – Randy Ward, Miller Toyota
OF – Jim Clark, Guanella Brothers
OF – Pete Zoppi, Allentown Sunners
DH – Mike Nevin, Guanella Brothers
UTIL – Denny Place, Decatur Pride
THIRD TEAM ALL-AMERICANS
P – Vaughn Alvey, Miller Toyota
P – Darin Zack, Wellesley Trucking
P – Darrel Bender, Delta Vans
C – Greg Van Gaver, Pay'N Pak
C – George Papagelis, Allentown Sunners
1B – Bruce Beard, Pay'N Pak
2B – Steve Kramer, Happy Chef
3B – Mike Parnow, Guanella Brothers
SS – Lance Pratt, Miller Toyota
OF – Dennis Johnston, Allentown Sunners
OF – Bill Boyer, Pay'N Pak
OF – Bob Blakley, Harold's Supermarket
OF – Scott Christiansen, Happy Chef
DH – Cliff Joseph, Chameleons
UTIL – Scott Fox, Ashland ESS
---
FINAL STANDINGS
1. Pay'N Pak, Bellevue, WA (7-0)
2. Penn Corp, Sioux City, IA (9-2)
3. Harold's Supermarket, Lexington, MO (4-2)
4. ADM, Decatur, IL (6-2)
5t. Silver Bullets, Aurora, IL (3-2)
5t. Allentown Sunners, Allentown, PA (4-2)
7t. Robertson Homes, Stockton, CA (5-2)
7t. Chameleons, Lakewood, CA (3-2)
9t. Miller Toyota, Salt Lake City, UT (4-2)
9t. Delta Van Lines, Elkhart, IN (3-2)
9t. Midland Explorers, Midland, MI (3-2)
9t. Guanella Brothers, San Rosa, CA (2-2)
13t. ESS/Merchants, Ashland, OH (3-2)
13t. Happy Chef, Mankato, MN (2-2)
13t. Lucas Film Rebels, San Rafael, CA (2-2)
13t. Trucking, Wellesley, MA (3-2)
17t. Kingsmen, Canton, NC (1-2)
17t. Farm Tavern, Madison, WI (1-2)
17t. Mary Pang Realty, Renton, WA (1-2)
17t. Skagit Marine, Mt. Vernon, NY (1-2)
17t. Warriors, New York City, NY (1-2)
17t. All-Car, Green Bay, WI (1-2)
17t. Kelland's, Phoenix, AZ (2-2)
17t. Metros, Boise, ID (1-2)
25t. Woodies, Charlottesville, VA (1-2)
25t. Page Break, Salt Lake City, UT (1-2)
25t. All-American Bar, St. Paul, MN (1-2)
25t. Stars, San Bernadino, CA (1-2)
25t. Clearwater Bombers, Clearwater, FL (0-2)
25t. Faultless-Garber, Ashland, OH (0-2)
25t. Fastballers, Piqua, OH (1-2)
25t. Lake Texaco, Lake Oswego, OR (1-2)
33t. R&W Chevy Dukes, Seattle, WA (0-2)
33t. Planggers, Benton Harbor, MI (0-2)
33t. Teleconnect, Cedar Rapids, IA (0-2)
33t. Denton Kings, Denton, TX (0-2)
33t. Ruth Realty Eagles, Renton, WA (0-2)
33t. Louisiana Kings, Baton Rouge, LA (0-2)
33t. Papsi, Yakima, WA (0-2)
33t. Totem Lake Ford, Redmond, WA (0-2)