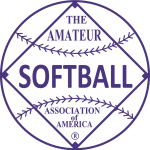 1994 held at Palm Springs, California on August 15-22.
---
Champion – Decatur Pride, Decatur, Illinois (79-7)
Runner Up – All Car Roadrunners, Green Bay, Wisconsin
---
Decatur lost to All-Car 5-0 in the Winners Bracket final, then beat The Farm Tavern 11-5 behind pitcher Chubb Tangaroa, who came in relief of Marty Grant to gain the win in the losers bracket final to gain the championship round. Avon Meacham collected 3 hits in the game and Rick Dohogne's had a big 3-run homer. David Boys and Terry Wiebe also hit home runs. Dohogne also had a 2-run single to end up with 5 RBI in the game. They defeated All-Car twice to gain the title. Chubb Tangaroa won the first final 5-2, scattering five hits and striking out 12. Marty Grant (who went 2-0 in the nationals) hurled a shutout in the final championship as Decatur won 8-0. Grant pitched a three hitter and stuck out 9. Terry Wiebe smacked a 2-run homer and solo homers were hit by David Boys and Tim Wargo.
Paul Algar was the losing pitcher for All-Car.
Paul Algar and Brad Underwood, Pitched for All-Car and combined to go 5-2.
Mike White and Rob Schellor, Pitched for The Farm Tavern and combined to go 6-2.
---
MVP – Rick Dohogne, Decatur Pride
Batting Leader – Mitch Munthe, SeaFirst Bank (8-15) – .533
HR Leader – Jody Hennigar, Clearwater Bombers (10-21, .476, 13 RBI) – 5
Herb Dudley Pitching Award – Chub Tangaroa, Decatur Pride (5-1, 30 IP, 43 K)

---
FIRST TEAM ALL-AMERICANS
P – Paul Algar, All Car Roadrunners
P – Marty Grant, Decatur Pride (2-0, 21 IP, 28 K, No Hitter)
P – Chub Tangaroa, Decatur Pride
C – Todd Twachtman, Broken Bow Travelers
1B – Mark Sorenson, All Car Roadrunners
2B – Keith Tate, Broken Bow Travelers
3B – Bruce Franklin, Heflin Builders
SS – Todd Schultz, Midland Explorers
OF – Avon Meacham, Decatur Pride
OF – Steve Schott, All Car Roadrunners
OF – Jody Hennigar, Farm Tavern
OF – Colin Abbott, All Car Roadrunners
DP – Rick Dohogne, Decatur Pride
UTIL – Shawn Rychick, All Car Roadrunners
UTIL – Brad Underwood, All Car Roadrunners
SECOND TEAM ALL-AMERICANS
P – Michael White, Farm Tavern
P – Peter Meredith, Farm Tavern
P – Chris Bigelow, Broken Bow Travelers
P – Rob Scheller, Decatur Pride
C – Todd Gracia, Decatur Pride
1B – Trent Rubley, Decatur Pride
2B – Steve Horning, Midland Explorers
3B – Mike White, Ashland Merchants
SS – Dion Nukunuku, Ashland Merchants
OF – Vic Johns, Decatur Pride
OF – Kevin Litz, Ashland Merchants
OF – Shane Hunuhunu, Ashland Merchants
OF – Kyle Magnusson, Miller Toyota
DH – Doug Kozeny, Broken Bow Travelers
UTIL – Jarrod Martin, Midland Explorers
THIRD TEAM ALL-AMERICANS
P – Steve Price, Heflin Builders
P – Tony Hunoff, Ashland Merchants
C – Craig Crawford, Midland Explorers
1B – Gary Swan, Farm Tavern
2B – Lance Pratt, Miller Toyota
3B – Doug Streeter, Miller Toyota
SS – David Boys, Decatur Pride
OF – Dave Scott, Midland Explorers
OF – Jeff Servinski, Midland Explorers
OF – Kyle Simmons, Broken Bow Travelers
OF – Brian Lehrman, Miller Toyota
DP – Brian Neveau, Farm Tavern
UTIL – Lonnie Swan, Farm Tavern
UTIL – Rich Rada, Farm Tavern
---
FINAL STANDINGS
1. Decatur Pride, Decatur, IL (7-1)
2. All Car Roadrunners, Green Bay, WI (5-2)
3. Farm Tavern, Madison, WI (6-2)
4. Midland Explorers, Midland, MI (4-2)
5t. Miller Toyota, Salt Lake City, UT (4-2)
5t. Heflin Builders, Middletown, NY (3-2)
7t. Ashland Merchants, Ashland, OH (3-2)
7t. Broken Bow Travelers, Broken Bow, NE (4-2)
9t. Seafirst Bank, Seattle, WA (2-2)
9t. Jack & Do's Pizza, Findlay, OH (2-2)
9t. Escro Transport Indians, Buffalo, NY (2-2)
9t. Si Senor, Tumacacari, AZ (2-2)
13t. Clearwater Bombers, Clearwater, FL (2-2)
13t. The Advocate, Mesa, AZ (2-2)
13t. Gateway 2000, Sioux City, IA (2-2)
13t. Bloomington Hearts, Bloomington, IL (2-2)
17t. Topeka Drive Train, Topeka, KS (1-2)
17t. FIS, Duluth, GA (1-2)
17t. Happy Chef, North Mankato, MN (1-2)
17t. Matarazzo Brothers, Melrose, MA (1-2)
17t. Ozark Mountaineers, Springfield, MS (1-2)
17t. Page Brake, Salt Lake City, UT (1-2)
17t. Coors Light Sunners, Reading, PA (0-2)
17t. Long Beach Panthers, Long Beach, CA (0-2)
25t. Miller Lite, Teutopolis, IL (0-2)
25t. Shelbyville Sting, Shelbyville, IN (0-2)
25t. Greenpoint Warriors, Brooklyn, NY (0-2)
25t. Bonutti Orthopaedics, Effingham, IL (0-2)
25t. Tuckers, Baltimore, MD (0-2)
25t. Bryant Heating & Cooling, St. Joseph, MO (0-2)