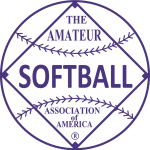 1987 held at Springfield, Missouri on August 15-22.
---
Champion – Pay'N Pak, Seattle, Washington (92-21)
Runner Up – Penn Corp, Sioux City, Iowa (89-21)
---
Pay'N Pak lost first game to Tele-Connect 3-1 and then reeled off an incredible run of 11 consecutive victories to come back and win the Championship. This was the greatest comeback in the history of ASA National play on record. They also became only the second team to win three consecutive National titles since the Zollner Pistons did it in 1945-1947. Penn Corp won the final two title games by the same 2-1 scores. Bruce Beard's bottom of the 7th walk off homer won the first final 2-1 to force the second game. Then he had a big 2-run double in the final to clinch the title. Graeme Robertson pitched and won the loser's bracket final and then both the championship games. He finished with an 8-1 record. Doug Gillis pitched the other three victories for Pay n Pay as he finished 3-0 to cap a record 11-1 record for the tournament. Steve Schultz of Penn Corp won 5 games in the winners bracket; hurling 4 no hitters, including a perfect game, before hurting his knee in winners bracket final and he was done for the tournament.
Guanella Brothers Steve Padilla and Chuck D'Arcy combined to go (5-2). Padilla pitched 36 consecutive innings of scoreless ball.
---
MVP – Bruce Beard, Pay 'n Pak
Batting Leader – Cleon Young, Midland Explorers – .529
HR Leader – Brad Dodge, Penn Corp – 3
Herb Dudley Pitching Award – Graeme Robertson, Pay 'N Pak
Herb Dudley Pitching Award – Steve Schultz, Penn Corp
---
FIRST TEAM ALL-AMERICANS
P – Peter Meredith, Trans-Aire (5-2) He was 48-7 on the season with 857 K in just 400 Innings pitched.
P – Dave Scott, Decatur Pride (5-1)
P – Graeme Robertson, Pay'N Pak (8-1)
C – Steve Zediker, Penn Corp
C – Steve DeFazio, Guanella Brothers
1B – Bruce Beard, Pay'N Pak (walk off HR in bottom of 7th to force "if" game, then 2-run double to won championship)
2B – Rick Minton, Decatur Pride
3B – Jeff Borror, Pay'N Pak
SS – Steve Kerian, Decatur Pride
OF – Brian Rothrock, Decatur Pride
OF – Mitch Munthe, Guanella Brothers
OF – Bobby Michaelson, Penn Corp
OF – Brian Lehrman, Trans-Aire
DP – Cleon Young, Midland Explorers (9-17)
UTIL – Jim Clark, Guanella Brothers
SECOND TEAM ALL-AMERICANS
P – Steve Padilla, Guanella Brothers
P – Darrel Bender, Nothdurft Tool
P – Al Rausch, Collins Radio
C – Steve Calvert, Collins Radio
C – Mark Burrup, Miller Toyota
1B – Jeff Bell, Bloomington Hearts
2B – Mickey Brusco, Pay'N Pak
3B – Eric Niepagan, Bloomington Hearts
SS – Chad Corcoran, Pay'N Pak
OF – Steve King, Bloomington Hearts
OF – Terry Lynch, Midland Explorers
OF – Brad Dodge, Penn Corp (9-17, .522)
OF – Bill Boyer, Pay'N Pak
DP – Dave Jackson, Decatur Pride
UTIL – Rod Towe, PFI
THIRD TEAM ALL-AMERICANS
P – Rick Plangger, Plangger's Furniture
P – Bill Cooper, Teleconnect
P – Lonnie Marshall, PFI
C – Tim Wahl, Pay'N Pak
C – Tim Davis, Trans-Aire
1B – Frank Long, Sunners
2B – John McEldowney, Plangger's Furniture
3B – Dave Bedford, Midland Explorers
SS – Tim Blasi, Osbern-Merit
OF – Boomer Brush, Clearwater Bombers
OF – Mark Rice, PFI
OF – Bob Blakley, Harold's Supermarket
OF – Mike Glasser, Ashland ESS
DP – Dave Jackson, PFI
UTIL – Mike Hopkins, Osbern-Merit
---
OTHERS
Steve Schultz, Penn Corp (5-0, 4 no hitters including one perfect game)
---
FINAL STANDINGS
1. Pay 'N Pak, Seattle, WA (11-1)
2. Penn Corp, Sioux City, IA (6-2)
3. Collins Radio, Cedar Rapids, IA (5-2)
4. Guanella Brothers, Santa Rosa, CA (5-2)
5t. Miller Toyota, Salt Lake City, UT (3-2)
5t. Trans-Aire, Elkhart, IN (5-2)
7t. Decatur Pride, Decatur., IL (5-2)
7t. Bloomington Hearts, Bloomington., IL (4-2)
9t. PFI, Springfield, MO (3-2)
9t. Midland Explorers, Midland, MI (4-2)
9t. Teleconnect, Cedar Rapids, IA (3-2)
9t. Sunners, Reading, PA (2-2)
13t. Plangger's Furniture, Benton Harbor., MI (3-2)
13t. Ashland Ess, Ashland, OH (2-2)
13t. Nothdurft Tool, Detroit, MI (3-2)
13t. Robertson Homes, Stockton, CA (3-2)
17t. Broken Bow Travelers, Broken Bow, NE (1-2)
17t. Clancy's, Paterson, NJ (1-2)
17t. Gary's Auto Stereo, Palmdale, CA (1-2)
17t. Potter Enterprises, Nashville, TN (1-2)
17t. Sheraton Coors, Cambridge, MA (1-2)
17t. Stroh's, St. Paul, MN (1-2)
17t. Clearwater Bombers, Clearwater, FL (2-2)
17t. Harold's Supermarket, Lexington, MO (2-2)
25t. Osbern-Merit, Springfield, MO (2-2)
25t. Agri-Pro, Ames, IA (1-2)
25t. Annapolis Radiator, Annapolis, MD (1-2)
25t. Coors Silver Bullets, Aurora, IL (0-2)
25t. Boise Metros, Boise, ID (0-2)
25t. Lubbock, Lubbock, TX (0-2)
25t. Morgan Hill 9, Morgan Hill, CA (0-2)
25t. Piqua Fastballers, Piqua, OH (0-2)
33t. Faultless Rubber Company, Ashland, OH (1-2)
33t. Chick's Tavern, Pleasant Valley, NY (1-2)
33t. Happy Chef, Mankato, MN (0-2)
33t. Har-Bell/JM Welding, Springfield, MO (0-2)
33t. Holliday Exterminating, Memphis, TN (0-2)
33t. Jefferson City Fastpitch, Jefferson, MO (0-2)
33t. Phoenix NSSI, Phoenix, AZ (0-2)
33t. Seeburg Muffler, Springfield, MO (0-2)
33t. Wellesley Trucking, Wellesley, MA (0-2)