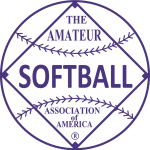 2018 held at South Bend, Indiana on August 2-5.
---
Champion – NY Gremlins, Clifton Park, New York
Runner Up – Hill United Chiefs, Machias, New York
---
The NY Gremlins earned a spot in the Championship Game after a tightly-contested battle against eventual runner-up Hill United Chiefs. Down by six runs after three complete innings, the NY Gremlins slowly chipped away at the lead before a walk off grand slam by Malarczuk Ladlisao sealed the win. Hill United Chiefs posted a 17-5 win over Hallman Twins to earn the rematch against the NY Gremlins in the Championship Game. Hill United Chiefs once again took an early lead after a leadoff, solo home run by Brad Ezekiel. The NY Gremlins responded in the top of the third, taking the lead for good with a two-run home run by Ben Enoka. Additional home runs by Bryan Abrey and Zenon Winters kept the offense rolling for the NY Gremlins as they earned the 11-3 (six innings) win to hold on to the Men's Major Fast Pitch National title. This is the third straight National Championship for the Gremlins.
---
MVP – Andrew Kirkpatrick, NY Gremlins (3-0, 18 IP, 20 K, Shutout; 6-11, .545, HR, 6 RBI)
Batting Leader – Eric Ochoa, NY Gremlins (10-16, HR, 8 RBI, 5 Runs) – .625
Home Run Leader – Shane Boland, Hill United (10-19, .526, 6 RBI, 5 Runs) – 3
Home Run Leader – Jeff Ellsworth, Hill United (6-14, .429, 4 RBI, 5 Runs) – 3
Herb Dudley Pitching Award – N/A, no info or nothing mentioned about it – (Andrew Kirkpatrick, NY Gremlins was MVP)
---
2018 FIRST TEAM ALL AMERICANS
P – Tony Sparvier, KC Monarchs
P – Juan Potolicchio, NY Gremlins (2-0, 10 IP, 15 K, No-Hitter)
P – Ryan French, Hallman Twins
C – Bruno Motroni, Hill United Chiefs
IF – Steve Mullaley, Hallman Twins
IF – Tyler Dudley, Circle Tap Dukes
IF – Nick Schailes, Hill United Chiefs
IF – Tommy Crouch, Circle Tap Dukes
OF – Brad Ezekiel, Hill United Chiefs
OF – Mathieu Roy, NY Gremlins
OF – Teo Migliavacca, Hallman Twins
OF – Nico Carill, Hill United Chiefs
UTIL – Zach Shaw, KC Monarchs
UTIL – Nick Mullins, NY Gremlins
UTIL – Derek Mayson, Hallman Twins
---
OTHERS
Roman Godoy, Circle Tap (3-1, Save, 22 IP, 31 K).
Adam Folkard (2-2, 17 IP, 29 K, 2 Shutouts) and Justin Schofield (2-0, 11 IP, 16 K) both of Hill United Chiefs.
Ladlisao Malarczuk, NY Gremlins (7-13, .538, Grand Slam, 8 RBI, 2 Runs).
Jason Hill, Hill United (8-16, .500, 2 HR, 5 RBI, 7 Runs).
---
FINAL STANDINGS
1. NY Gremlins, Clifton Park, NY (5-0)
2. Hill United Chiefs, Machias, NY (4-2)
3. Hallman Twins, North Chesterfield, VA (4-2)
4. Circle Tap Dukes, Denmark, WI (4-2)
5t. J&B Bombers, Ephrata, PA (2-2)
5t. Kansas City Monarchs, Belleville, KS (3-2)
7t. Bloomington Stix, Lexington, IL (2-2)
7t. The Bar On The Avenue Buzz, Kimberly, WI (3-2)
9t. Bear Bottom Lodge, Denver, PA (1-2)
9t. Alexander Crawlers, Calgary, WA (3-2)
9t. Ostrander Norsemen, Chanhassen, MN (2-2)
9t. Pueblo Bandits, Aurora, CO (1-3)
13t. Alvinston Aces, Wyoming, MI (2-2)
13t. Rice Lake Orangemen, New Richmond, WI (2-2)
13t. Tin Cup Tornado, Little Canada, MN (1-3)
13t. Kegel Black Knights, Amboy, MN (0-3)
17t. Wabash Pride, Wabash, IN (0-3)
17t. Frankenmuth Brewers, Frankenmuth, MI (0-3)
NOTES: The tournament was a three game guarantee format.