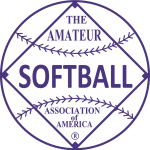 1973 held at McAdenville, North Carolina on August 1-8.
---
Champion – Pabst International, Springfield, Ohio
Runner Up – G.E. WACO, Louisville, Kentucky
---
Pabst International Harvester came from the losers bracket and beat Nassau County Police 12-7 in the semi finals and then defeated the GE Wacos twice, 15-8 and 10-9. Larry Spahr went 4-4 in the first final game. The game ended in dramatic fashion as Pabst's Randy Yoakum smashed a double in the bottom of the 8th inning to score George Keller with the winning run to clinch the national title 10-9. Hometown team Pharr Yarn Reds finished 4th, losing to Nassau County police 11-5 as Buck Buchanon hit 2 homers in the game to the delight of the home crowd. Nassau PD lost their very first game and came back to win 9 in a row, before being eliminated by Pabst.
---
MVP – Larry Spahr, Pabst International Harvester (21-30, .700, 7 HR, 18 Runs scored)
HR Leaders – Larry Spahr, Pabst – 7
HR Leaders – Dan Carver, Aetna (9-16, .563) – 7
HR Leaders – Don Hylton, GE Wacos (10-22, .455) – 7
Batting Leader – Larry Spahr, Pabst – .700
---
ASA INDUSTRIAL MAJOR ALL AMERICANS FIRST TEAM
P – Dave Evilsizer, Pabst International
P – Bob Hayes, Nassau County Police
C – Ron Hylton, G.E. WACO
1B – Danny Carver, Aetna
2B – Charles Taylor, Phillip Morris
3B – Tom Bradley, Nassau County Police
SS – Gary Rice, G.E. WACO
OF – A.C. Dobis, Nassau County Police
OF – Lou Bowman, Pabst International
OF – Larry Spahr, Pabst International
OF – Charles Stewart, Pharr Yarn
UTIL – Ron Barber, G.E. WACO
UTIL – Clarence Buck Buchanan, Pharr Yarn
UTIL – Bob Reisinger, Pabst International
ASA INDUSTRIAL MAJOR ALL AMERICANS SECOND TEAM
P – Butch Staggs, G.E. WACO
P – Alex Creek, Aetna
C – Jack Merrill, Pharr Yarn
C – Ron Boling, Pabst International
1B – Phil Stilling, Pabst International
2B – Jim Hardesty, G.E. WACO
3B – Dennis Ellis, Sears
SS – Johnny King, Pharr Yarn
OF – Pete Schaaf, Nassau County Police
OF – Dave Tiebault, Kenny Manufacturing Co.
OF – Tom Baggett, Phillip Morris
OF – Howard Dean, Sears
UTIL – Bob Hurd, Sikorsky Aircraft
UTIL – David Johnson, Pharr Yarn
---
FINAL STANDINGS
1. Pabst International, Springfield, OH (8-1)
2. G.E. WACO, Louisville, KY (6-2)
3. Nassau County Police, Long Island, NY (9-2)
4. Pharr Yarn Reds, McAdenville, NC (5-2)
5t. Phillip Morris, Richmond, VA (4-2)
5t. Aetna, Charlotte, NC (7-2)
7t. Kenny Manufacturing Co., Providence, RI (5-2)
7t. Sikorsky Aircraft, Bridgeport, CT (4-2)
9t. Sears, Minneapolis, MN (3-2)
9t. Combustion Engineering, Chattanooga, TN (3-2)
9t. Ypsilanti Ford, Milan, MI (4-2)
9t. General Mills Big "G", New Hope, MN (2-2)
13t. Empire Chev. Fall River, MA (2-2)
13t. Reds LU 1974, Omaha, NE (2-2)
13t. Local 320 (United Steel Workers), Mobile, AL (3-2)
13t. Westinghouse, Pensacola, FL (3-2)
17t. McGraw-Hill, Hightstown, NJ (3-2)
17t. Local 622, Anderson, IN (3-2)
17t. UTIZA, Detroit, MI (2-2)
17t. Aradmac, Corpus Christi, TX (2-2)
17t. Burlington Northern, St. Paul, MN (2-2)
17t. Norfolk Firemen, Norfolk, VA (2-2)
17t. Wabco, Peoria, IL (2-2)
17t. Dupont Independents, Grottes, VA (2-2)
25t. Regal Rifles, Trion, GA (2-2)
25t. Sanders, Nashua, NH (2-2)
25t. Fraternal Order of Police, Cincinnati, OH (2-2)
25t. Atlantic National Bank, Jacksonville, FL (2-2)
25t. DuPont, Washington, WV (1-2)
25t. Delta Airlines, Atlanta, GA (1-2)
25t. LaFrance Industries, La France, SC (1-2)
25t. Eaton Axle, Cleveland, OH (1-2)
33t. Pan Am, New York City, NY (1-2)
33t. Libby-Owens Ford, Toledo, OH (1-2)
33t. Monroe Equipment, Paragould, AR (1-2)
33t. Public Safety, White Plains, NY (1-2)
33t. Orlando Fire Department, Orlando, FL (1-2)
33t. Pharr Yarn (Host Team), McAdenville, NC (0-2)
33t. Delta Air Lines, Miami, FL (0-2)
33t. IEI America, Wilmington, DE (0-2)
33t. RTE, Waukesha, WI (0-2)
33t. Portland Police Department, Portland, ME (0-2)
33t. AMF, York, PA (0-2)
33t. Rexnord, Milwaukee, WI (0-2)
33t. Acipco Reds, Birmingham, AL (0-2)
33t. Pay 'N Save, Seattle, WA (0-2)
33t. DMAAC Chargers, St. Louis, MO (0-2)
33t. WR Grace, Memphis, TN (0-2)
49t. Quik Trip, Kansas City, MO (0-2)
49t. Kerr-McGee, Oklahoma City, OK (0-2)