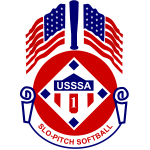 1973 held at Colonial Heights, Virginia.
---
Champion – Stan's Auto, New Castle, Pennsylvania (120-8)
Runner Up – Pittsburgh Orioles, Pittsburgh, Pennsylvania
---
Orioles beat Stans 6-5 to force 'if' game, then Stans beat Orioles 2-1. Stan's Pitcher, Luann Grybowski, Stan's Auto gave up 10 runs in 7 games (with 2 shutouts) and won final 2-1. They defeated First National Bank of toledo in the winners bracket final, 3-0. There were 48 teams entered in this tournament. In a special not of interest, Carol Aselin, Muxworthy's Pitcher, hurled a no-hitter against the Nor-Cal A's, quite an achievement in Slow Pitch Softball. The Orioles were sent to the losers bracket on a 3-1 loss to Stan's. They won four straight to the finals, including their win in the first final game, before being losing the Championship. Stan's scored their winning run in the 4th inning of the final game. The game was tied at one each, Veronica Funera opened the inning up with a single, but was forced at second by a grounder by Karen Reinhard (she scored the first run for Stans when she singled and then later scored on a fielders choice off the bat of Terry Waters). After Mary West flied out, Reinhard advanced to third on Lynn Runyon's single. Terry Waters then got a base hit to bring Reinhard in with the second and deciding run.
---
MVP – Terry Waters, Stans Auto (11-20, .550)
Batting Leader – Jackie Goff, Nor-Cal A's (11-16) – .688
HR Leader – N/A (Nor-Cal A's won the team HR Award, no information on personal numbers)
---
1973 ALL WORLD TEAM
P – Luann Grybowski, Stan's Auto
P – Jackie Storey, Pittsburgh Orioles
P – Carol Aselin, Muxworthy's
C – Debbie Ringle, First National (8-19, .421)
1B – Veronica Funera, Stan's Auto (10-26, .385)
2B – Mary West, Stan's Auto (10-23, .435)
3B – Terry Waters, Stan's Auto (11-20, .550)
SS – Bev Bunny Fajerski, Pittsburgh Orioles (16-28, .571)
OF – Vicki Millender, Pittsburgh Orioles (12-28, .428)
OF – Evelyn Abell, Loungettes (10-20, .500)
OF – Clare Mirehood, CT&O Yankees (11-23, .478)
OF – Jackie Goff, Nor-Cal A's (11-16, .688)
Manager – Mike Sikofolis, Stan's Auto
---
FINAL STANDINGS (Incomplete – 48 total teams)
1. Stan's Auto, New Castle, PA (6-1)
2. Pittsburgh Orioles, Pittsburgh, PA (7-2)
3. First National Bank, Toledo, OH (4-2)
4. Muxworthy Ski Haus, Rochester, NY (4-2)
5t. Nor-Cal A's, San Francisco, CA (6-2)
5t. CT &O Yankees, Loveland, OH (6-2)