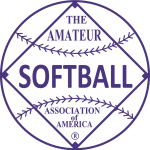 1973 held at Stratford, Connecticut.
---
Champion – Raybestos Brakettes, Stratford, Connecticut (61-7)
Runner Up – Santa Clara Laurels, Santa Clara, California (63-17)
---
Raybestos Brakettes won their record setting 10th championship by defeating the Santa Clara Laurels twice in the finals. They had to defeat both Orange Lionettes and Sun City to get to finals. They won the first final 1-0 in 9 innings as Joan Joyce pitched a 1-hitter and struck out 20 batters. In the final championship, Joyce came back to pitch a 2-hitter as Raybestos won 2-0. She struck out 14 batters in that game. Charlotte Graham was the losing pitcher in both game for the Laurels. Joyce was 2-4 in the first game and scored the winning run in the bottom of the 9th inning, after hitting a double into the trees in left field. Cece Ponce drove her home with the game winning hit. In the second game, Joyce was 1-3, with an RBI single to drive in Peggy Kellers to give the Brakettes a 1-0.
Santa Clara pitcher Charlotte Graham (4-2 with a shutout) and surrendered only 6 runs in the 6 games. She beat the Sun City Saints and pitcher Paula Noel 1-0 in 11 innings to win the winner's bracket final game. She also pitched both finals and gave up only the 3 runs, 8 hits and had 9 strikeouts, but was the losing pitcher in both games.
---
MVP – Joan Joyce, Raybestos Brakettes
HR Leader – Sue Guenzler, Kutis Funeral Home – 1
Batting Leader – Judy Jungwirth, Rimnac-Hanson Benjos – .438
Bertha Tickey Pitching MVP Award – Joan Joyce, Raybestos Brakettes
Erv Lind Defensive MVP Award – Kathy Fraser, Bloomington Benjos
---
FIRST TEAM ALL-AMERICANS
P – Joan Joyce, Raybestos Brakettes (8-1, 7 Shutouts, 2 no hitters, 1 ER, 70 IP, 134 K; batting stats- 12-29, .414, 2 Runs, 6 RBI – drove in winning runs in 2-0 final) (1-0, 9-inning, 1-hit shutout/20 K in first game, then, a 2-0, 2-hit shutout/14 K in final game). She set the all time record for innings pitched (69 2/3) and total strikeouts (134). She had games of 22, 20, 16, 15, 14, 13, 12, 12 and 10 strikeouts to reach her 134 total. She averaged close to 17 strikeouts per game.
P – Charlotte Graham, Santa Clara Laurels
P – Nancy Welborn, Orange Lionettes (4-1 pitching, 3 shutouts)
C – Marilyn Rau, Sun City Saints
C – Peggy Kellers, Raybestos Brakettes
1B – Sis Zollinger, Orlando Rebels
2B – Rose Marie "Rosie" Adams, Raybestos Brakettes
3B – Irene Shea, Raybestos Brakettes
SS – Carol Spanks, Orange Lionettes (9-21, .429 batting, 6 runs scored)
OF – Cecilia Ponce, Raybestos Brakettes
OF – Barbara Thomas, Sun City Saints
OF – Mary Ann Ruedrich, Sun City Saints
OF – Diane Kalliam, Santa Clara Laurels
UTIL – Judy Jungwirth, Rimnac-Hanson Benjos (7-16, .438, 5 runs, 1 RBI and 1-1 pitching)
SECOND TEAM ALL-AMERICANS
P – Paula Noel, Sun City Saints (3-2, 1 shutout)
P – Sue Beyer, Bally Cardinellas
P – Cathy Benedetto, Dave Lee Sports
C – Nancy Ito, Orange Lionettes
C – Judy Martino, Orlando Rebels
1B – Kay Lewis, Lorelei Ladies
2B – Pat Adams, Lorelei Ladies
3B – Brenda Gamblin, Santa Clara Laurels
SS – Stephany Tenny, Orlando Rebels
OF – Betty Weighknecht, Bally Cardinellas
OF – Marlene Piper, Dave Lee Sports
OF – Paula Slease, Fort Worth Rebels
OF – Willie Roze, Raybestos Brakettes
UTIL – Sandra June Wells, Lorelei Ladies
---
FINAL STANDINGS
1. Raybestos Brakettes, Stratford, CT (8-1) (Defending Champ)
2. Santa Clara Laurels, Santa Clara, CA (4-2) (North Pacific Coast)
3. Sun City Saints, Sun City, CA (3-2) (Cactus)
4. Orange Lionettes, Orange, CA (4-2) (South Pacific Coast)
5t. Forth Worth Rebels, Fort Worth, TX (2-2) (Texas)
5t. Orlando Rebels, Orlando, FL (3-2) (Southern)
7t. Rimnac-Hanson Benjos, Bloomington, MN (3-2) (Northern)
7t. Dave Lee Golden Nuggets, Portland, OR (2-2) (Northwestern)
9t. Kutis Funeral Home, St. Louis, MO (1-2) (Western)
9t. Marion May Peppers, Indianapolis, IN (1-2) (West Central)
9t. Lorelei Ladies, Atlanta, GA (2-2) (South Atlantic)
9t. Bally Cardinellas, Pottstown, PA (2-2) (Central Atlantic)
13t. Ed Meir Ford Mustangs, Memphis, TN (0-2) (Souhwestern)
13t. Bridgeport Co-eds, Bridgeport, CT (0-2) (Host)
13t. Waltham Drifters, Waltham, MA (0-2) (New England)
13t. East Lansing Laurels, Lansing, MI (0-2) (East Central)
17t. Breski Building Corporation, Buffalo, NY (0-2) (Mid-Atlantic)
17t. Utah Shamrocks, Salt Lake City, UT (0-2) (Rocky Mountain)
---
NOTES
Alaska Champ – Robert's Sundancers, Anchorage, AK did not attend. Canada Champ – Vancouver Green & Louie, Vancouver, BC did not attend.