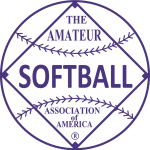 2018 held in Portland, Oregon at Delta Park.
---
Champion: Smash-It/Derby Girls/Easton, Kent, Washington
Runner Up: USA Armed Forces, Pensacola, Florida
---
Derby Girls lost their very first game 6-5 to SN/Thunder/Respect/EA and then had to come through the losers bracket to win 7 straight games by the combined score of 114-59. They got even with the SN/Thunder squad by eliminating them 6-5 in the losers bracket final. Then they won 1st Final 18-14 as Fiana Finau 4-4, HR and 6 RBI, Rose Gressley 4-4, Christan Dowling 3-3 and Tara Salcedo 3-5 all had 3 hits. Kasey Castor 4-5 and Jess Kallander 4-4 with 4 RBI led the Armed Forces. In the final Championship game, it was no contest as the Derby Girls walzted to a 16-1 win. Christan Dowling and Fiana Finau both had Home Runs and combined for 7 RBI. Kristen Shifflett was 3-3. Val Proulx and Carmen Fowler both had 2 hits as Pitcher Sara Salcedo allowed only 5 hits in the game.
---
MVP – Tara Salcedo, Smash IT/Derby Girls/EA (18-29, .621, 9 RBI, 18 Runs, 4 BB)
Batting Champion – Kristen Shifflett, Smash IT/Derby Girls/EA (18-25, 15 RBI, 8 Runs) – .720
HR Champion – Christan Dowling, Smash IT/Derby Girls/EA (18-26, .692, 22 RBI, 16 Runs) – 5
---
ASA OPEN WOMEN'S SLOW PITCH ALL AMERICANS FIRST TEAM
P – Tara Salcedo, Smash IT/Derby Girls/EA (18-29, .621, 9 RBI, 18 Runs, 4 BB)
IF – Kasey Castor, All-Armed Forces (10-18, .556, 3 RBI, 9 Runs)
IF – Val Proulx, All-Armed Forces (12-19, .632, HR, 12 RBI, 5 Runs)
IF – Nikki Mills, All-Armed Forces (11-19, .579, HR, 10 RBI, 8 Runs)
IF – Savannah Brown, SN/Thunder/Respect/EA (9-17, .529, 6 RBI, 5 Runs)
IF – Dara Toman, SN/Thunder/Respect/EA (8-16, .500, 3 RBI, 6 Runs)
OF – Kasey Loomis, SN/Thunder/Respect/EA (12-20, .600, 4 RBI, 6 Runs)
OF – Jess Kallander, All-Armed Forces (5-9, .556, 4 RBI, 2 Runs)
OF – Nikki Freiberg, All-Armed Forces (6-15, .400, 5 RBI, 5 Runs)
OF – Bri Benesh, Smash IT/Derby Girls/EA (6-13, .462, 2 RBI, 4 Runs)
UTIL – Jordan Brown, SN/Thunder/Respect/EA (8-15, .533, 1 HR, 4 RBI, 7 Runs)
UTIL – Carmen Fowler, All-Armed Forces (10-15, .667, 4 RBI, 8 Runs, 4 BB)
UTIL – Fiana Finau, Smash IT/Derby Girls/EA (22-32, .710, 3 HR, 17 RBI, 14 Runs)
UTIL – Kristen Shifflett, Smash IT/Derby Girls/EA (18-25, .720, 15 RBI, 8 Runs, 4 BB)
UTIL – Christan Dowling, Smash IT/Derby Girls/EA (18-26, .692, 5 HR, 22 RBI, 16 Runs, 5 BB)
---
FINAL STANDINGS
1. Smash-It/Derby Girls/Easton, Kent, WA (7-1)
2. USA Armed Forces, Pensacola, FL (3-2)
3. SN/Thunder/Respect/EA, Tacoma, WA (3-2)
4. Smash-It Sports/OA Team-4, Portland, WA (4-2)
5t. Smash-It Sports/OA Team-1, Portland, WA (2-2)
5t. Smash-It Sports/OA Team-3, Portland, WA (1-2)
7t. DeMarini Tuff, Marysville, WA (1-2)
7t. Smash-It Sports/OA Team-6, Portland, WA (1-2)
9t. Smash-It Sports/OA Team-5, Portland, WA (1-2)
9t. TDB, Charlotte, NC (1-2)
9t. West Coast Bloom, Kent, WA (1-2)
9t. Home Plate Cafe, Portland, WA (0-2)
13. Smash-It Sports/OA Team-2, Portland, WA (0-2)