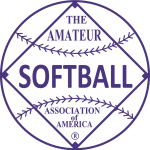 2014 held at Oklahoma City, Oklahoma.
---
Champion – Long Haul/H.Auto/Easton, Cicero, New York
Runner Up – Sonny's, Casper, Wyoming
---
In a rematch of last year's Super Slow Pitch National Championship Game the result remained the same as Long Haul/H. Auto/Easton kept a hold on the title. Long Haul/H. Auto/Easton's Brian Wegman forced the "if" game with a 2-run  walk off homer after a single by Bryson Baker to secure the 21-20 win over Sonny's in the first Championship Game, and his team came alive at the plate to claim the title in the final Championship game with a 39-16 (five inning) run-rule victory. An outstanding effort by Travis Clark of Long Haul, racking up 8 RBI on 4 hits, including 2 HR. Brian Wegman, Bryson Baker, Scott Kirby, Stephen Lloyd and Mike Umscheid all hit 2 homers the champs. For Sonny's, Bubba Mack went 3-4 with 2 HR and 3 RBI. The Long Haul/H. Auto Easton bats came to life in the first inning, scoring 21 runs off 9 home runs. Their hitters combined for 37 hits, 35 RBI and 36 runs scored, while Sonny's combined for 20 hits, 19 RBI and 19 runs scored. For his efforts at the plate, Brian Wegman took home the tournament MVP award and Batting Champion titles (.800), while Sonny's Bubba Mack and Long Haul/H. Auto/Easton's Dale Brungardt and Brian Wegman shared the Home Run title with 6.
---
MVP – Brian Wegman, Long Haul/H.Auto/Easton (12-15, .800, 6 HR, 9 RBI, 10 Runs)
HR Leaders – Dale Brundardt, Long Haul/H.Auto/Easton (11-16, .688, 11 RBI, 9 Runs)  – 6
HR Leaders – Bubba Mack, Sonny's (11-15, .733, 9 RBI) – 6
HR Leaders – Brian Wegman, Long Haul/H.Auto/Easton – 6
Batting Leader – Brian Wegman, Long Haul/H.Auto/Easton  – .800
---
ASA SUPER ALL AMERICANS FIRST TEAM
P – Travis Clark, Long Haul/H.Auto/Easton (6-13, .462, 3 HR, 11 RBI, 7 Runs)
IF – Bryson Baker, Long Haul/H.Auto/Eastonn (12-17, .706, 4 HR, 8 RBI, 12 Runs)
IF – Ronald Bubba Mack, Sonnys (11-15, .733, 6 HR, 9 RBI, 12 Runs)
IF – Dale Brungardt, Long Haul/H.Auto/Easton (11-16, .688, 5 HR, 11 RBI, 9 Runs)
IF – Dan Bean, Sonnys (5-8, .625, 3 RBI, 2 Runs)
IF – Steven Lloyd, Long Haul/H.Auto/Easton (9-15, .600, 3 HR, 8 RBI, 8 Runs)
OF – Brian Wegman, Long Haul/H.Auto/Easton (12-15, .800, 6 HR, 9 RBI, 10 Runs)
OF – Brian Zirkle, Rip City/Demarini (3-5, .600, 2 Runs)
OF – Chris Terry, Sonny's (7-14, .500, 2 HR, 8 RBI, 7 Runs)
OF – Scott Kirby, Long Haul/H.Auto/Easton (10-15, .667, 2 HR, 5 RBI, 7 Runs)
OF – Nick Price, Sonny's (6-14, .429, 3 HR, 9 RBI, 7 Runs)
UT – Kevin Filby, Long Haul/H.Auto/Easton (11-14, .786, 5 RBI, 6 Runs)
UT – Mike Umscheid, Long Haul/H.Auto/Easton
UT – Brian Lipman, Sonnys (7-16, .438, 3 HR, 10 RBI, 6 Runs)
UT – Sam Christenson, Sonny's (7-12, .583, 6 RBI, 8 Runs)
UT – Jeremy Davis, Sonny's (7-12, 583, 4 RBI, 5 Runs)
---
FINAL STANDINGS
1. Long Haul/H. Auto/Easton, Cicero, NY (3-1)
2. Sonny's, Casper, WY (2-2)
3. Rip City/Demarini, Davenport, IA (0-2)
---