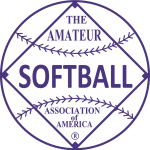 1961 held at Louisville, Kentucky
---
Champion – Hamilton Tailoring, Cincinnati, Ohio
Runner Up – Plateau Athletic Club, New York City, New York (68-9)
---
Hamilton Tailors eliminated Gatliff's 11-1 behind Sam Minitti's Pitching. Then the Tailors had to win both games in the finals to repeat as ASA Open National Champions.
Sam Minnitti pitched a 5-2 victory in the first game and also hit a 3-run home run to win the game in the 7th inning. Then he came back and pitched 3-hit shutout against the powerful New York City team to clinch the championship 2-0. Minnitti gave up only 7 total hits in both games. He also went 7-1 overall as a pitcher and in 8 games, only gave up 22 runs, including a shutout and three 1-run games. Somehow he was not named the MVP.
Jim Harper of 4th place Ready-Mix from Knoxville was named MVP. Minnitti was named Most Valuable Pitcher. Counting the 1960 Nationals where he was 9-1, Minniti had a 16-2 pitching record in the back to back titles. Becoming only the second team to perform this feat.
Gatliff's of Kentucky won two straight in 1956 and 57. Plateau AC won its first 5 games, defeating The Tailors along the way 9-8 to send them to the losers bracket. Plateau's stars were Bob Beier and George O'Neill, who both started off the tournament with 8 straight hits and Morty Weinberg, who excelled in short field and hit 2 HR also.
---
MVP – Jim Harper, Ready Mix Concrete
Most Valuable Pitcher Award – Sam Minniti, Hamilton Tailors
HR Leader – Jim Harper, Ready Mix Concrete – N/A
Batting Leader – Hal Wiggins, Gatliff Auto – .650
---
FIRST TEAM ALL-AMERICANS
P – Sam Minniti, Hamilton Tailors (7-1, pitching and 2 HR)
C – Jim Harper, Ready Mix Concrete – won award, even though his team finished 5th.
1B – Harry Phillips, Wilsman Trucking
2B – Bob Beier, Plateau AC
3B – Virgil Hoffman, Duffy's Tavern
SS – Ron Cutter, Hamilton Tailors
SF – Mort Weinberg, Plateau AC (2 HR)
OF – Leo Wilham, Gatliff Auto Sales
OF – Ron Annotico, Sheffield Bronze
OF – Hal Wiggins, Gatliff Auto Sales (13-20, .650)
---
OTHERS
Joe Okruhlica, Wilsman Trucking (11-21, .524, 10 Runs)
Jim Wessell, Wilsman Trucking (10-24, .417, 1 HR, 5 Runs)
Dick Bonar, Wilsman Trucking (10-24, .417, 3 HR, 8 Runs)
---
FINAL STANDINGS
1. Hamilton Tailoring, Cincinnati, OH (7-1)
2. Plateau Athletic Club, Maspeth, New York, NY (5-2)
3. Gatliff Auto Sales, Newport, KY (5-2)
4. Krivian Club, Springdale, PA 4-2
5t. Ready-Mix Concrete, Knoxville, TN (5-2)
5t. Wilsman's Trucking, Hamilton, OH (5-2)
7t. Duffy's Tavern, Louisville, KY (4-2)
7t. Daly Drive-In, Detroit, MI (3-2)
9t. French Town Bar, Monroe, MI (4-2)
9t. Kelly's Jet System Hamburger, Richmond, VA (4-2)
9t. Knights of St. John, Louisville, KY (3-2)
9t. Johnson Construction Company, Macon, GA (2-2)
13t. Sheffield Bronze, Cleveland, OH (3-2)
13t. Al's Green Tavern, Rochester, NY (2-2)
13t. Mike's Bar, Minneapolis, MN (2-2)
13t. Freightways, Toledo, OH (2-2)
17t. Seawall Restaurant, Bridgeport, CT (3-2)
17t. Mobile All-Stars, Mobile, AL (2-2)
17t. Otto Candies, New Orleans, LA (2-2)
17t. McAdenville Reds, McAdenville, NC (1-2)
17t. Mt. Carmel, Worcester, MA (1-2)
17t. 5 and 10 Tap, Milwaukee, WI (1-2)
17t. Carter Sporting Goods, Tallahassee, FL (1-2)
17t. Field Shop, Miami, FL (1-2)
25t. Olden A.A., Trenton, NJ (2-2)
25t. Burch's Blue Note, Hopkins, MN (1-2)
25t. Antonelli's Restaurant, Warwick, RI (0-2)
25t. V&M Foods, Pass Christian, MS (0-2)
25t. Gold Bond Stamps, Atlanta, GA (0-2)
25t. U.S. National Bank, Omaha, NE (0-2)
25t. South Bend Merchants, South Bend, IN (0-2)
25t. Tip Toe Inn, Cincinnati, OH (0-2)
33t. Peterson's, Big Bend, WI (0-2)
33t. Stan's Cafe, Pittsburgh, PA (0-2)
33t. Reno County, South Hutchinson, KS (0-2)
33t. Charlies Mustangs, St. Louis, MO (0-2)
33t. Dougies Restaurant, San Antonio, TX (0-2)
33t. Indiana Avenue Church, Oklahoma City, OK (0-2)
---