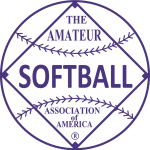 1966 held at Parma, Ohio
---
Champion – Michael's Lounge, Detroit, Michigan (72-11)
Runner Up – County Sports, Levittown, New York (81-9)
---
After losing to two-time defending champ, Skip Athletic Club 13-5 in their first game and then a rain delay in which more then 2 inches of rain fell, County Sports won 10 straight games the last 31 hours to reach the finals.
Michael's Lounge, behind MVP Mike Axelson, beat Swing Inn of Cleveland 20-4 in the winner's bracket finals and then sat back as County Sports beat Cleveland's Swing Inn in a 18-17 slug fest behind the home run heroics of Jim Galloway.
In less than ideal conditions, Big Jim Galloway (11 HR) and pitcher Bill Brown (.690 batting average) led County Sports, who scored 174 runs and gave up 87 runs in that span, all the way back to the finals. All total, they scored 179 runs and hit 41 HR.
All those game took its toll on the Long Islanders as Michael's Lounge defeated them 10-0 in the championship. Michael's had 14 hits to County Sports. MVP Mike Axelson went 5-5 with 3 HR in the Championship game to lead Michael's.
---
MVP – Mike Axelson, Michael's Lounge
Outstanding Pitcher Award – Bill Brown, County Sports
HR Leader – Jim Galloway, County Sports – 11
Batting Leader – Mike Axelson, Michael's Lounge – .793
---
FIRST TEAM ALL-AMERICANS
P – Bill Brown, County Sports (10-2 Pitching and 20-29, .690, 8 HR, 24 RBI, pitched all 12 games and gave up less then 10 runs a game)
C – Howie Krause, Swing Inn (14-24, .583, 3 HR, 11 RBI)
IF – Mike Axelson, Michael's Lounge (23-29, .793, 5 HR, 12 RBI)
IF – Jim Galloway, County Sports (20-41, .488, 11 HR, 29 RBI, tied all time national tournament HR record)
IF – Bob Harrison, Wilsman Trucking (11-23, ,478, 8 HR, 15 RBI)
IF – Wally Galba, Michael's Lounge (14-24, .583, HR, 10 RBI)
IF – Steve Loya, Swing Inn (16-24, .667, 5 HR, 12 RBI)
OF – Mike Gouin, Michael's Lounge (11-21, .524, 3 HR, 9 RBI)
OF – Stu Levine, Helf-Erie Sheet Metal (16-21, .762, 10 RBI)
OF – Fred Maas, Copper Hearth (14-19, .737, 19 RBI)
OF – Mort Weinberg, NYC Titans (13-21, .619, 3 HR, 9 RBI)
---
OTHERS
Charles Forte, County Sports (29-37, .784)
Gerry Lyle, Jo's Pizza (17-25, .740)
Ed Nadolski, Michael's Lounge (15-24, .625)
Lou Del Mastro, Skip Athletic Club (8-15, .533, 4 RBI, 3 Runs)
Bob Brunner, Wilsman Trucking (13-25, .520, 4 HR, 9 Runs)
Ray Zawaszki, Wilsman Trucking (15-29, .517, 10 Runs)
George Siford, Skip Athletic Club (8-16, .500, 8 RBI, 8 Runs)
Mike Kovach, Skip Athletic Club (9-18, .500, 2 RBI, 6 Runs
Gene Branham, Wilsman Trucking (14-28, .500, 11 Runs)
Al Waltz, Michael's Lounge (11-22, .500)
Don Nuxhall, Wilsman Trucking (11-23, .478, 4 HR, 8 Runs)
Paul Tomasovich, Skip Athletic Club (8-17, .471, 4 RBI, 5 Runs)
Bill Cole, Michael's Lounge (12-27, .444)
Jim Puckett, Michael's Lounge (10-23, .435)
Miller Adams, Skip Athletic Club (3-7, .429, 2 HR, 6 RBI, 3 Runs)
Tom Trompics, Michael's Lounge (8-19, .420)
Tex Collins, Michael's Lounge (10-24, .417)
Jim Wessell, Wilsman Trucking (10-26, .385, 3 HR, 9 Runs)
Len Mackalavage, County Sports (4 HR, 17 RBI)
---
FINAL STANDINGS
1. Michael's Lounge, Detroit, MI (7-0)
2. County Sports, Levittown, NY (10-2)
3. Swing Inn, Cleveland, OH (5-2)
4. Wilsman Trucking, Hamilton, OH (6-2)
5t. Copper Hearth, Milwaukee, WI (4-2)
5t. NYC Titans, Maspeth-Queens, NY (4-2)
7t. Helf-Erie Sheet Metal, Cleveland, OH (4-2)
7t. Vigilant AA, York, PA (6-2)
9t. Brookline Young Men's Club, Pittsburgh, PA (4-2)
9t. Jo's Pizza, Milton, FL (3-2)
9t. Seymour Merchants, Seymour, IN (3-2)
9t. Gonzalez Mexican Foods, Richmond, CA (3-2)
13t. B.B. Stone Insurance, Georgetown, KY (4-2)
13t. Jiffy Club, Louisville, KY (4-2)
13t. Yuci's Boys Club, Port Chester, NY (4-2)
13t. Skip Athletic Club, Pittsburgh, PA (3-2)
17t. Blair's Tavern, Wilmington, DE (3-2)
17t. Family Tavern, Washington, DC (3-2)
17t. Mt. Carmel, Joliet-Chicago, IL (2-2)
17t. Chadwick Construction, Meriden, CT (2-2)
17t. Falstaffers, Rock Hill, SC (2-2)
17t. St. Louis Metro, MO (2-2)
17t. J.P. Clyde, Knoxville, TN (2-2)
17t. Stonefingers, Parkersburg, WV (2-2)
25t. Spearville AMPRO, Dodge City, KS (2-2)
25t. Mass. State-Worcester, MA (2-2)
25t. Duff's/Westrum's, Minneapolis, MN (2-2)
25t. Livingston All Stars, Newark, NJ (2-2)
25t. Holden, Worcester, MA (2-2)
25t. Huffman Oil, Burlington, NC (2-2)
25t. The Texans, San Antonio, TX (2-2)
25t. Mike's Bar, Toledo, OH (2-2)
33t. Sportsland, Battle Creek, MI (1-2)
33t. M.B. Hagen Company, Hopkins, MN (1-2)
33t. Earl's Tap, Providence, RI (1-2)
33t. Granite City, Madison, IL (1-2)
33t. Donaldsville Independents, New Orleans, LA (1-2)
33t. Hayes, Birmingham, AL (1-2)
33t. City Glass, Omaha, NE (1-2)
33t. Standard Industrial Laundries, Cincinnati, OH (1-2)
33t. Players Tavern, Tacoma, WA (1-2)
33t. Twi-Lite Drive-In, Great Falls, MT (1-2)
33t. Mark's Brothers, Miami, FL (1-2)
33t. First Federal Savings & Loans, Mobile, AL (1-2)
33t. Weeks Dairy, Dover, NH (0-2)
33t. Gene Lobe Rich Heat, Bremerton, WA (0-2)
33t. Icore Industries, Sunnyvale-Santa Clara, CA (0-2)
33t. Falstaff Bar, Fort Smith, AR (0-2)
49t. Okay Tires, Twin Falls, ID (0-2)
49t. Berry Brothers, Fredericksburg, VA (0-2)
49t. Becker's, Waukesha, WI (0-2)
49t. Haskin's Sporting Goods, Burlington, IA (0-2)
49t. Townhouse Motor Inn, Kansas City, MO (0-2)
49t. Jacksonville Metro, FL (0-2)
49t. Elliot Sales, Rome, GA (0-2)
49t. Canton Butane, Canton, MS (0-2)
49t. Bankers Life Insurance, Oklahoma City, OK (0-2)
49t. Hillcrest Lounge, St. Paul, MN (0-2)
49t. Strats, Atlanta, GA (0-2)
49t. Ragu Foods, Rochester, NY (0-2)
49t. R.I.T.C., Buffalo, NY (0-2)
49t. Taco Bell, Mesa, AZ (0-2)