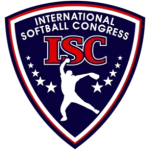 1954 held at Phoenix, Arizona
---
Champion – A-1 Queens, Phoenix, Arizona
Runner Up – Georgia Peaches, Atlanta, Georgia
---
The A-1 Queens won the last ever NSC Women's Championship by defeating the Atlanta Peaches 5-3 in the final.
Alma Wilson won her 5th game out of the 6 games the Quuens played. She was relieved in the 6th inning with a (5-1) lead.
Rosemary Urtuzuastegui, who previously won a game in the tournament for Phoenix surrendered 2 runs and then pitched out of another jam in the last inning with the tying runs on base to preserve the 5-3 Championship game victory. Urtuzuastegui was 1-0 in the tournament, hurling 13 innings and gave up 4 runs.
Alma Wilson, former Oklahoma City Hurler now pitching for the Queens was (5-0) and surrendered 13 hits and 7 runs in the 41 innings she pitched.
Shortstop Bev Cox was named the MVP as she came through with hits when needed and played a tremendous defense. Her bat got the Queens off and running in the opening game of the tournament as she was 3-3 with a HR and 3 RBIs in the 6-2 win.
The Queens outscored their opponents 38-11 in the 6 games.
Queens Dodie Nelson swung a hot bat and was named the batting champ.
In 1955 the National Softball Congress (NSC) disbanded the Women's portion of their National Championship Tournament.
---
MVP Award – Beverly Cox, A-1 Queens (Great defensive play at shortstop position led Queens to the title. She also had a good tournament at the plate driving in runs and also hit a HR)
Outstanding Pitcher – Alma Wilson, Phoenix (5-0), 41 IP, gave up 13 hits and 7 runs)
Leading Hitter – Dodie Nelson, A-1 Queens (12-24) – .500
Miss Softball Award – Jan Newman, A-1 Queens (Second Basemen, had 2 RBIs in Final and also drove in a run in the semi-final series)
---
1954 NSC ALL WORLD TEAM
P – Alma Wilson, Phoenix A-1 Queens (5-0)
P – Dorothy Dean, Georgia Peaches (3-3)
P – Lucy Munoz, Tempe Arizona Debs (3-3)
C – Goldie Darby, Georgia Peaches
C – Charlene Woodward, Phoenix A-1 Queens
1B – Catherine Rochelle, Georgia Peaches
2B – Louise Hamrick, Georgia Peaches
3B – Gerry Pomeroy, Oklahoma City Ramblers
SS – Beverly Cox, Phoenix A-1 Queens
OF – Jeanna Hernandez, Tempe Arizona Debs
OF – Dixie McCarty, Phoenix A-1 Queens
OF – Dodie Nelson, Phoenix A-1 Queens
UTIL – Stretch Lopez, Oklahoma City Ramblers
UTIL – Betty Sipe, Tucson Rancherettes
---
FINAL STANDINGS
1. A-1 Queens, Phoenix, AZ (6-0)
2. Georgia Peaches, Atlanta, GA (3-3)
3. Tempe Debs, Tempe, AZ (3-3)
4. Tucson Rancherettes, Tucson, AZ (2-3)
5t. Oklahoma City Ramblers, Oklahoma City, OK (1-2)
5t. Childress All Stars, Childress, TX (0-2)
7. Rhor Jewelers, West Allis, WI (0-2)
* Winners bracket semifinals and finals were best of 3 series.
---
HONORS
All Time MVP – Dodie Nelson
All Time Outstanding Pitcher – Charlotte Armstrong
Pos – Player, team AA Awards and Other Accolades
P – Charlotte Armstrong 6x AA, 3x MV-Pitcher (23-4 NSC Championship Record)
P – Carolyn Morris 4x AA, 2x MV-Pitcher, 1x Miss Softball (13-1 Record)
P – Lottie Jackson 3x AA, 1x MV-Pitcher (9-4 Record)
P – Betty Evans 2x AA, 1x MV-Pitcher (9-2 Record)
C – Lois Williams 6x AA, 1x MVP, 1x Miss Softball
1B – Flossie Ballard 3x AA
1B – Robbie Mulkey 3x AA
2B – Margie Yetmen 4x AA, 1x MVP, 1x Leading Hitter
2B – Hazel Gill 2x AA
3B – Mildred Dixon 2x AA
3B – Margaret Dobson 2x AA, 1x Miss Softball
SS – Kay Rohrer 4x AA
SS – Bev Cox 2x AA, 1x MVP
OF – Dodie Nelson 8x AA, 2x MVP, 2x Leading Hitter, 1x Miss Softball
OF – Dottie Myers 3x AA
OF – Mearle Keagle 2x AA
OF – Elizabeth Locke 2x AA, 1x MVP
UTIL – Alma Wilson 5x AA, 1x MVP, 1x MV-Pitcher, 2x Leading Hitter
UTIL – Alice Jorgensen 4x AA, 1x Leading Hitter
UTIL – Shirley Topley 2x AA
UTIL – Bonnie Martin 1x AA, 1x MVP
All Time Team – A-1 Queens, 5x Champ, 2x runner-up, 1x 4th
HM – Erv Lind Florists 1x Champ, 1x runner-up, 1x 3rd
HM – Funk Gems/Mesa Premiums 1x Champ, 1x runner-up, 1x 3rd
HM – Jax Maids 1x Champ, 1x 3rd