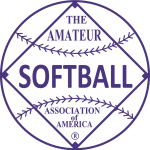 1999 held at Decatur, Illinois on September 1-6.
---
Champion – Decatur Pride, Decatur, Illinois (50-13)
Runner Up – Midland Explorers, Midland, Michigan (39-15)
---
In a tournament where no foreigners were allowed to play according to ASA Rules, the Midland Explorers defeated the Broken Bow Smokers 7-2 in the losers bracket finals behing Todd Schultz's two homers to advance to the championship game against the Decatur Pride. Decatur won the title 8-4 behind the strong pitching of Michael White, over Midland.
Doug Gillis was the losing pitcher for Midland. Gillis pitched all 7 games (43 Innings) for Midland.
Shawn Rychcik had a run scoring single in the first inning, then bombed a 2-run homer in the second inning to get the Pride offense in gear. The Pride batted .369 as a team in these nationals and scored 45 runs. Rychcik was incredible as he was 8 for 15 with 4 HR and 14 RBI. He was named MVP.
43 year old John Bargfeldt, Pride outfielder was 7 for 12 and batted .583, but didn't have enough plate appearances to qualify for the batting title (he had two walks for 14 total plate appearances) that went to Rychcik.
After Doug Gillis pitched the Midland Explorers to a (7-2) victory over the Broken Bow Smokers to get them to the championship. Gillis realized he was facing the hottest pitcher in the tournament in Michael White for the Decatur Pride. White hurled the Pride to an 8-4 over the Midland Explorers 8-4. Doug Gillis took the loss.
---
MVP – Shawn Rychcik, Decatur Pride
Batting Leader – Shawn Rychcik, Decatur Pride – .533
HR Leader – Clayton McGovern, Midland Explorers – 5
Herb Dudley Pitching Award – Michael White, Decatur Pride
---
FIRST TEAM ALL-AMERICANS
P – Doug Gillis, Midland Explorers (5-2)
P – Michael White, Decatur Pride (4-0, 21 IP, 30 K)
P – Doug Sleep, Broken Bow Smokers (3-1)
C – Curt Martin, Larry Miller Toyota
1B – Shawn Rychcik, Decatur Pride (8-15, .533, 4 HR, 14 RBI)
2B – Ehren Earleywine, Decatur Pride
3B – Ross Dey, Meierhoffer-Fleeman
SS – Todd Schultz, Midland Explorers
OF – Brad Johnson, Midwest GMC
OF – Clayton McGovern, Midland Explorers (12 RBI)
OF – Tim Wargo, Decatur Pride
OF – John Bargfeldt, Decatur Pride
DP – David Frank, Broken Bow Smokers
UTIL – Blake Miller, Larry Miller Toyota
UTIL – Cliff Wisdom, Broken Bow Smokers
UTIL – Vic Johns, Decatur Pride
SECOND TEAM ALL-AMERICANS
P – Doug Middleton, Meierhoffer-Fleeman
P – Peter Meredith, Larry Miller Toyota (3-2)
P – Bob Ginger, Dolan & Murphy Shamrocks
C – Dave Chadduck, Midwest GMC
1B – Greg Melchert, Midland Explorers
2B – Kyle Magnusson, Larry Miller Toyota
3B – Kyle Beane, Midland Explorers
SS – Todd Budke, Broken Bow Smokers
OF – Wally King, Midland Explorers
OF – Boomer Brush, Decatur Pride
OF – Rich Lira, Meierhoffer-Fleeman
OF – Ron McCue, Dolan & Murphy Shamrocks
DP – Joe Simoni, Midwest GMC
UTIL – Peter Turner, Larry Miller Toyota
UTIL – Jason Hanson, Broken Bow Smokers
UTIL – Chris Miljavac, Meierhoffer-Fleeman
---
FINAL STANDINGS
1. Decatur Pride, Decatur, IL (5-0)
2. Midland Explorers, Midland, MI (5-2)
3. Broken Bow Smokers, Tampa Bay, FL (3-2)
4. Larry Miller Toyota, Salt Lake City, UT (3-2)
5t. Meierhoffer-Fleeman, Savannah, MO (2-2)
5t. Dolan & Murphy Shamrocks, Aurora, IL (2-2)
7t. Midwest GMC, St. Louis, MO (2-2)
7t. Central Iowa Express, Marshalltown, IA (1-2)
9t. Page Brake, Salt Lake City, UT (1-2)
9t. River City Rage, Peoria, IL (1-2)
9t. Bonutti, Effingham, IL (0-2)
9t. Eagle Pack-Planggers, Mishawaka, IN (0-2)
13t. Herzog, St. Joseph, MO (0-2)
13t. The Farm, Madison, WI (0-2)