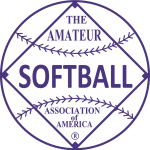 1995 held at Cargill Park in Shreveport, Louisiana on September 21-24.
---
Champion – Red Dog/Smokes/TPS, Ellicott City, Maryland
Runner Up – Flex Gym, Edgewater Park Township, New Jersey
---
Eight years and four second-place trophies later, the Red Dog/Smokes/TPS team finally got its win.
Sunday night, old-timer Gary Hornberger delivered for his team, stroking home the game-clinching run as the Maryland-based Red Dog team beat Flex Gym of New Jersey, 2341 in five innings at the ASA Men's Class B National Soft-ball Tournament at Cargill Park.
"I've been playing this game for 22 years and I've wanted to do it the whole time," said Hornberger, 38, whose RBI ended the game by the 12-run rule. "I'm the senior man on this team and these guys won it for me. In eight years, we've been second four times at nationals. I can't believe it! This is great!"
Hornberger's wish almost didn't come true, thanks to the feisty play of Flex Gym, which defeated third-place Potomac Valley Brick of Maryland to advance to the finals.
Behind Bruce "Moose" Davis' meaty three-run homer in the sixth inning, Flex Gym beat Red Dog 18-6 in the first game of the double elimination championship.
Anemic in the first game, Red Dog's bats came alive in the second game, as they piled up nine runs in the first inning.
Ron Wilson's two-run homer in the second inning and Steven Schimming's three-run homer in the sixth put the game away for Red Dog.
"I knew this team was deep and could come back,? said Red Dog's Ray Patti. "We played good as a team and we never gave up. We found our pulse, but we had lost it there for a little while,"
Coming out of the loser's bracket, Flex Gym played four games in a row through the championship Sunday afternoon.
"I think fatigue was a factor and we lost a major player in the second game because he had to catch a plane back home," said Craig Yates, a Flex Gym outfielder. "These are two great teams, and on a day like this anybody can beat anybody."
Red Dog and Flex Gym survived a 100-team field that pitted the top Class B teams in the country against each other over a three-day span.
It was Shreveport's first time to host such a large tournament.
"This is the fourth national tournament that I've had the opportunity to be the tournament director of, and by far, this has been the most exciting and most challenging," said Shreveport Parks and Recreation director Fred Johnson.
---
1995 ASA B ALL AMERICANS FIRST TEAM
Pitcher – Eric Peterson, Flex Gym
Catcher – Bruce Davis, Flex Gym
First Base – Tommy Kearney, Red Dog/Smokes/TPS
Second Base – Steve Tolson, Red Dog/Smokes/TPS
Third Base – Ron Wilson, Red Dog/Smokes/TPS
Shortstop – Charlie Maxwell, Flex Gym
Outfield – Craig Yates, Flex Gym
Outfield – Brad King, Crest Supper Club
Outfield – Tom Auvil, Red Dog/Smokes/TPS
Outfield – Bob Ross, Flex Gym
Utility – Tommy Urban L&L Painting
Utility – Steve Martin, Potomac Valley Brick
Utility – Joe Smitty, Reggie Cafe
Utility – Kevin Gillot, L&L Painting
Extra Player – Mike Stockinger, Potomac Valley Brick
---
FINAL STANDINGS
1. Red Dog/Smokes/TPS, Ellicott City, Maryland
2. Flex Gym, Edgewater Park Township, New Jersey
3. Potomac Valley Brick, Maryland
Other Teams Entered
Hub Victor Sports, OH
Twohig III, OH
Jean Shoppe, TN
Lombardi's, MA
Sports Cellar/Boosters, ID
Moldmasters, MA
Wm. Mitchell, MS
L&L Painting, AL
Beck's, WI
Smith's, MI
G&M, CT
Harrison, VA
LA Sox, AR
Thermco, MA
Potomac, MD
Kohl, MO
Flex Gym, NJ
Hit & Run/Mutts, Long Island, NY
IHS/TPS, TX
Richey's Auto, WA
Balbo Club, MA
Diamond Dawgs, Thibodaux, LA
National Golf, KY
Aalfs/Just Do It, AR
Sheldon Dental, MO
Reggie's Cafe, NJ
Miller Lite/Steele, IL
Stacked House, FL
Cypress Construction, Shreveport, LA
Power, TX
Borgman Ford, MI
San Antonio Boomers, San Antonio, TX
Aragon, Albert Lea, MN
JJ Sports, MD
Wobblers, TN
Matador, FL
Big Guns, TX
Bud Ice/Fischer Sports, Owatonna, MN
Liquid Blue, MA
Dove/deBeer, WA
Ideal Mobile, MI
Doc's/Canton, IL
Andrews Construction, Quad Cities, IA
Richey's Auto Body, Bellingham, WA
Wilbur Construction, ME
Crest Supper Club, Caledonia, MN
101 teams participated.