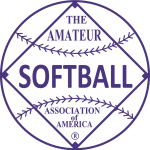 1986 held at Pekin, Illinois.
---
Champion – Southern Cal Kirin Invasion, West Covina, California
Runner Up – Hi-Ho Brakettes, Stratford, Connecticut (64-5)
---
SoCal Invasion was unscored upon during its 5 game waltz through the tournament. They defeated the Brakettes 1-0 in the winner's bracket final on Lisa Baker's Home run. They repeated the exact situation in the Championship game as Liz Mizera's home run won the championship in the 12th inning. Susan Lebvre was the winning pitcher and Barb Reinalda was the losing pitcher in the final game.
Barb Reinalda was (2-1).
Michelle Granger became the only player in softball history to compete in the ISF Junior World Championship, the US Olympic Festival, the Pan-American Games and the ASA Women's Major National in the same season.
---
MVP – Liz Mizera, Southern California Kirin Invasion
HR Leader – Liz Mizera, Southern California Kirin Invasion – 2
HR Leader – Sheila Cornell, Los Angeles Diamonds – 2
Batting Leader – Liz Mizera, Southern California Kirin Invasion – .350
Bertha Tickey Pitching Award – Michele Granger, Orange County Majestics
Erv Lind Defensive Award – Dot Richardson, Hi-Ho Brakettes
---
FIRST TEAM ALL-AMERICANS
P – Kathy VanWyk, Los Angeles Diamonds (3-0, 2 shutouts, no hitter)
P – Kathy Arendsen, Raybestos Brakettes (3-1)
P – Susan LeFebvre, Southern California Kirin Invasion (3-0, 3 Shutouts)
C – Suzy Brazney, Orange County Majestics
C – LeaAnn Jarvis, Raybestos Brakettes
1B – Sheila Cornell Douty, Los Angeles Diamonds
2B – Leslie Van Kirk, Los Angeles Diamonds
3B – Pat Dufficy, Raybestos Brakettes
SS – Liz Mizera, Southern California Kirin Invasion (7-20, .350, 2 HR, 3 game winning hits, including a 12th inning Home Run in championship provided 1-0 victory)
OF – Lisa Baker, Southern California Kirin Invasion
OF – Rainey Miller, Utah Bees
OF – Wendy Smith, Pekin Lettes
OF – Josie Carter, Oklahoma City Classics
DH – Kelly Waldrup, Pekin Lettes
UTIL – Stacey Johnson, Oklahoma City Classics
SECOND TEAM ALL-AMERICANS
P – Lori Stoll, Long Beach Renegades (3-2)
P – Michele Granger, Orange County Majestics (4-2, 3 shutouts, 44 IP, 106 Ks out of 190 batters, also 8 inning perfect game as she struck out 20 of the 24 batters she faced)
P – Rhonda Wheatley, Southern California Kirin Invasion (2-0, 2 Shutouts)
C – Donna McElrea, Southern California Kirin Invasion
C – Starleen Orullian, Utah Bees
1B – Carol Tarr, Topton VIP's
2B – Allyson Rioux, Raybestos Brakettes
3B – JoAnn Ferrieri, Los Angeles Diamonds
SS – Dot Richardson, Raybestos Brakettes
OF – Landa Harris, Southern California Kirin Invasion
OF – Liz O'Conner, Raybestos Brakettes
OF – Alicia Curtis, Rockettes
OF – Elise King, Long Beach Renegades
DH – Kandi Burke, Orange County Majestics
UTIL – Sue Lewis, Los Angeles Diamonds
THIRD TEAM ALL-AMERICANS
P – Tracy Compton, Los Angeles Diamonds (1-0, shutout)
P – Debbie Doom, Los Angeles Diamonds (2-2, 2 shutouts)
P – Vicki Morrow, Budweiser Belles
C – Doreen Denmon, Raybestos Brakettes
C – Sue Bristow, Los Angeles Diamonds
1B – Kelly Jackson, Redding Rebels
2B – Barb Steffen, Long Beach Renegades
3B – Michele McAnany, Southern California Kirin Invasion
SS – Suzie Gaw, Arizona Scorpions
OF – Barb Drake, Twin City Jammers
OF – Pam Edde, Los Angeles Diamonds
OF – Cindy Cooper, Southern California Kirin Invasion
OF – Jamie Wheat, Arizona Scorpions
DH – Vickie Schneider, Twin City Jammers
UTIL – Suzi Olsen, Utah Bees
---
FINAL STANDINGS
1. California Kirin Invasion, West Covina, CA (5-0)
2. Hi-Ho Brakettes, Stratford, CT (5-2)
3. Los Angeles Diamonds, Los Angeles, CA (6-2)
4. Orange County Majestics, Orange, CA (4-2)
5t. Rockettes, Springfield, IL (4-2)
5t. Topton VIPs, Topton, PA (3-2)
7t. Classics, Oklahoma City, OK (3-2)
7t. Long Beach Renegades, Long Beach, CA (3-2)
9t. Budweiser Belles, Parsippany, NJ (2-2)
9t. Utah Bees, Salt Lake City, UT (2-2)
9t. Redding Rebels, Redding, CA (2-2)
9t. Pekin Natural Lettes, Pekin, IL (2-2)
13t. Twin City Jammers, Minneapolis, MN (2-2)
13t. Arizona Scorpions, Phoenix, AZ (2-2)
13t. Sweetners, Decatur, IL (1-2)
13t. Bandits, Philadelphia, PA (1-2)
17t. T-Birds, Ashland, OH (1-2)
17t. Royals, Wyoming, MI (0-2)
17t. Mid-America Renegades, Lansing, MI (0-2)
17t. Pacers, Ann Arbor, MI (0-2)
17t. Pantera's Classic, St Louis, MO (0-2)
17t. Bemis, Quincy, IL (0-2)
17t. Comets, Houston, TX (0-2)
17t. Blue Wave, Plymouth, MA (0-2)
25t. Sports Classic, Stockton, CA (0-2)
25t. Merchants, Nashville, TN (0-2)