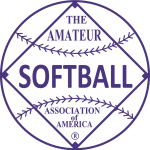 1954 held at Bonneycastle Field and Brown & Williamson Field in Louisville, Kentucky on September 4-6.
---
Champion – Waldeck's Tavern, Cincinnati, Ohio
Runner Up – National Fruit Merchants, Pittsburgh, Pennsylvania
---
Waldeck's Tavern won 6 straight games to capture the title, outscoring their opponents 82-36 along the way. They defeated Peerless Woolens of Georgia 32-7 in the winners bracket final behind the hitting of Jerry Huber, Fred Heimkreiter and John Drees, all of which had five hits. Drees getting a couple homers. Waldeck's collected 38 hits in the contest. Waldeck's then sat back and waited as last years runner-up, Pittsburgh National Fruit eliminated defending champs, Shields Contractors 5-4 and then disposed of Peerless Woolens 15-11 in the losers bracket final to get back to the finals. Waldeck's Tavern proved to be too strong as it won final 13-7 hitting 8 HR, John Drees went 4 for 4 and hit 4 straight homers while Frank Hiemkrieter, Jim Trainor, Bob Trainor, and Frank Kramer each had 1 to back the pitching of Malio Valvano (Valvano surrendered only 31 runs in 6 games for Waldeck). Drees ended the tournament getting 9 straight hits, including 6 HR. Pittsburgh pitcher Tony Bova had 2 home runs in a losing cause for the Fruit Merchants. Mike Sabbio and Bruce Gilbert also hit HR for Pittsburgh. James Caldwell of Shields went 13-18 to lead the tournament in hitting. Ralph Bo Stuntebeck, delayed due to work commitments, only played the last two games for Shields, yet still made the All Tournament team as he went 6-9 with 3 HR and 2 doubles. Donnie Key of the Louisville Stars started the tournament with 8 straight hits, before going 2-4 with 2 HR in the third game.
Some sources say the MVP would have been Waldeck's pitcher, Malio Valvano, pitching Waldeck's to the title.
---
MVP – N/A
HR Leader – John Drees, Waldeck's Tavern
Batting Leader – James Caldwell, Shields – .722
Outstanding Pitcher Award – Malio Valvano, Waldeck's Tavern
---
FIRST TEAM ALL-AMERICANS
P – Malio Valvano, Waldeck's Tavern (6-1)
P – Tony Bova, National Fruit Merchants (6-2)
C – Fred Heimkreiter, Waldeck's Tavern
1B – Don Heilman, Shield's Realty
2B – Ralph Bo Stuntebeck, Shield's Realty (6-9, .667, 3 HR)
3B – Charles Geyer, Peerless Woolens
SS – Bob Trainor, Waldeck's Tavern
OF – Myron Reinhardt, Shield's Realty
OF – John Drees, Waldeck's Tavern (9-9 with 6 HR in last 2 games)
OF – Walt Wherry, Keeneland Bar
OF – Donnie Key, Oertels Stars Brewers (10-15, .667, 2 HR)
MGR – Mike Waldeck, Waldeck's Tavern
---
OTHERS
James Caldwell, Shield's Realty (13-18, .722)
---
FINAL STANDINGS
1. Waldeck's Tavern, Cincinnati, OH (6-0)
2. National Fruit Merchants, Pittsburgh, PA (6-2)
3. Peerless Woolens, Rossville, GA (3-2)
4. Shield's Realty, Newport, KY (4-2)
5t. Keeneland Bar, Covington, KY (2-2)
5t. Fire Fighters, Cincinnati, OH (2-2)
7t. Oertels Stars Brewers, Louisville, KY (3-2)
7t. Delco, Dayton, OH (2-2)
9t. Klug Trucking, Hamilton, OH (2-2)
9t. Sterling Sters, Louisville, KY (2-2)
9t. Early Times Distillers, Louisville, KY (1-2)
9t. Continental Can, Pittsburgh, PA (1-2)
13t. Boisel Tire, Springfield, OH (0-2)
13t. Forks of Elkhorn, Frankfort, KY (0-2)
13t. RBM, Knoxville, TN (0-2)
13t. Engineers, Chattanooga, TN (0-2)
17t. Twin City Automatics, Minneapolis, MN (0-2)
17t. Schwedes/Charley Geigers, Lakewood, OH (0-2)