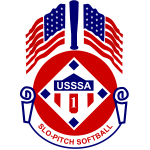 1984 held at Southgate, Michigan.
---
Champion – Little Caesar's, Southfield, Michigan (74-5)
Runner Up – Lady Comets, Satellite Beach, Florida
---
Pitcher Brenda Beyer of Little Caesars left no doubt who the Outstanding Defensive player of the tournament would be as she shutout the powerful Lady Comets offense by twirling a 1-0 victory in the Championship game. Outfielder Dottie Davis was the Tournament MVP. This is the 4th World Championship for Al Campbell and his Little Caesars squad. They have been a powerhouse for over 10 years now. Third baseman Linda Mueller is in her 11th year. She is one of only 4 women inducted into the USSSA Hall of Fame. By her 500th game, she had already passed 1000 hits and she passed the 1500 hit mark this season. First Basemen Jackie Huggins is a 4-time All World Player.
Shortstop Patti Silya was a child prodigy who broke into Class – A softball at the age of 13. She was the MVP last year as she hit a record 9 home runs for a Womens' World Series. eleven year veteran Dottie Davis is the only remaining member of the original team from 1969.
And to a player, Al Campbell is the greatest coach in USSSA Women's Softball History. The team was sponsored by Beaumont Hospital and finished second in its first world series in 1974. Little Caesars took over the following year.
---
MVP – Dottie Davis, Little Caesars (13-23, .570, 2 HR)
Batting Leader – Dottie Davis, Caesars – .570
HR Leader – Karen Foley, Chicagoans – 4
Defensive MVP – Brenda Beyer, Little Caesars
---
1984 ALL WORLD TEAM
P – Brenda Beyer, Little Caesars
C – Jan Deters, Famous Recipe
EH – Diane Hotchrein, Precision Erecting
1B – Jackie Huggins, Little Caesars
2B – Mary Crechiollo, Little Caesars
3B – Mary Hoff, Lady Comets
SS – Carol Sullivan, Lady Comets
OF – Dottie Davie, Little Caesars
OF – Lynn Putnam, Little Caesars
OF -Tina May, Famous Recipe
OF – Anna (Clements) Goodnough, Lady Comets
OF -Tina Maglaya, Precision Erecting
UT – Linda Mueller, Little Caesars
UT -Pam Patrus, Famous Recipe
Manager – Al Campbell, Little Caesars
FINAL STANDINGS (Incomplete)
1. Little Caesars, Detroit, MI
2. Lady Comets, Satellite Beach, FL
3. Famous Recipe, Cincinnati, OH
4. Precision Erecting, Kenosha, WI