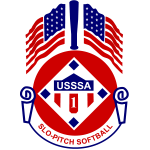 1984 held at Indianapolis, Indiana.
---
Champion – Elite Coatings, Gordon, Georgia
Runner Up – Howard's/Western Steer, Denver, North Carolina
---
Elite dominated Howards by a 35-9 score in the Championship game. Led by MVP Craig Elliott, who went 4-6 with 2 HRs and drove in 5 runs. Bill Gatti was 3-4, also, had 2 HRs with 5 RBIs as well. Freddie Trice had a homer and 5 RBIs. Ricky Huggins was the big gun for Howards as he went 3-3 with 3 HRs and 4 RBIs. Clyde Guy and Dick Bartel also had HRs for Howards. Elite finished the season with an 85-9 record and the number #1 ranking for the 1984 Season.
---
MVP – Craig Elliott – Elite Coatings (12-19, .632, 5 HRs, 16 RBIs, 12 Runs)
Home Run Leader – Bruce Meade, Jerry's (11-17, .647, 16 RBIs, 11 Runs) – 7
Home Run Leader – Ricky Huggins, Howard's (16-25, .640, 12 RBIs, 15 Runs) – 7
Batting Leader – Clyde Guy, Howard's (18-24, 5 HRs, 13 RBIs, 14 Runs) – .750
Defensive MVP – Curtis Williams, Howard's/Western Steer
---
USSSA MAJOR WORLD SERIES ALL WORLD TEAM
Pitcher – Greg Fuhrman, Jerry's Caterers (9-19, 474, 1 HR, 6 RBIs, 5 Runs)
Pitcher – Chuck Drewicz, Miller High Life (12-20, .600, 5 RBIs, 6 Runs)
Catcher – Braxton Speller, Miller High Life (12-22, .545, 7 RBIs, 7 Runs
First Base – Rick Scherr, Howard's/Western Steer (13-26, 5 HRs, 13 RBIs, 15 Runs)
First Base – Bill Pollock, Elite Coating (10-17, .588, 5 HRS, 10 RBIs, 13 Runs)
Second Base – Bill Meyer, Jerry's Caterers (14-19, .737, 3 RBIs, 8 Runs)
Third Base – Ricky Huggins, Howard's/Western Steer (16-25, .640, 7 HRs, 12 RBIs, 15 Runs)
Third Base – Charles Wright, Elite Coating (10-15, .667, 2 HRs, 6 RBIs, 11 Runs)
Shortstop – Chuck Maiorana, Miller High Life (10-18, .556, 4 RBIs, 10 Runs)
Shortstop – Ed Collins, Steele's Sports (11-15, .733, 2 HRs, 7 RBIs, 7 Runs)
Outfield – Bruce Meade, Jerry's Caterers (11-17, .647, 7 HRs, 16 RBIs, 11 Runs)
Outfield – Clyde Guy, Howard's/Western Steer (18-24, .750, 5 HRs, 13 RBIs, 14 Runs)
Outfield – Dennis Graser, Elite Coating (9-17, .529, 1 HR, 6 RBIs, 9 Runs)
Outfield – Curtis Williams, Howard's/Western Steer (14-25, .560, 10 RBIs, 14 Runs)
Outfield – Ronnie Ford, Elite Coating (10-15, .667, 1 HR, 9 RBIs, 6 Runs)
Utility – Craig Elliott, Elite Coating (12-19, .632, 5 HRs, 16 RBIs, 12 Runs)
Manager – Charles Hackett, Elite Coating
---
OTHERS
Terry Pyka, Stone City Stars (10-15, .667, 9 RBIs, 6 Runs)
Chic Downing, Jerrys (4-6, .667, 2 RBIs, 2 Runs)
Rich Plante, Bobby's Groceries (4-6, .667, 3 HRs, 4 RBIs, 4 Runs)
Ken Parker, Lilly Air (6-10, .600, 2 HRs, 4 RBIs, 7 Runs)
Dana Andry, Steeles (7-12, .583, 3 HRs, 4 RBIs, 6 Runs)
Ron Parnell, Capitol (7-12, .583, 4 RBIs, 5 Runs)
Bruce Rains, Blantons (9-16,.563, 2 HRs, 12 RBIs, 8 Runs)
Ben Holt, Lilly Air (6-11, .545, 2 HRs, 5 RBIs, 4 Runs)
Richard Wilborn, Howards (13-24, .542, 5 RBIs, 6 Runs)
Elby Bushong, Capitol Insulation (8-15, .533, 2 RBIs, 6 Runs)
Steve Williams, Elite (9-17, .529, 4 RBIs, 5 Runs)
Freddie Trice, Elite (9-17, .529, 5 HRs, 12 RBIs, 10 Runs)
Dennis Graser, Elite (9-17, .529, 1 HR, 6 RBIs, 12
Mike Maceno, Steeles (10-18, .556, 2 HRS, 8 RBIs, 6 Runs)
Paul Wright, Elite (8-15, .522, 4 RBIs, 7 Runs)
Ken Loeri, Steeles, (8-16, .500, 2 HRs, 5 RBIs, 7 Runs)
Dick Bartel, Howards (12-24, .500, 5 HRs, 16 RBIs, 12 Runs)
Mike Cellura, Jerrys (9-18, .500, 5 RBIs, 6 Runs)
Mike Bolen, Jerrys (7-15, .467, 1 HR, 7 RBIs, 6 Runs)
Bobby Reid, Steeles (9-16, .463, 5 RBIS, 7 Runs)
Don Arndt, Howards (6-13, .462, 1 HR, 4 RBIs, 4 Runs)
Don Clatterbaugh, Blantons (6-13, .462, 2 RBIs, 5 Runs)
Harold Kelley, Jerrys (5-11, .455, 1 RBI, 1 Runs)
Douh Brown, Jerrys (9-21,.429, 1 HR, 7 RBIs, 7 Runs)
Cecil Whitehead, Elite (7-17, .429, 1 HR, 2 RBIs, 7 Runs)
Monty Tucker, Joe Theisman's (3-7, .429, 3 HRs, 7 RBIs, 3 Runs)
Bill Gatti, Elite (7-17, .412, 5 HRs, 9 RBIs, 10 Runs)
Rick Weiterman, Elite (7-17, .412, 5 RBIs, 5 Runs)
Charlie Mitchell, Miller (9-22, .409, 2 HRs, 10 RBIs, 4 Runs)
Denny Jones, Jerrys (7-18, .389, 2 HRs, 5 RBIs, 7 Runs)
Phil Higgins, LIlly Air (3-8, .275, 1 RBI, 3 Runs)
Stan Harvey, Howards (5-15, .333, 1 HR, 6 RBIs, 4 Runs)
Rick Wheeler, Jerrys (6-20, .300, 1 HR, 7 RBIs, 5 Runs)
Dave Steffen, Steeles (5-17, .294, 2 HRs, 6 RBIs, 5 Runs)
---
FINAL STANDINGS
1. Elite Coating, Gordon, GA (4-0)
2. Howard's/Western Steer, Denver, NC (4-2)
3. Jerry's Caterers, Miami, FL (3-2)
4. Miller High Life, Detroit, MI (4-2)
5t. Steele's Sports, Grafton, OH (2-2)
5t. Blanton's, Fayetteville, NC (2-2)
7t. Capitol Insulation, North Hollywood, CA (2-2)
7t. Stone City Stars, San Antonio, TX (2-2)
9t. B.F. Goodrich, Richmond, VA (1-2)
9t. Philip Morris, Richmond, VA (0-2)
9t. Lilly Industries, Chicago, IL (1-2)
9t. Larry's Painting, Virginia Beach, VA (1-2)
13t. Joe Theismann's Restaurant, Fairfax, VA (0-2)
13t. Bobby's Grocery/Imperial, ZebuIon, NC (0-2)