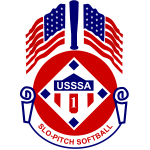 1985 held at Concord, California.
---
Champion – Northside Knights of Columbus, Cincinnati, Ohio
Runner Up – Hustle/Silver Bullets, Richmond, California
---
Northside Knights of Columbus had to beat undefeated Hustle/Silver Bullets twice to win the title. They sat and regrouped and went about their business winning 5-0 and then 9-4 behind the outstanding pitching of Brenda Ryan. to get to the finals on the last day, Northside beat Famous Recipe 4-1, Stingers 4-2 and Green Machine 4-0. It was no surprise that Ryan was named the MVP. Two-Time defending champ, Little Caesars was eliminated by Famous Recipe of Cincinnati in the later rounds and finished 7th. Famous Recipe finished up 5th.
---
MVP – Brenda Ryan, Northside Knights of Columbus
Batting Leader – Sue Gara, Northside Knights of Columbus – .750
HR Leader – Laura Fillipp, Hustle/Steele's
Defensive MVP – N/A
---
1985 ALL WORLD TEAM
P – Brenda Ryan, Northside K of C
C – Rene Lindberg, Hustle/Silver Bullets
C – Linda Szefler, Stingers
2B – Rhonda Klette, Northside K of C
2B – Yvonne Arnold, Green Machine
2B – Carrie Johnson, Hustle/Silver Bullets
3B – Jane Shaffer, Stingers
IF – Janet Hunecke, Northside K of C
OF – Michelle Newton, Stingers
OF – Missy Merrell, Northside K of C
OF – Sharon McCormick, Northside K of C
OF – Linda Alder, Green Machine
OF – Lydia Yopp, Green Machine
OF – Denice Fogal, Hustle/Silver Bullets
OF – Jaynie Gordon, Hustle/Silver Bullets
OF – Jackie Munn, Hustle/Silver Bullets
Manager – Dick Goedde, Northside K of C
FINAL STANDINGS (Incomplete)
1. Northside Knights of Columbus, Cincinnati, OH
2. Hustle/Silver Bullets, Richmond, CA
3. Green Machine, Richmond, CA
4. Stingers, Royal Oak, MI