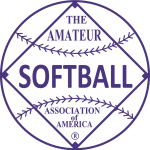 1960 held at Richmond, Virginia.
---
Champion: Carolina Glass Rockets, High Point, North Carolina (35-0 record)
Runner Up: Pearl Laundry Pollyannas, Richmond, Virginia
---
The High Point Glass Rockets completed their undefeated season by sweeping through the National Tournament in three straight games. Pitcher Peggy Andrews allowed only 18 hits in 21 innings. She surrendered just 3 runs and pitched a 2-0 shutout in the Championship Game. Andrews also wielded a hot bat also.  Phyllis Snipes got the Glass Rockets on the board early with a HR. Snipes was 6-10 in the tournament (.600).
Heidel's Hall Nancy Conners started off the tournament tossing a 3-hitter over St. Patrick's of Louisville, KY as Heidel's banged out 28 hits in an 18-1 triumph.
A young lady by the name of Nancy Oldham started out her Hall of Fame career playing for the High Point Carolina Glass Rockets. In the Glass Rockets quarter final victory over the Virginia Dairy Maids, Frances Cook belted a 3-run homer in the 7th inning to give the Rockets the win.
---
ALL TOURNAMENT AWARDS
N.F. Jacobs and Son MVP Award – Peggy Andrews, Rockets (P), (3-0, allowed 3 total runs and 18 hits in 21 innings, pitched 2-0 shutout in final)
Hillerich & Bradsby Outstanding Hitter Award – Frances Cook, Glass Rockets (LF)
Hillerich & Bradsby Outstanding Hitter Award – Jeannette Pease, Pearl Laundry (RF)
Outstanding Pitcher Award – Peggy Andrews, Rockets
Rockingham Manager Award – Louise Pete Brown, Glass Rockets
Batting Leader – Phyllis Snipes, Glass Rockets (6-10, 1 HR) – .600
---
FINAL STANDINGS
1. Carolina Glass Rockets, High Point, NC (3-0)
2. Pearl Laundry Pollyannas, Richmond, VA (2-1)
3t. Heidel's Hall, Covington, KY (2-1)
3t. Clearview Lake, Cincinnati, OH (1-1)
5t. BPW Hoosiers, New Albany, IN (0-1)
5t. Virginia Metals, Orange, VA (0-1)
5t. Eddie Mooer's Blue Jays, Richmond, VA (0-1)
5t. Virginia Dairy, Richmond, VA (0-1)
9. St. Patrick's, Louisville, KY (0-1)
---
SCORES
Single Elimination
Play-in Game
Heidel's Hall, Covington, KY 18 St. Patrick's, Louisville, KY 1 (Nancy Conners 3-hitter, Heidels 28 hits)
First Round/Quarterfinals
Pearl Laundry Pollyannas, Richmond, VA 12 BPW Hoosiers, New Albany, IN 5
Clearview Lake, Cincinnati, OH 7 Virginia Metals, Orange, VA 3
Carolina Glass Rockets, High Point, NC 5 Virginia Dairy, Richmond, VA 2
Heidel's Hall, Covington, KY 11 Eddie Mooer's Blue Jays, Richmond, VA 3
Semi Finals
Pearl Laundry Pollyannas, Richmond, VA 8 Clearview Lake, Cincinnati, OH 1
Carolina Glass Rockets, High Point, NC 4 Heidel's Hall, Covington, KY 1
Championship
Carolina Glass Rockets, High Point, NC 2 Pearl Laundry Pollyannas, Richmond, VA 0