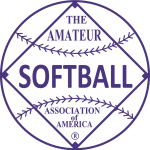 1962 held at Cincinnati, Ohio.
---
Champion: Dana Gardens, Cincinnati, Ohio (45-1)
Runner Up: Rutenschrorer Florist, Cincinnati, Ohio
---
Dairy Cottage came back to defend their crown. During the 1961 season, Jean Shaffer was the leading hitter with a .531 average. She was followed by Connie Cash (.493), Cindy Winedurn (.471). Dana Gardens, which until tournament time was known as Tappass Musical Bar won the Cincinnati Metro ASA title over the same team they beat here in the National, Rutenschrorer. Last year (1961), they were known as Heidel's Hall as they won the consolation flight in the 1961 Womens National Championship. In this year's championship game, Dana Gardens Pitcher Dot Bailey got Rutenschrorer out with no runs after they loaded the bases in the first inning. The Dana Gardens defense turned the first of their 4 double plays in the game. Norma Eschenbrenner and Alberta Kohls had back to back hits to ignite Dana and get them started as they scored 6 runs in the first inning as they rolled to a 7-0 Championship game win. Dana Gardens previously had shutout the Covington Dukettes 8-0 in the Semi-Finas. . Dot Bailey surrendered only 5 runs in her 5 pitching victories, three of them by shutout.
---
MVP – Not awarded – (newspaper accounts all said it would have been Dot Bailey by virtue of her pitching and hitting)
Outstanding Pitcher – Dot Bailey, Dana Gardens (5-0 pitching, including shutout in both semi-final 8-0 and final 7-0, she surrendered only 3 runs in 5 games.)
Batting Leader – Dot Bailey, Dana Gardens (11-16) – .688
Home Run Leader – Donna Moulton, Omaha Royals – 3
---
ASA MAJOR WOMEN'S SLOW PITCH ALL AMERICANS FIRST TEAM
P – Dot Bailey, Dana Gardens
C – Lavern Zurick, Dana Gardens
1B – Betty Dvorak, Dairy Cottage
2B – Marlene Menchen, Rutenschroer Florist
3B – Carol Zimprich, Windy Tap
SS – Nancy Oldham, Hickory Grove
SF – Jean Shafer, Dairy Cottage
OF – Betty DeSanto, Ohio Furniture
OF – Phyllis Robinson, Monroe Merchants
OF – Alberta Kohls, Dana Gardens (7-17, .412)
---
FINAL STANDINGS
1. Dana Gardens, Cincinnati, OH (5-0)
2. Rutenschorer Florist, Cincinnati, OH (4-1)
3t. Covington Dukettes, Covington, KY (2-1)
3t. Dairy Cottage, Covington, KY (2-1)
5t. Omaha Royals, Omaha, NE (2-1)
5t. Ohio Furniture, Cleveland, OH (1-1)
5t. BPW Hoosers, Louisville, KY (1-1)
5t. O'Jay Mills, Gordon, GA (1-1)
9t. Monroe Merchants, Middleton, OH (1-1)
9t. Aughinbaugh Canning Company, Biloxi, MS (0-1)
9t. South Carolina (0-1)
9t. Windy Tap Girls, Milwaukee, WI (0-1)
9t. Nile Straight, TN (0-1)
9t. Hill Top Bar, Pittsburgh, PA (0-1)
9t. Hillbillies, Clay, WV (0-1)
9t. Hickory Grove, NC (0-1)
17t. Michigan (0-1)
17t. Detroit, MI (0-1)
17t. St. Louis, MO (0-1)
17t. Pinewood Park, FL (0-1)
CONSOLATION STANDINGS
1. Aughinbaugh Canning, Biloxi, MS (4-0)
2. South Carolina State, SC (3-1)
3t. Monroe Merchants, Middleton, OH (2-1)
3t. Hickory Grove, NC (1-1)
5t. Windy Tap Girls, Milwaukee, WI (1-1)
5t. Hill Top Bar, Pittsburgh, PA (0-1)
5t. Hillbillies, Clay, WV (0-1)
5t. Nile Straight, TN (0-1)
9t. Michigan State, MI (0-1)
9t. Detroit, MI (0-1)
9t. Ford Girls, St. Louis, MO (0-1)
9t. Pinewood Park, West Palm Beach, FL (0-1)
---
SCORES
Single Elimination
First Round
Rutenschorer Florist, Cincinnati, OH 7 Pinewood, FL 1
Monroe Merchants, Middleton, OH 8 St. Louis, MO 5
Dana Gardens, Cincinnati, OH 5 Detroit, MI 0
Omaha Royals, Omaha, NE 11 Michigan 0
Second Round
Ohio Furniture, Cleveland, OH 2 Hickory Grove, NC 1
BPW Hoosers, Louisville, KY 4 Hillbillies, Clay, WV 2
O'Jay Mills, Gordon, GA 5 Hill Top Bar, Pittsburgh, PA 4
Covington Dukettes, Covington, KY 11 Nile Straight, TN 6
Rutenschorer Florist, Cincinnati, OH 10 Windy Tap, Milwaukee, WI 6
Dairy Cottage, Covington, KY 14 Monroe Merchants, Middleton, OH 1
Dana Gardens, Cincinnati, OH 10 South Carolina 2
Omaha Royals, Omaha, NE 11 Aughinbaugh Canning Company, Biloxi, MS 8
Quarterfinals
Rutenschorer Florist, Cincinnati, OH 5 Ohio Furniture, Cleveland, OH 3
Dairy Cottage, Covington, KY 4 BPW Hoosers, Louisville, KY 2
Dana Gardens, Cincinnati, OH 11 O'Jay Mills, Gordon, GA 3
Covington Dukettes, Covington, KY 6 Omaha Royals, Omaha, NE 3
Semifinals
Dana Gardens, Cincinnati, OH 8 Covington Dukettes, Covington, KY 0
Rutenschorer Florist, Cincinnati, OH 3 Dairy Cottage, Covington, KY 2
Championship
Dana Gardens, Cincinnati, OH 7 Rutenschorer Florist, Cincinnati, OH 0
---
Consolation Bracket
First Round
Windy Tap Girls, Milwaukee, WI W – Pinewood Park, West Palm Beach, FL L
South Carolina State, SC W – Michigan State, MI L
Monroe Merchants, Middleton, OH W – Ford Girls, St. Louis, MO L
Aughinbaugh Canning, Biloxi, MS 13 – Detroit Metro, MI 2
Second Round
Hickory Grove, NC W – Windy Tap Girls, Milwaukee, WI L
South Carolina State, SC W – Hill Top Bar, Pittsburgh, PA L
Monroe Merchants, Middleton, OH W – Hillbillies, Clay, WV L
Aughinbaugh Canning, Biloxi, MS 18 – Nile Straight, TN 8
Semifinals
South Carolina State, SC W – Hickory Grove, NC L
Aughinbaugh Canning, Biloxi, MS 3 – Monroe Merchants, Middleton, OH 2
Consolation Final
Aughinbaugh Canning, Biloxi, MS 2 – South Carolina State, SC 1 (Kathleen Bilicko was Winning Pitcher as Branda Babuchuna's Walk Off HR in 7th won the Game)