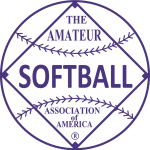 1959 held at Stratford, Connecticut.
---
Champion – Raybestos Brakettes, Stratford, Connecticut (56-7)
Runner Up – Erv Lind Florist, Portland, Oregon
---
The Brakettes won their second straight championship as Edna Fraser's base hit scored Mary Hartman with the winning run in the 9th inning of 1-0 Championship game. Bertha Ragan pitched the whole game for the Brakettes and gave up only 1 hit to Margaret Dobson and struck out 13. Micki (Stratton) Macchietto was intentionally walked to get to Fraser, who up to this point did not have a hit in the tournament. She calmly laced a line drive right center field that went to the fence. The Brakettes got four hits (Bev Mulonet, Mary Hartman, Joan Joyce and Fraser) of losing pitcher, Louise Mazucca. Mazzucca struck out 10 Brakettes. She ended the tournament with 91 strike outs in the 51 innings she pitched. She also hurled 2 no-hitters in the tournament. Ragan (4-0 and Joyce (2-0) combined for 80 K in 50 IP. They did not surrender a single run. Raybestos was 5-0, shutting out all 5 opponents.
Bertha Ragan outdueled Louise Mazzucca in the final game 1-0. Mazzucca had already thrown 2 no hitters in the tournament.
Once again, the pitching duo of Noni Hoehn (2-1) and Teddy Hamilton (1-1) led the Orange Lionettes to a 4th place finish.
---
MVP – Bertha Ragan-Tickey, Raybestos Brakettes (4-0, 4 shutouts, 1 no-hitter, 47 K, 30 IP, gave up 4 hits, hurled 9 inning 1-hit 1-0 shutout in final with 13 K)
Outstanding Pitcher – Bertha Ragan-Tickey, Raybestos Brakettes
Batting Leader – Eleanor Rudolph, Pekin-Lettes (5-11, 1 RBI, 3 Runs) – .454
HR Leader – Nera White, Nashville (5-12, .416, 2 RBI, 3 Runs) – 1
HR Leader – Sis King, Phoenix (5-22, .227, 3 RBI, 2 Runs) – 1
---
1959 FIRST TEAM ALL AMERICANS
P – Bertha Ragan-Tickey, Raybestos Brakettes
P – Billy Harris, Phoenix Ramblers (4-1, 30 IP, 18 Ks) and Gloria Barnes (2-1, 29 IP, 18 Ks) pitched for the Ramblers, who went 6-2 to finish 3rd.
P – Louise "Chris" Mazzuca, Erv Lind Florists (3-2, only 2 ERs given up, 91 Ks in 51 IP, including 26 in a 16 inning game, lost final game 1-0 in bottom of the 9th inning, 2 no hitters)
P – Nonie Hoehn, Orange Lionettes
C – Micki "Stratton" Macchietto, Raybestos Brakettes
1B – Joan Joyce, Raybestos Brakettes (2-0, both shutouts, 33 Ks, 20 IP)
2B – Kathryn "Sis" King, Phoenix Ramblers
3B – Carol Spanks, Orange Lionettes
SS – Beverly Mulonet, Raybestos Brakettes
OF – Carolyn Thome, Pekin Lettes
OF – Nera "Sally" White, Nashville Sterling Belles
OF – Hap Beryl-Piper, Erv Lind Florists
1959 SECOND TEAM ALL AMERICANS
P – Lorene Ramsey, Pekin Lettes
P – Maureen Galvin, New York Pandoras
P – Bess Phillips, Nashville Sterling Belles
C – Dot Wilkinson, Phoenix Ramblers
1B – Donna Baxter, Orange Lionettes
2B – Carolyn Fitzwater, Erv Lind Florists
3B – Margaret Dobson, Erv Lind Florists
SS – Darlene Wenner, Pekin Lettes
OF – Kathy Sheriden, Northview Construction
OF – Jean LaBreque, Caggiano All-Stars
UTIL – Gloria Barnes, Phoenix Ramblers
---
FINAL STANDINGS
1. Raybestos Brakettes, Stratford, CT (6-0) (Defending Champ)
2. Erv Lind Florist, Portland, OR (4-2) (Northwestern)
3. PBSW Ramblers, Phoenix, AZ (6-2) (Cactus)
4. Orange Lionettes, Orange, CA (3-2) (South Pacific Coast)
5t. Pandoras, New York City, NY (3-2) (Mid-Atlantic)
5t. Sterling Belles, Nashville, TN (2-2) (South Atlantic)
7t. Pekin-Lettes, Peoria, IL (2-2) (West Central)
7t. Northview Construction, Toronto, ON (2-2) (East Canada)
9t. Laurelettes, Hartford, CT (2-2) (Host)
9t. Caggiano All-Stars, Lynn, MA (2-2) (North Atlantic)
9t. Alameda Jets, Alameda, CA (1-2) (North Pacific Coast)
9t. Sheffield Bronze, Cleveland, OH (1-2) (East Central)
13t. IBEW Girls, Lancaster, PA (1-2) (Central Atlantic)
13t. Orlando Rebels, Orlando, FL (1-2) (Southern)
13t. St. Louis Blues, St. Louis, MO (0-2) (Western)
13t. Minneapolis Comets, Minneapolis, MN (0-2) (Northern)
17t. Pepsi-Cola, San Antonio, TX (0-2) (Texas)
17t. Spud-Nut Shamrocks, Salt Lake City, UT (0-2) (Rocky Mountain)
17t. Al-Ettes, Pine Bluff, AR (0-2) (Southwestern)
NOTES: West Canada Champ – CUAC Blues, Winnipeg, Manitoba did not attend.