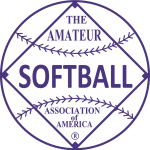 1970 held at Parma, Ohio.
---
Champion: Rutenschrorer Florist, Cincinnati, Ohio (78-14)
Runner Up: Raney Tire, Cleveland, Ohio (78-13)
---
Rutenschrorer came from the losers bracket and won the last 5 games in 12 hours, including eliminating the defending champs Hialeah Dots 6-5 and then winning both final games 2-1 and 4-2 over Raneu Tire behind Pitcher Marsha Reflogie. Reflogie had 7 pitching victories and also drove in the winning run in that final game. Ida Hopkins won her third National MVP award. This was the second time she played so well, she was named from the non-winning team. In 1968, She won it finishing in 4th place and this year as the Runner-up team.
---
MVP – Ida Jean Hopkins, Raney Tire (19-27, .704, 8 RBI, 10 Runs)
Home Run Leader – Patsy Danson, Carter's Rebel (16-28, .571, 10 RBI, 9 Runs) – 5
Home Run Leader – Nancy Oldham, Comets (15-24, .625, 16 RBI, 15 Runs) – 5
Home Run Leader – Marylyn Busse, Carolina Rockets (14-26, .538, 11 RBI, 11 Runs) – 5
Batting Leader – Ida Jean Hopkins, Raney – .708
---
1970 FIRST TEAM ALL AMERICANS
P – Marsha Replogle, Rutenschroer (7-21, .333, 6 RBIs,)
P – Jeannine Jeep Andrle, Two Cousins (14-30, .467, 3 HRs, 10 RBIs, 9 Runs)
C – Sharon Tice, Rutenschroer (10-29, .345, 7 RBIs, 10 Runs)
1B – Peg Carney, Rutenschroer (15-28, .536, 1 HR, 8 RBIs, 4 Runs)
2B – Bev Shue, Carolina Rockets (13-24, .542, 3 RBIs, 9 Runs)
3B – Marilyn Booher, Two Cousins (17-28, .607, 6 RBIs, 11 Runs)
SS – Ida Jean Hopkins, Raney Tire- (19-27, .704, 8 RBIs, 10 Runs)
OF – Jenny Johnson, Comets (15-22, .682, 4 HRs, 11 RBIs, 11 Runs)
OF – Patsy Danson, Carters Rebels (16-28, .571, 5 HRs, 10 RBIs, 9 Runs)
OF – Sandy Hamilton, Hialeah Dots (14-24, .583, 4 RBIs, 8 Runs)
OF – Joe Ann Batchelor, Dodge Girls (13-21, .621, 1 HR, 8 RBIs)
UT – Nancy Oldham, Comets (15-24, .625, 5 HRs, 15 RBIs, 15 Runs)
UT – Pam Hughes, Hialeah Dots (12-25, .480, 6 RBIs, 6 Runs)
1970 SECOND TEAM ALL AMERICANS
P – Judy Hedgecock, Comets (4-2 pitching, 9-24, .375, 2 RBIs, 9 Runs)
P – Laura Rountree, Carters Rebels (.520)
C – Mary Beal, Raney Tire (.286)
1B – Princess Carpenter, Robbinettes (12-19, .632, 2 HRs, 6 RBIs, 6 Runs)
2B – Bev Beck, Rutenschroer (.278)
3B – Sandra Leigh, Glenn Mfg.(.500)
SS – Jan Telger, Rutenschroer (.333)
OF – Donna Hannol, Glenn Mfg. (.571)
OF – Linda Sharp, Raney Tire (.481)
OF – Joan Jorgenson, Mr. Day's Avantis (.583)
OF – Janis Taylor, Robbinettes (12-20, .600)
UT – Lewanne Fenty, Hialeah Dots (14-22, .636)
UT – Celeste Alsobrook, Carters Rebels
---
OTHERS
Donna Schmadel, Rutenschroer (15-23, .652, 0 HR, 6 RBI, 8 Runs)
Linda Polley, Mr. Day's Avantis (12-24, .500, 3 HR, 7 RBI, 11 Runs)
Carol Smith, Hialeah Dots (13-27, .481, 3 HR, 6 RBI, 10 Runs)
Donna Wolfe, Rutenschroer (15-33, .455, 2 HR, 8 RBI, 12 Runs)
Judy Council, Dodge Girls (7-22, .318, 4 HR, 12 RBI, 7 Runs)
---
FINALS STANDINGS
1. J.C. Rutenschroer Floral Company, Cincinnati, OH (10-1)
2. Raney Tire, Cleveland, OH (6-2)
3. Hialeah Dots, Miami, FL (5-2)
4. Carters Rebels, Jacksonville, FL (4-2)
5t. Satellite Beach Comets, Satellite Beach, FL (4-2)
5t. Two Cousins, Cleveland, OH (6-2)
7t. Carolina Rockets, Burlington, NC (4-2)
7t. Fox Valley Lassies, Chicago, IL (5-2)
9t. Albany Dodge Girls, Albany, GA (4-2)
9t. Robbinettes, Springfield, OH (3-2)
9t. Glenn Manfacturing Company, Columbus, MS (3-2)
9t. Lake Wright Motor Lodge, Norfolk, VA (2-2)
13t. Mr. Day's Avantis, Minneapolis, MN (4-2)
13t. Glenn Runyon Pontiac, St. Albans, WV (2-2)
13t. Jefferson Devilettes, Jefferson, IN (4-2)
13t. M-M Sporting Goods, Milwaukee, WI (1-2)
17t. Westbrook COncrete, Bloomington, MN (2-2)
17t. St. Anthony Park, St. Paul, MN (2-2)
17t. Motown Soul Sisters, Detroit, MI (2-2)
17t. Stretch Motel, Fond Du Lac, WI (3-2)
17t. Georgetown Village Apartments, Toledo, OH (1-2)
17t. New Iberia Cajetts, New Iberia, LA (2-2)
17t. Union Bank, North Vernon, IN (3-2)
17t. Knoxville, Royals, Knoxville, TN (2-2)
25t. P.A.L. All Stars, Lynn, MA (2-2)
25t. Fansler Tires, Garden City, KS (2-2)
25t. Muldowney's Tap Room, Valley Stream, NY (1-2)
25t. Hayward Merchants, San Leandro, CA (1-2)
25t. Elk Grove Jay Cees, Elk Grove, CA (1-2)
25t. Westboro, Charleston Heights, SC (2-2)
25t. Satterwhite Scotties, Richmond, VA (1-2)
25t. Wilson's, Rutland, VT (1-2)
33t. Ashland Misfits, Ashland, KY (1-2)
33t. Mecca Lounge, St. Louis, MO (0-2)
33t. Fargo Merchants, Fargo, ND (1-2)
33t. Monroe Royals, Monroe, MI (0-2)
33t. Mobile Bombers, Mobile, AL (1-2)
33t. Rayettes, Santa Clara, CA (0-2)
33t. Atlanta Stars, Atlanta, GA (1-2)
33t. Lighthouse Sporting Goods, Caeur D'Alene, ID (0-2)
33t. Castaways, Lanett, AL (0-2)
33t. Du Pont Engineers, Wilmington, DE (0-2)
33t. Holy Cross, Espanola, NM (0-2)
33t. Kings Sport Shop, Billings, MT (0-2)
33t. Yeager Jets, Bellingham, WA (2-2)
33t. Mercer's Ambulance, Granite City, IL (0-2)
33t. Corpus Christi Blue Jays, Corpus Christi, TX (0-2)
33t. Capettes, Indianapolis, IN (1-2)
49t. Frontiers, Fairbanks, AK (0-2)
49t. St. Francis, Oklahoma City, OK (0-2)
49t. Draft Building, Waynesboro, VA (0-2)
49t. Santa Rosa Athletic, Santa Rosa, CA (0-2)